Russian President Vladimir Putin has blamed the current supply crunch in Europe's gas market to European Union policymakers favouring short-term contracts with suppliers, suggesting that the curtailing of long-term supply agreements and dependence on gas exchanges has proven an "obvious mistake."
"Generally speaking, the trade in gas on the stock exchange...is not very effective, because it carries with it a lot of risks, since gas isn't watches, underwear or neckties, not cars, and not even oil, which can be created and then stored anywhere, including in tankers in anticipation of a certain situation on the market. Gas is not traded this way, it cannot be stored in this way," Putin stressed, speaking at a government meeting on energy issues on Wednesday.
The same applies to liquefied natural gas (LNG), according to the president, given that supplies need to be created, compressed, loaded into tankers, delivered, and decompressed.
The unusually cold winter of 2020-2021 was one of the material factors responsible for the draining of European gas reserves, Putin said, adding that certain "rash actions" in the energy sector are fraught with the danger of creating serious supply imbalances.
"It's well known that the global energy market does not tolerate fuss and flip-flopping. Investment plans in this area are long-term in nature. Therefore, harsh, rash actions can lead to (and judging by today's situation on the market have already led to) serious imbalances of the kind which we are now seeing in the European energy market, where several unfavourable factors have developed simultaneously this year," the president noted.
Excessive dependence on green energy, such as wind power, has also proven problematic, Putin said, pointing to the energy source's dependence on natural factors. "It's necessary to point out that Europe's energy balance has changed significantly over the past decade. Many countries in the regions have rejected coal and nuclear power in favour of wind power, which is weather-dependent."
Putin said that "Russia has always been and continues to be a reliable supplier of gas to consumers all over the world, both in Asia and Europe. Russia always fulfils all of its obligations in full and I would like to emphasise the word 'all.'"
The Russian president suggested that growing global energy demand is a sign of the planet's gradual recovery from last year's coronavirus-related economic crisis, and said that Russian energy giant Gazprom could hit a new record on gas deliveries to Europe this year, surpassing the record set in 2018. According to Putin, the company has already delivered 15 percent more blue fuel to the region in the first nine months of 2021 than it had during the same period last year.
Putin pointed out that the greenhouse gas emissions footprint of Russian gas deliveries to Europe using newly built pipelines has been reduced by 5.6 times compared to older infrastructure, and allow for supplies to be pumped through at higher pressure. Putin did not specify which pipelines he was referring to.
© Photo : Nord Stream 2/SWP Studie S21 (2016); ENTSO-G, Capacity Map (2017)
Map of the European natural gas pipeline network. Source - DIW 2018, based on Kai-Olaf Lang and Kirsten Westphal, "Nord Stream 2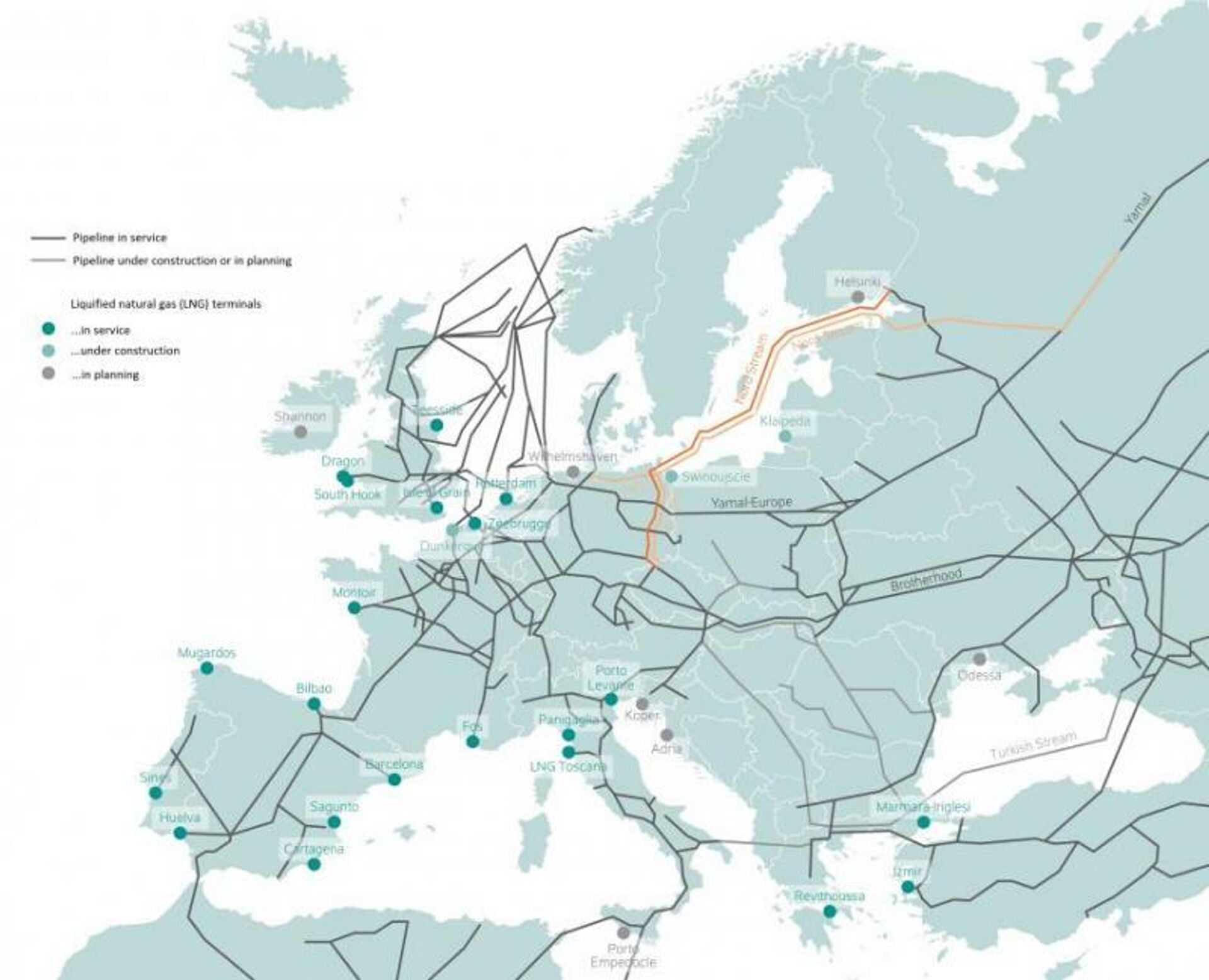 Map of the European natural gas pipeline network. Source - DIW 2018, based on Kai-Olaf Lang and Kirsten Westphal, "Nord Stream 2
© Photo : Nord Stream 2/SWP Studie S21 (2016); ENTSO-G, Capacity Map (2017)
'Speculation' Around Transit Through Ukraine
Last month, a US State Department official expressed concern with Europe's gas shortages, and accused Russia of delivering an
"inexplicably low"
amount of energy to the region "compared to both previous years and what they have the capacity to do." The official urged Russia to increase the supply of natural gas to Europe via Ukraine.
In his comments on Wednesday, Putin dismissed what he characterised as "speculation" around Ukraine's gas transit network. He pointed out that Gazprom has already increased gas deliveries via Ukraine by eight percent through the first nine months of this year, and will exceed its obligations in this area to deliver at least 40 billion cubic metres of gas per year before 2021 is over, even though it's unprofitable for Gazprom to deliver supplies to Europe via Ukraine compared to other routes.
Putin's comments come as European natural gas futures continue to set records. On Wednesday, ICE exchange data showed prices rising by a whopping 38 percent from about $1,550 per thousand cubic metre mark and temporarily approaching $2,000 before
plunging
.
Earlier in the day, five EU countries called for an investigation into possible price gouging of natural gas on the European market, and demanded the creation of
"common guidelines"
across the economic bloc on storage to mitigate and smooth price increases, as well as coordination on gas purchases to increase bargaining power.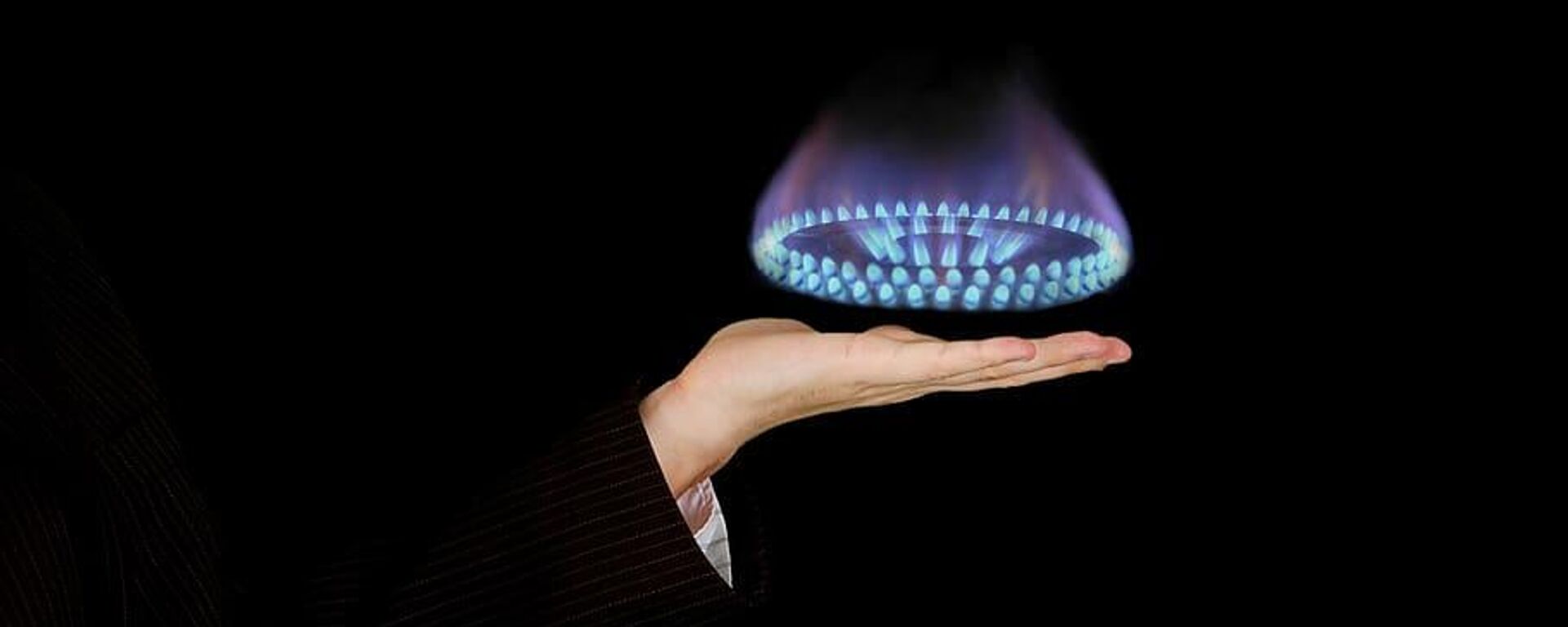 6 October 2021, 07:30 GMT
Russia accounts for roughly 41 percent of Europe's gas supply purchases, with Norway, Algeria, and Qatar contributing 16 percent, 8 percent, and 5 percent, respectively.