Russia and the United States have failed to live up to their responsibilities in Syria, and share the blame for Kurdish terror attacks in the Turkish-occupied areas of Syria, Turkish Foreign Minister Mevlut Cavusoglu has alleged.
"Recently, we have seen an increase in attacks from the PKK/YPG. The terrorists are firing into our territory from a distance of about 30 km. We have an agreement with Russia and the United States committing these two countries to remove terrorists from our borders to a distance of at least 30 km. They have failed to keep their word," Cavusoglu said, speaking at a press conference alongside Nicaraguan Foreign Minister Denis Moncada Colindres on Wednesday.
Without elaborating on his claims about Russia, Cavusoglu accused the US of supplying weapons to terrorists, and suggested that statements from Washington about its 'concern' over attacks by Kurdish forces were insincere. "What can we do? We must resolve our problems ourselves. We will do everything necessary to clear this area of terrorists for the sake of our safety," he warned.
The Turkish top diplomat's words come in the wake of threats from Turkish President Recep Tayyip Erdogan Tuesday that Ankara's patience was "overflowing" as a result of "terrorist attacks" against Turkish forces and their allies in Syria. "We will soon take the necessary steps to eliminate the threats emanating from Syria on our own", Erdogan said.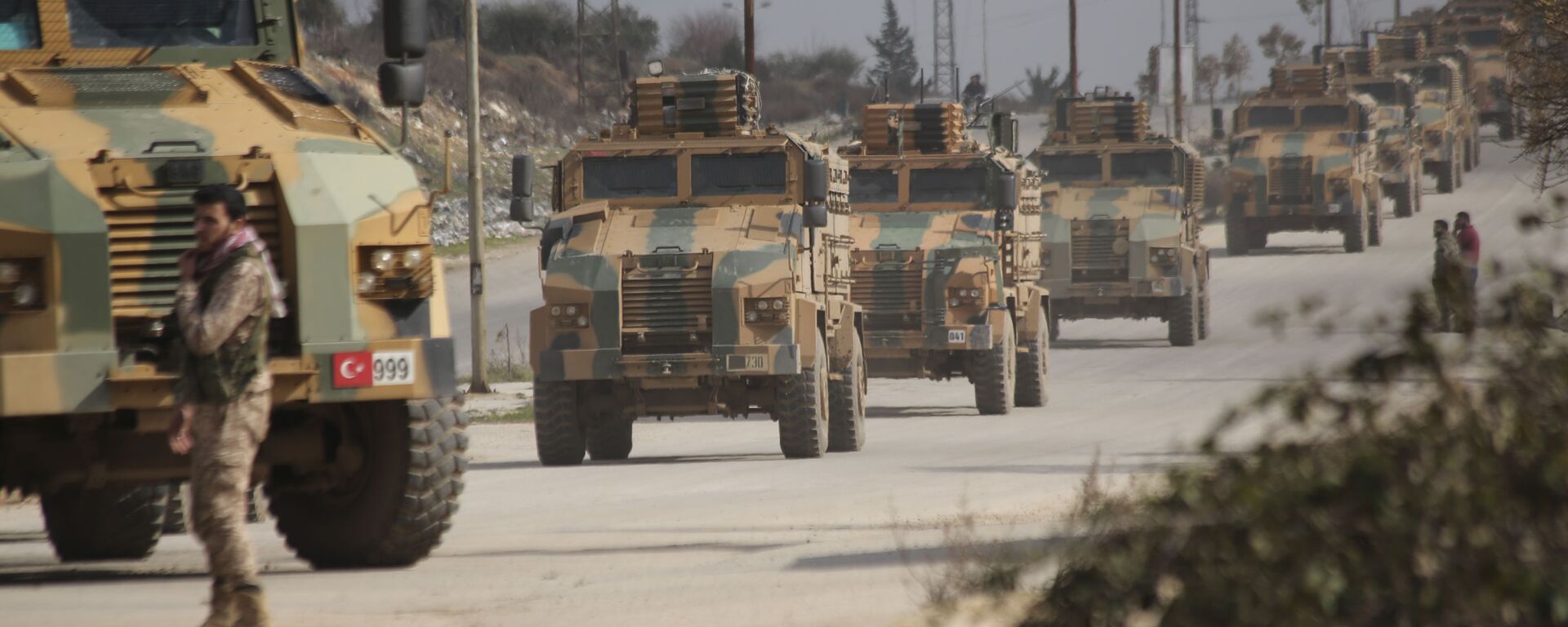 11 October 2021, 16:41 GMT
The sharp rhetoric coming out of Ankara follows remarks from the country's defence minister Hulusi Akar last week that Turkish troops had eliminated five Kurdish "terrorists" in response to the killing of a Turkish serviceman in a rocket attack. On Sunday, Turkey
reported
that two of its police special forces personnel were killed in a separate rocket strike. On Monday, officials in Turkey's Gaziantep province reported that one of its cities had come under fire. Ankara blamed Syrian Kurdish forces.
Ankara classifies the Turkey-based Kurdistan Workers' Party (PKK) and the Syrian Kurdish People's Defence Units (YPG) as 'terrorist' entities and has accused them of coordinating with one another to carry out attacks against Turkish military and police formations, as well as civilians, in both Syria and Turkey. About a dozen countries list the PKK as a terrorist entity. When it comes to the YPG and its affiliates, however, only Turkey and Qatar have done so.
Turkey launched three successive operations in northern Syria between 2016 and 2019 under the pretext of fighting Daesh (ISIS)* and Kurdish-led Syrian Democratic Forces in the war-torn country. These operations have occasionally seen Turkish troops and their local allies getting into firefights with Syrian government forces trying to liberate territories controlled by Turkish-backed militants. Syrian authorities have
accused Turkey of ethnic cleansing
, cutting off water supplies, and other crimes in areas under their control. Ankara has denied these allegations.

27 September 2021, 20:07 GMT
Damascus has a chilly peace with Kurdish militia forces controlling large swathes of oil and energy-rich northeastern Syria, and has repeatedly called for these territories to be returned to the central government's control. Syria has also demanded that the Kurds' US allies withdraw from the country immediately, and vowed that it will stop at nothing to eventually restore the Arab Republic's territorial integrity.