Steve Bannon, a former White House strategist, surrendered to law enforcement on 15 November after being indicted on two counts of contempt of Congress: one for refusing to appear to testify before the American lawmakers and another for refusing to produce documents in response to a subpoena from the Democratic-led House Select Committee on the January 6th attack.
Bannon pleaded not guilty, stating outside the court that he was "going on the offence" against the attorney general, the speaker of the House and President Biden: "This is going to be a misdemeanour from hell for Merrick Garland, Nancy Pelosi and Joe Biden," the 67-year old political strategist told the press.
Invocation of Executive Privilege
"Through his lawyers, President Trump notified Bannon that executive privilege was invoked concerning discussions that the Committee wants to consider," says Wall Street analyst Charles Ortel.
Executive privilege is the power of the president and other officials in the executive branch to withhold certain forms of confidential communication from the courts and the legislative branch.
"This places Bannon in a position where he could have appeared and then refused to answer questions posed by Representatives who then would have whipped the discredited, corporate-owned media into frenzies," the analyst notes. "Instead, he refused to appear and arguably protected the Office of the Presidency."
DOJ DOUBLE STANDARDS: The DOJ indicted former Trump adviser Steve Bannon for defying a congressional subpoena. This is the first time the DOJ has pursued contempt charges in almost 40 years! David Schoen, Bannon's lawyer, will discuss the indictment TONIGHT on "Hannity."

— Sean Hannity (@seanhannity) November 17, 2021
Speaking
to CNN's Brianna Keilar on 16 November, Bannon's attorney David Schoen explained why the defendant chose not to appear before the January 6 Committee and not to produce documents. According to Schoen, Bannon asked the committee to allow a representative of a privilege holder to be present and invoke "executive privilege" on a question by question basis. However, the committee rejected his request.
"This comes up regularly when privilege is an issue in depositions," the attorney said. "There could be questions asked that have to do with privileged areas and not privileged areas. So, he would have shown up and started [answering] questions without a representative of a privilege holder present, privilege could be violated… You can't just show up and take a chance."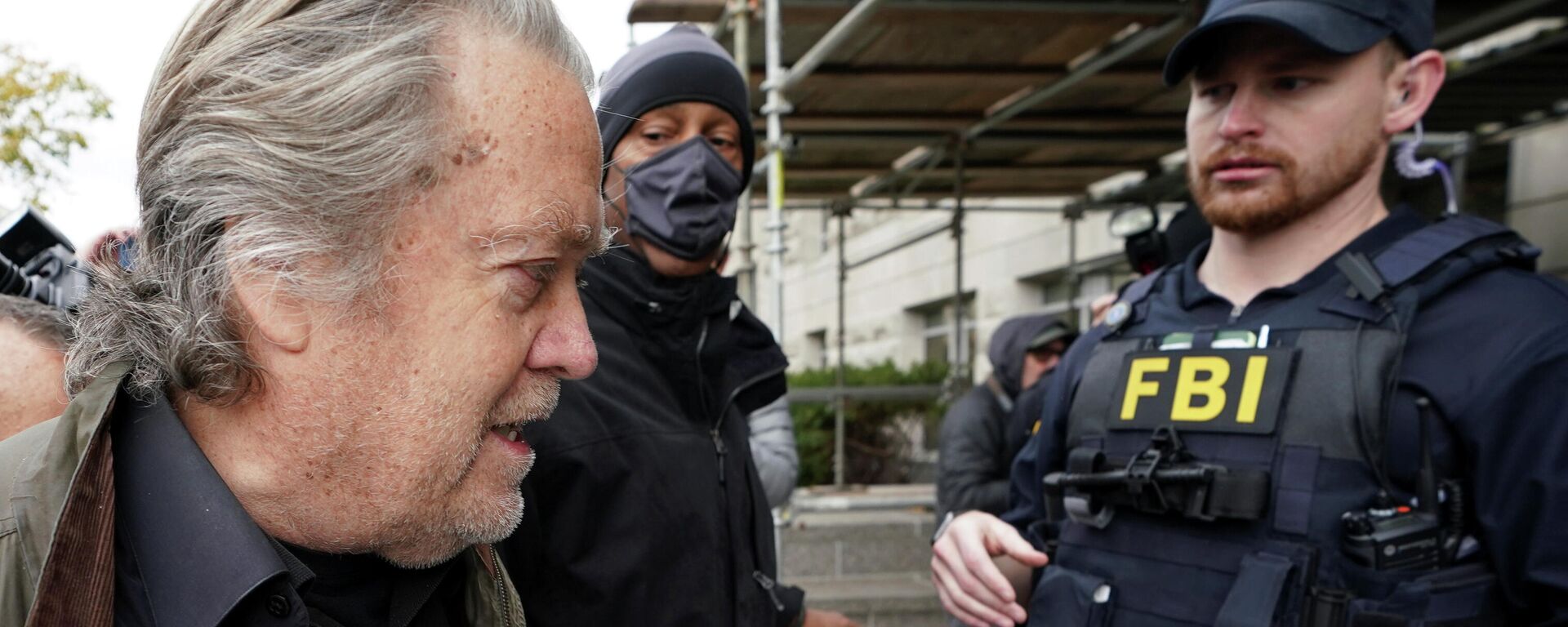 15 November 2021, 14:44 GMT
'Sham' January 6 Committee
However, the case is not limited to Bannon's unwillingness to comply with the House select committee's subpoena, notes Charles Ortel, who believes that the Democrats have weaponised the panel against Donald Trump and his political supporters.
"The decision to make a criminal referral was likely sent as a message to Bannon and to the MAGA movement he champions," the Wall Street analyst suggests. "As for the DoJ, ever since the Patriot Act became law, temptation has grown to target domestic rivals and political enemies as national security risks."
In addition to that, the chairman appointed to the House select committee – Bennie Thompson – in February 2021 personally sued former President Donald Trump, Rudy Giuliani and two conservative groups, the Proud Boys and the Oath Keepers, for allegedly conspiring to incite violence on 6 January 2021.
"How on earth can that be a person heading up a congressional investigative committee? How can there possibly be a fair American kind of investigation?" Bannon's lawyer David Schoen told Newsmax on 17 November, dubbing the House January 6 committee "a sham committee that nobody in America should trust to come up with any kind of credible results from."
Why Bannon Case May Backfire on Dems
"As a defendant in a criminal trial, Bannon will aggressively challenge his accusers using tools that will be available to him," Ortel believes.
"Moreover, there are few Americans as adept as he is and as connected as he is to the pulse of American patriots who cherish freedom and rule of law," notes the Wall Street analyst. "This attack on Bannon is an attack on every MAGA supporter but more than that it is an attack on core Constitutional principles that some on the left also cherish."
The Hill's Rebecca Beitsch
suggested
on 20 November that the House January 6 panel may obtain certain leverage from Bannon's prosecution to force other prominent Trump's aides – Mark Meadows, Dan Scavino and Kash Patel – to testify in the congressional Capitol riot probe.
The Salon
presumed
on 15 November, citing Rep. Adam Schiff, that the House select committee will "move quickly" to refer former White House chief of staff Meadows to the DoJ for criminal contempt charges.
Mark Meadows is so far not cooperating with the January 6th Select Committee. If he continues to ignore their subpoena, the committee shouldn't hesitate to vote to refer him to the Justice Department for possible contempt of Congress charges.https://t.co/o4XB9wtS7V

— Noah Bookbinder (@NoahBookbinder) November 17, 2021
According to Ortel, this potential course of events may only further irritate conservatives ahead of the 2022 midterms and the 2024 presidential elections.
"Doing so will further inflame matters and seems far from an astute move," says Ortel. "Meadows has many admirers in Congress and, like Bannon, will prevail in the end when elections happen in 2022 and 2024. Adam Schiff stands in contempt of the American people given his long history of knowingly peddling so many lies to the world for years. By these actions, he and his co-conspirators are awakening a sleeping army of patriots who will peaceably swarm to the polls and then re-balance the scales of justice."
To complicate matters further, the so-called "insurrection" case pursued by the House select committee is bursting at the seams given that none of over 600 defendants charged by DoJ for crimes related to the Capitol riots was accused of insurrection activities, according to the analyst.
"From what we see so far, the only insurrection practiced recently has been led to protect Hillary Clinton and Barack Obama from the scrutiny they and others deserve for obstructing the Trump candidacy and presidency, using taxpayer-funded resources," says Ortel. "Now, there's a real set of scandals one hopes that [Special Counsel] John Durham and others will, in time, address."