Late
billionaire John McAfee
admitted that he once planned to kill his family after hearing "a voice from God", as he overdosed on DMT, according to the new book "No Domain" by author Mark Ellington. The author published his interviews with the IT tycoon, which took place back in 2019 when McAfee was on the run from US authorities.
According to an excerpt from the book, published by the Daily Mail, McAfee confessed he lost touch with reality for at least three months back in the 1970s, hearing voices and having the weirdest reactions.
"I reached a point where I was crying because God, if there was a God, was alone. I got in the car and started driving to Virginia, and I was so deranged that, when someone on the radio said, 'Drink Coca-Cola', I immediately had to pull off the freeway and search for a place to buy a Coke. These weren't suggestions; these were commands. I genuinely believed that God was now talking to me through the car radio", he stated.
© REUTERS / Jorge Lopez
Software pioneer John McAfee is escorted by immigration officers to the Guatemalan Airport in Guatemala City December 12, 2012.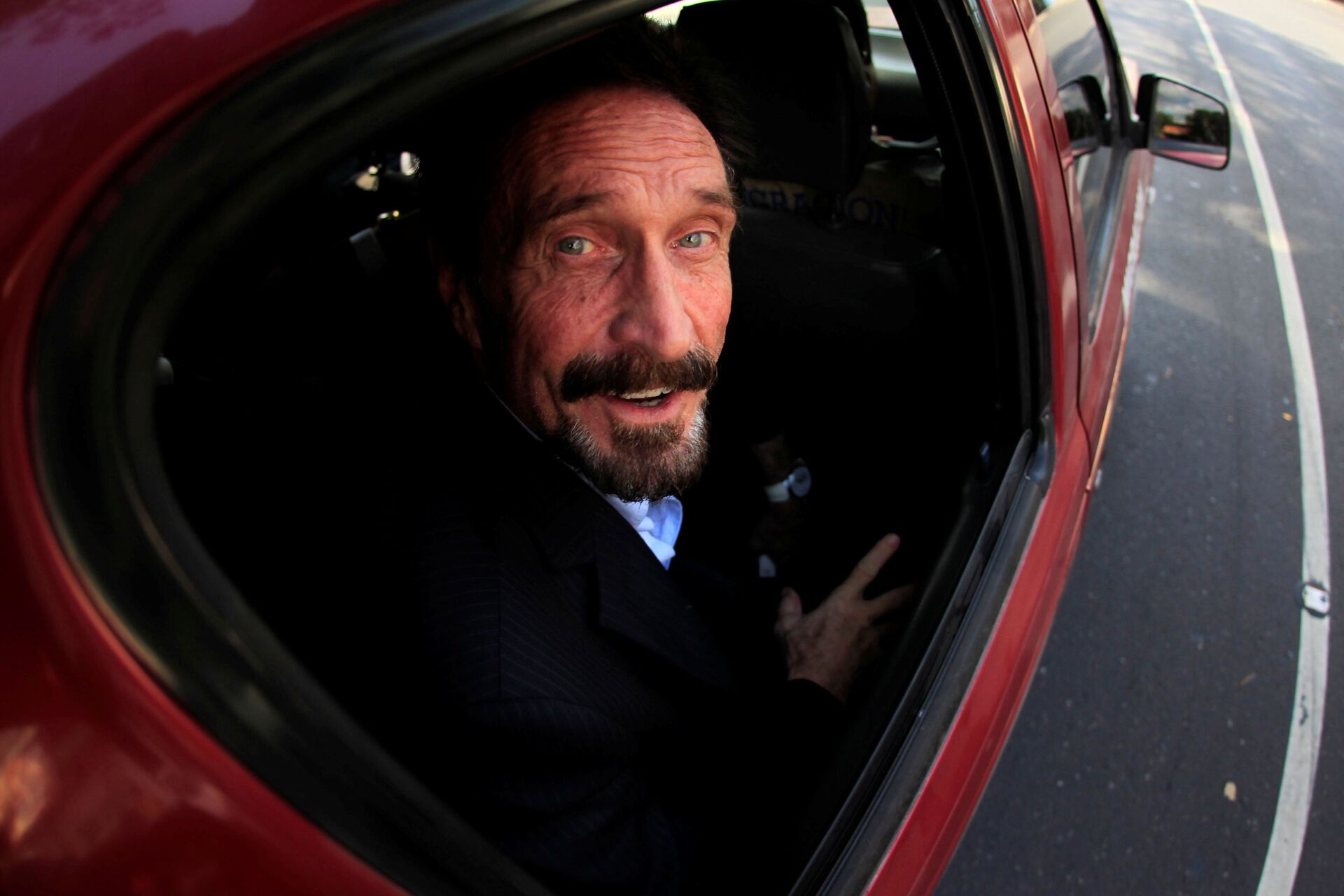 Software pioneer John McAfee is escorted by immigration officers to the Guatemalan Airport in Guatemala City December 12, 2012.
McAfee said that he even planned the unthinkable due to the drug-induced craze.
"I was going to kill my mother, my wife, and my baby daughter because God had told me to. It's important that you don't judge me here, my friend. In my mind, this was the only thing I could do", the billionaire said.
According to McAfee, the only thing that stopped him was a random conversation with a Christian preacher who happened to be passing by.
"... a man came walking across the yard straight toward me. 'Sir, do you believe that you have to be reborn into the kingdom of heaven?' he asked. 'F**k, yes!' I said. This was the first fu**ing person in three months that I actually felt like I could talk to. We went up on the porch and sat on the porch swing and talked. Meanwhile, thank God my wife and mother had the common sense to leave it be and let me talk to this man. We swung for two hours while they looked out of the window at us from time to time, and for those two hours, he imparted the whole impact of the Holy Bible. In my perception at that time, and it wasn't a specifically Christian perception, everything he was saying made total sense", he said.
McAfee confessed he didn't attend the man's church afterwards, because after the preacher left "none of that sh*t appealed". However, he suddenly realised how crazy he was, planning to kill his family.
The 75-year-old businessman
is believed to have committed suicide
while in a Spanish jail in June 2021. The software developer was awaiting extradition to the United States, where he was to face charges of tax evasion and cryptocurrency fraud. However, McAfee himself repeatedly said for many years that he would not commit suicide and stressed that his life was in danger.