The New York Times sued the State Department on 31 January to obtain emails that were sent or received by officials at the US Embassy in Romania between 2015 and 2019 mentioning Hunter Biden and some international business people. The Freedom of Information Act (FOIA) lawsuit stems from the NYT's 2019 story about Hunter's dealings with a Romanian real estate tycoon facing corruption charges, who "hired" then-vice president's son in 2015.
Why is Liberal NYT Going After Hunter?
"The sudden recent interest of the media in investigating the Biden family's shady business history and foreign dealings after spending the entire 2020 election doing everything within their power to suppress the scandal certainly raises suspicion that something else is afoot," says Max Parry, US independent journalist and geopolitical analyst. "I believe the anomaly of The New York Times devoting coverage to the Hunter Biden case in contrast to the rest of mainstream media which won't dare touch the story exceeds the personal vendettas of any individual reporters on its masthead like Vogel."
According
to Politico, the NYT inquiry into Hunter Biden has been spearheaded by investigative journalist Ken Vogel for several years. In September 2019, Vogel said on MSNBC's Deadline that Hunter Biden's Ukraine activity
"is a significant liability for Joe Biden."
Throughout 2020, Team Biden had been up in arms about Vogel's coverage of Hunter dubbing it an "egregious act of journalistic malpractice."
daring to report on Hunter's lucrative work for Burisma while dad was chief statesman for that country and for suggesting on MSNBC that it posed a serious problem for Biden's presidential aspirations. I've had my disagreements with some of Vogel's reporting but the pile-on...

— Julie Kelly 🇺🇸 (@julie_kelly2) November 12, 2019
Vogel is not the only NYT journalist who wrote about Hunter's profiteering off of his father's name, says Parry referring to James Risen. Before joining The Intercept, Risen covered Hunter's controversial work at Burisma Holdings in 2015 for NYT. Still, "Risen's reporting was largely a limited hangout which curiously made sure to distance the then-Vice President," Parry says.
"Until we see some real muckraking from the 'Old Gray Lady' that doesn't steer clear of where the evidence truly leads them, we can only expect more of the same damage control and partial hangout of its previous reportage on the Hunter Biden affair," Parry says.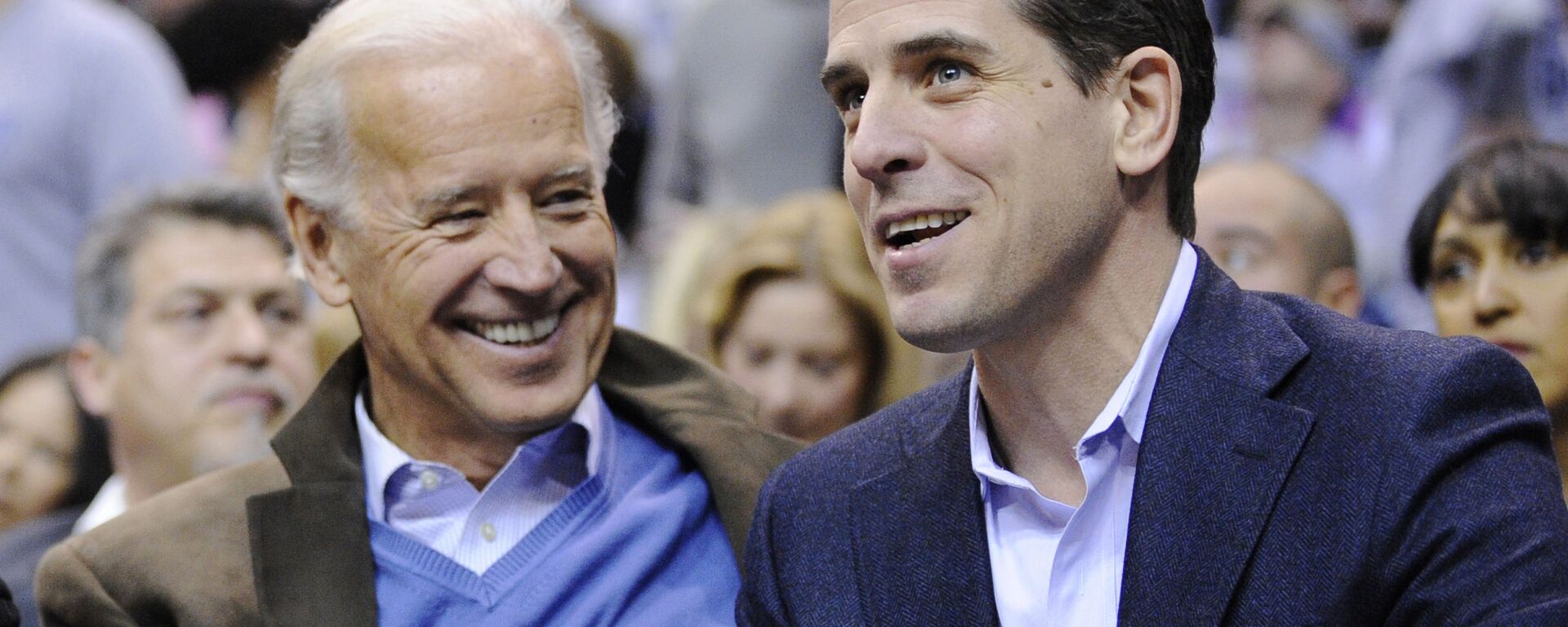 29 October 2021, 13:00 GMT
Still, it's probable that the NYT has grown disenchanted with President Joe Biden, suggests Charles Ortel, Wall Street analyst and investigative journalist.
"Though he claims otherwise, Joe Biden has never been a true 'progressive,'" Ortel says.
In contrast, the NYT houses many ardent and authentic progressives who have not forgotten how Hillary Clinton sidelined Bernie Sanders in 2016 and how the Democratic Party picked Joe Biden as its nominee in 2020, almost forcing Bernie to concede, according to the Wall Street analyst.
At the same time, he does not rule out that some elements in the Democrat Party are fed up with the Bidens' corruption, especially following Joe's disastrous first year.
"Veteran Democrat insiders have known for months that Joe Biden and Kamala Harris are radioactive for their party's prospects in 2022 and beyond," Ortel says.
Meanwhile, the US State Department is not rushing to provide the NYT with materials concerning Hunter Biden. In response to the newspaper's FOIA request in December 2021, the State Department replied that it would fulfil it no earlier than 15 April 2023.

16 October 2021, 14:30 GMT
US Conservatives Call for Appointing Special Counsel in Hunter's Tax Case
US conservative media have also come with several exposures this week concerning Hunter Biden's tax probe. Breitbart
revealed
on Monday that the DOJ issued a grand jury subpoena for JP Morgan in May 2019 demanding the production of bank records relating to Hunter and James Biden, as well as their associates Devon Archer and Eric Schwerin, as part of the federal probe into Hunter's "tax affairs."
The probe was launched by Delaware's U.S. Attorney, David Weiss, in 2018 but was paused during Joe Biden's presidential campaign,
according
to Politico. In December 2020, Hunter admitted that federal prosecutors in Delaware were "investigating [his] tax affairs." Breitbart argued that the newly released subpoena sheds light on the Bidens' dealings with foreign entities and bemoaned the fact that the investigation's present status is unclear.
The New York Post
echoed
Breitbart's concerns on 1 February calling for the appointment of a special prosecutor in Hunter Biden's tax case. The Post warned that the probe has apparently been politicised and swept under the rug.
"Unless and until [Attorney General Merrick] Garland produces an explanation for why he's avoided an independent prosecutor, or his minions actually bring charges, Americans have every reason to suspect politics is standing in the way of justice," the Post wrote.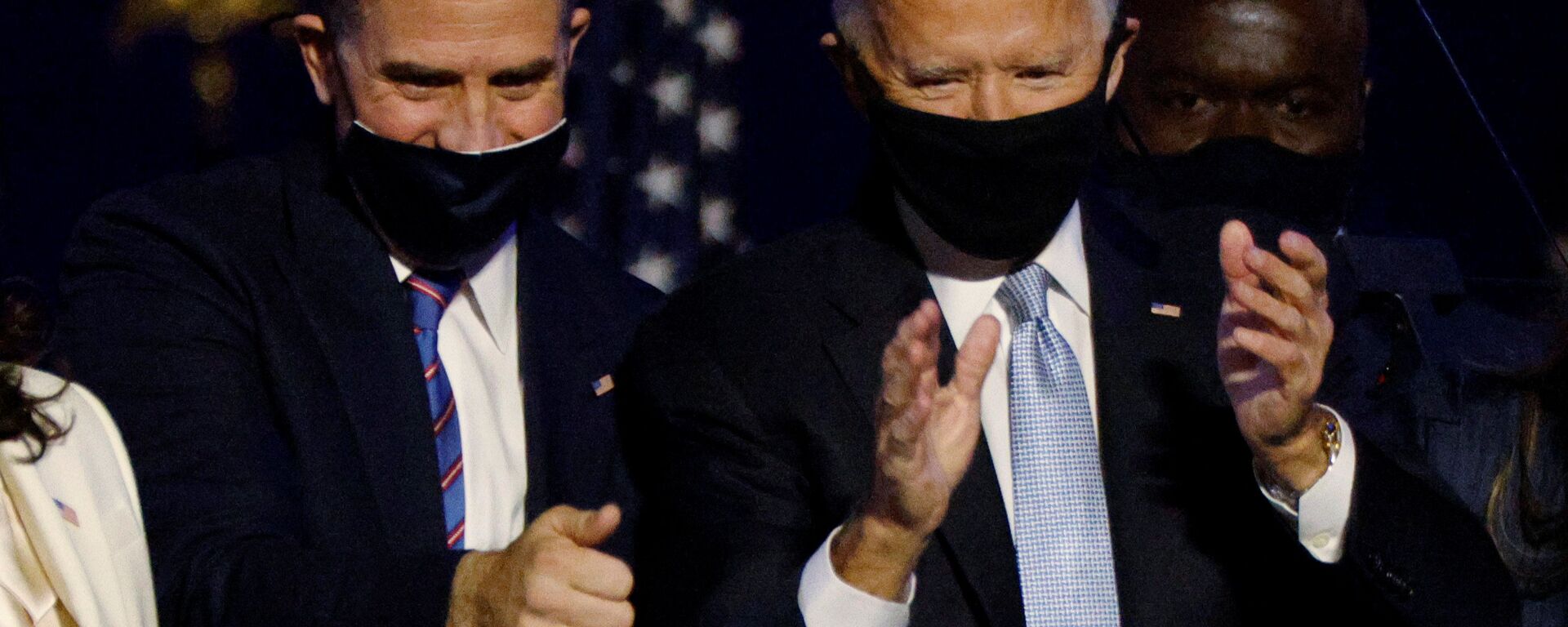 26 December 2020, 15:05 GMT
The Justice Department appears to be deliberately delaying the progress of the Hunter investigation while the State Department's decision to delay the release of FOIA materials concerning Hunter until 2023 fit the same pattern, according to Max Parry.
These developments come in sharp contrast with the pace and scope of investigations and probes carried out against Biden's political opponents, notes the journalist. The DoJ has recently taken a tougher approach to January Sixers by charging Stewart Rhodes, the founder of the Oath Keepers, with "seditious conspiracy" in relation to the Capitol protests. For their part, the House Select Committee on the January 6 Attack and NYS Attorney General Letitia James are
closing in on Donald Trump and his associates
.
"We know the DOJ has been looking into Hunter Biden since 2018 and the tax inquiry has been going on since at least 2020 and now," says Parry. "Since it is clear that the DOJ is highly politicised and has the potential to be used to not only persecute political opponents of the current administration but slow-walk any probe implicating the latter, what is long overdue is an impartial special counsel appointment to resolve the matter."