Fernandes signed Sooraj to play the lead role in forthcoming movie 'Hawa Singh'. However, after filming for 12 days, the movie got shelved because of the COVID lockdown in 2021.
Fernandes revealed that to cast Sooraj as the film's protagonist, Aditya had poured some money into the film, hoping to attract an investor to underwrite the rest of the cost of making the film, which was estimated to be in the region of INR 250 million ($3.33 million). However, that didn't happen.
"Things went awry after the first lockdown, as the investors did not want to back a film with Sooraj in the lead. I spoke to Sooraj about it, who himself urged us to proceed with another actor," Fernandes told The Times of India.
When Fernandes told Aditya that no investor was willing to fund the movie, Aditya called him to a hotel and insisted on his son being kept in the movie. When Fernandes refused, Aditya allegedly assaulted and threatened him, saying: "You have to make a movie with my son, otherwise I will kill you."
© Photo : Twitter/@ANI
Bollywood actor producer Aditya Pancholi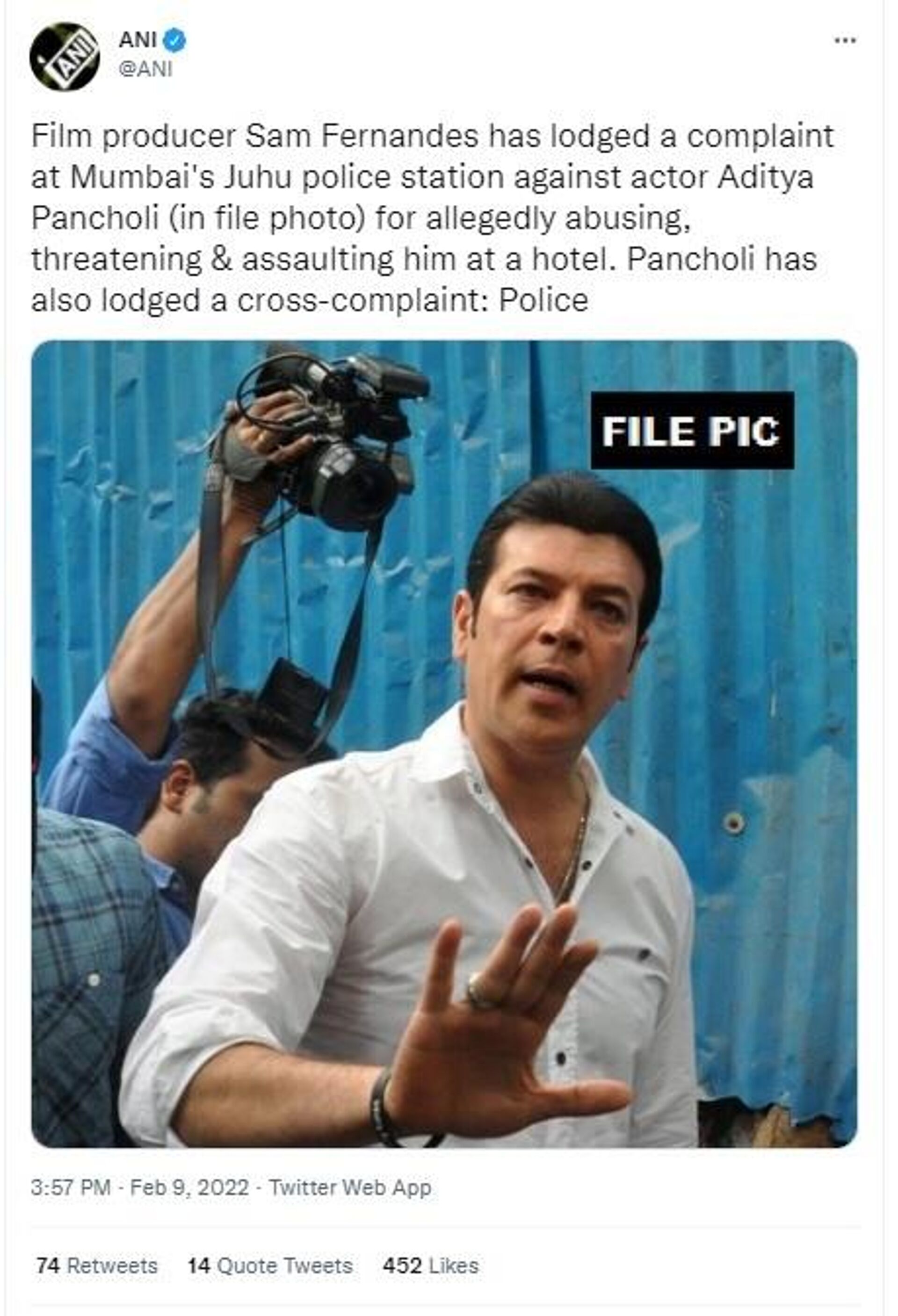 Bollywood actor producer Aditya Pancholi
Fernandes filed a police complaint against Aditya for allegedly assaulting him and Aditya has lodged a counter-action against Fernandes, accusing him of mistreatment and asking for more money which he refused to return later.
"In February 2020, Fernandes came to me, shared a sob story and asked for money. He told me, 'I will be finished, the house is mortgaged, the vendors' money has to be paid'. Being an emotional person, I gave him INR 9.05 million ($120,801) from my wife's and children's accounts," Aditya said.
Things turned ugly after a heated conversation between Aditya and Fernandes, leading to a clash between them.
"In January 27, [Fernandes] visited me at a hotel and, after a while, started mistreating me and talking rubbish about Sooraj and my family. He demanded more money, and I refused. I asked him to return the money he had earlier borrowed. But he flatly refused. Next, I discovered that he filed a complaint against me at a police station," Aditya said.
The case is being investigated.