Kiev has announced its intention to convene a meeting of the 57 member signatories of the Vienna Document, including Russia, to discuss Moscow's alleged failure to respond to Kiev's request for information on its military activities, Ukrainian Foreign Minister Dmytro Kuleba has announced.
"Russia failed to respond to our request under the Vienna Document. Consequently, we take the next step. We request a meeting with Russia and all participating states within 48 hours to discuss its reinforcement and redeployment along our border and in temporarily occupied Crimea. If Russia is serious when it talks about the indivisibility of security in the OSCE space, it must fulfill its commitment to military transparency in order to de-escalate tensions and enhance security for all," Kuleba
tweeted
Sunday.
Ukrainian officials continuously use the term "temporarily occupied Crimea" to refer to the Black Sea peninsula, which held a referendum to break off from Ukraine and rejoin Russia's jurisdiction after a Western-backed coup in Kiev in 2014.
Kiev formally demanded details from Russia regarding its military activities near the border with Ukraine on Friday, citing the "reduction reduction mechanism" stipulated in the Vienna Document - a 2011 treaty signed by all 57 members of the Organization for Security Co-operation in Europe aimed at building confidence and security in the OSCE space. Kiev's request included demands that Russia provide data on areas where its troops are operating, the dates when they will be withdrawn (if applicable), as well as unit names, the formations they are subordinated to, types of weapons and military equipment involved, and other details.
Kuleba warned Friday that if Russia failed to provide this data, or provided information which was deemed insufficient or inadequate by Kiev, Ukraine would convene the emergency Vienna Document meeting to demand an explanation.
Parties to the Vienna Document typically exchange information on military forces, major weapons systems and other equipment, as well as defence planning and military budget information on an annual basis. The treaty provides for consultations in the event of "unusual military activities" or dangerous incidents.
Request Unreasonable, Russia Says
Shortly after Kiev made its request Friday, a Russian Foreign Ministry source told Sputnik that the demands were unreasonable, "since Russian military activity is not unusual and does not give grounds to launch the military danger reduction mechanism provided" by the Vienna Document.
The source said Moscow considers Kiev's request a "maneuver" aimed at distracting from "its own significant unusual military activities," as well as daily shelling of the breakaway Donbass republics. The Russian side would provide a response to the Ukrainian request soon, the source assured.
The call for the Vienna Document meeting comes amid claims by Western media Friday citing unnamed political and military officials that Russian President Vladimir Putin had made a decision to invade Ukraine, and would be doing so as soon as this week. Moscow has dismissed the claims, accusing Washington of colluding with media to drum up war "hysteria," and denying having any plans to attack anyone.
On Saturday, Ukrainian President Volodymyr Zelensky asked media to provide proof of Russia's supposed invasion plans, and on Sunday US officials including Biden National Security Advisor Jake Sullivan and Pentagon spokesman John Kirby
walked back claims
about a specific invasion date, while maintaining that an attack may occur "any day now."
Provocation Danger
Amid Western allegations about Russia's plans, Moscow has expressed its own concerns of a possible provocation against the breakaway Donbass region by Kiev or its allies, particularly amid confirmation by the OSCE mission in Ukraine that some member states are withdrawing observers from the conflict zone, citing fears for their personal safety.
Moscow has repeatedly called on Kiev to implement the Minsk Agreements aimed at ending the long-running civil war in eastern Ukraine. The Minsk deal, signed in the Belarusian capital in February 2015, called on the Ukrainian military and the Donbass militias to reach a ceasefire, and withdraw troops and heavy military equipment from the line of contact. It also stipulated for elections to be held in the breakaway regions, and for Kiev to grant them broad autonomy in exchange for a return to Ukrainian jurisdiction. The Ukrainian government has refused to implement the second part of the deal, with flirting in this direction by President Volodymyr Zelensky in 2019 ending after a 50,000-strong mob of protesters in Kiev threatened to overthrow his administration.
In recent weeks, Donbass militias have expressed growing concerns about a heavy Ukrainian buildup near the conflict zone. On Friday, a spokesman for the People's Militia of the self-proclaimed Donetsk People's Republic
reported
that new Ukrainian troops, S-300 air defence systems, heavy rocket artillery and British and Polish mercenaries had been spotted near the front.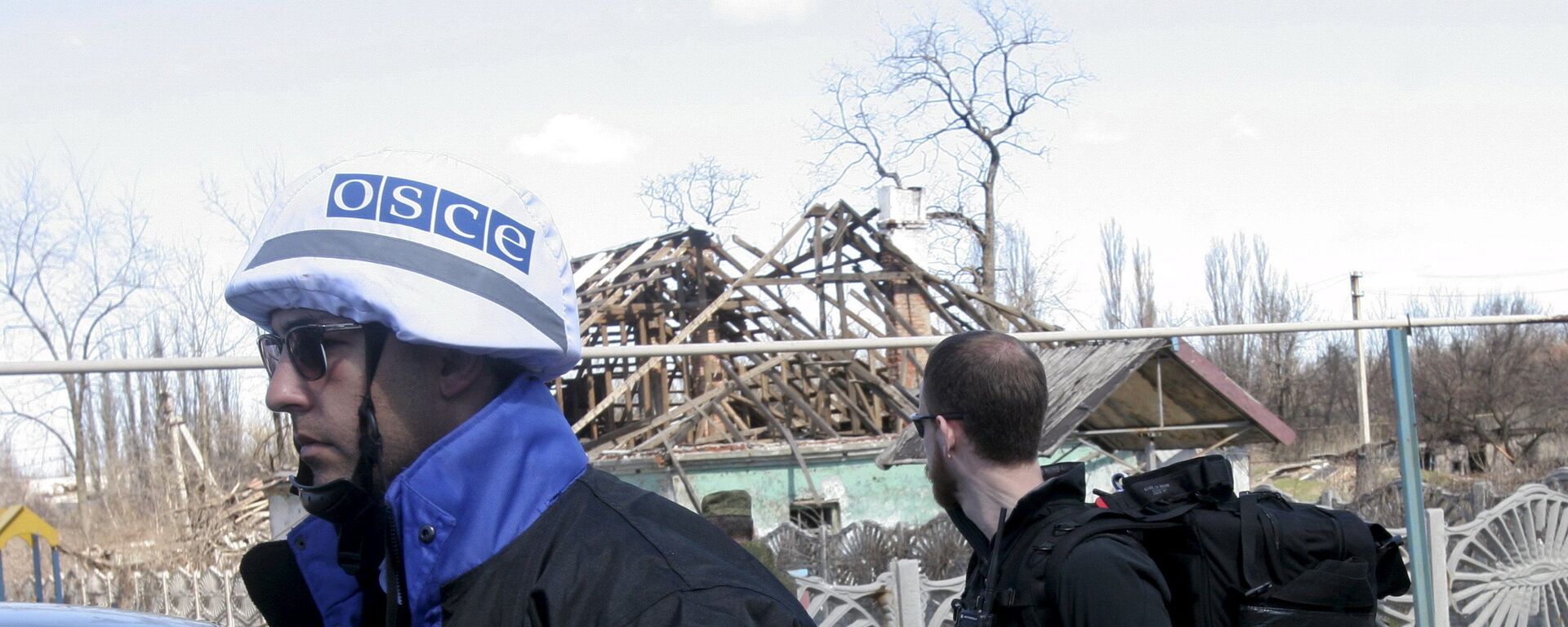 13 February 2022, 17:42 GMT