The Russian Olympic Committee's
figure skater Kamila Valieva
is in first place after completing her short programme. The athlete barely held onto her opening triple axel, but she then successfully finished her performance.
The 15-year-old broke down in tears as she was leaving the rink. She has a score of 82.16 points.
Valieva was the second to step onto the ice in the final group of participants. The audience met her with a storm of applause. The athlete didn't attend the press conference because she felt unwell, Olga Ermolina, PR director of the Russian Federation of Figure Skating, said, citing the ROC's PR head. Ermolina said Valieva will speak to the press after the free programme. The competition will be held on 17 February.
© Photo
Twitter screenshot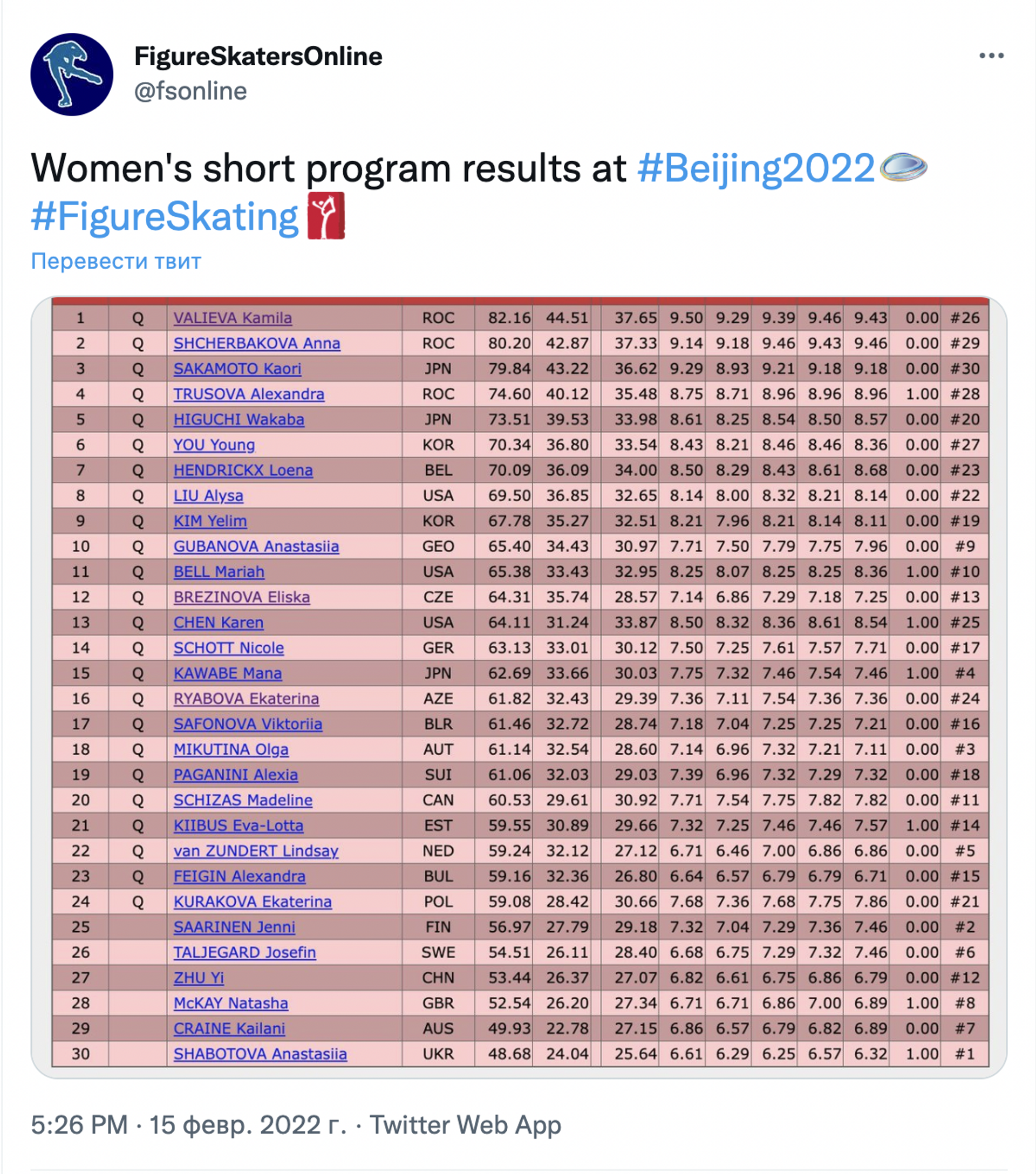 Twitter screenshot
The skater arrived in Beijing as a favourite, having won the Russian and European Figure Skating Championships. In Beijing, she has
displayed an immaculate performance,
bringing the Russian Olympic Committee (ROC) victory in the team event.
The 15-year-old, who has already broken several world records, made history by becoming the first woman to land a quadruple jump at the Olympics. The move, which was introduced in men's competitions, requires athletes to jump and turn four times in the air in less than a second before landing on one leg skating backwards.
However, in recent weeks Valieva has been in the spotlight for another reason. The doping test she took in December 2021 came back positive for trimetazidine, a banned heart medication.
The news put in question her further participation at the Winter Olympics, but the Court of Arbitration for Sport ruled on Monday that Valieva should be allowed to compete, in part because she is a minor, known as a "protected person", and is subject to different rules from an adult athlete.
The International Olympic Committee has announced that even if the athlete wins a medal in the single's event, there will be no ceremony until it completes its investigation into the positive test. Thus, the IOC's investigation will not only decide the fate of the singles, but also the ROC's victory in the team event.