Russian Foreign Minister Sergei Lavrov has expressed dismay at Kiev's refusal to hold direct talks with the leaders of the self-proclaimed Donetsk and Lugansk People's Republics to put an end to the conflict in the Donbass, and expressed alarm over reports of a dramatic increase shelling of the Donbass using heavy weaponry prohibited by the Minsk Agreements. Kiev, the foreign minister alleged, is responsible for sabotaging the ceasefire.
"We have emphasised that there is no alternative to the implementation of the Minsk Agreements in their entirety. And of course, we emphasised our serious concern over the statements by Kiev that they would not conduct direct dialogue with Donetsk and Lugansk. This is a direct challenge and a direct refusal to comply with the Minsk Agreements," Lavrov said, speaking to reporters after his meeting with Greek Foreign Minister Nikos Dendias on Friday.
"As for the situation on the line of contact in the Donbass, we are very alarmed by the recent reports -from yesterday or the day before, of a sharp increase in shelling with the use of weapons prohibited by the Minsk Agreements," the Russian top diplomat said.
Reports of Mercs Being Flown in From Balkans
Separately, in an interview with RT on Friday, Lavrov said that Moscow was rechecking information suggesting that mercenaries are being recruited for deployment in the Donbass from the self-proclaimed Republic of Kosovo, as well as Albania and Bosnia.
"German Chancellor Olaf Scholz and all other NATO leaders say that the alliance is a defensive one. Russian President Vladimir Putin, at his press conference following the talks with Scholz, reminded him of the bombing of Yugoslavia in 1999. Scholz
said
that NATO intervened to prevent a genocide of Kosovar Albanians, that everything was done successfully and that now this region is flourishing," Lavrov said.
But the region is "far from flourishing," according to Lavrov. "Kosovo and some other parts of the Western Balkans are becoming a breeding ground for crime. There are terrorists, drug dealers. It is a recruiting ground for mercenaries taking part in conflicts which are being gradually fomented, including by the United States. There is information that mercenaries are being recruited in Kosovo, Albania, Bosnia and Herzegovina and being sent to the Donbass, among other places, in order to knock Russia off balance. We are rechecking this information now," the foreign minister said.

10 December 2018, 18:49 GMT
Donbass Escalation
Donetsk and Lugansk militias have
reported on
a sharp escalation in shelling by the Ukrainian side on Thursday and overnight
Friday morning
, with Lugansk forces saying they had been shelled 29 times over a 24 hour period, including using illegal heavy weapons such as 122-mm artillery, large-calibre mortars and anti-tank guided missiles. The attacks have targeted militia positions as well as local residential areas, with at least one militiaman killed by a sniper, and several militiamen and civilians wounded in recent incidents. The Ukrainian side has claimed that its forces have been shot at or shelled 60 times in the past 24 hours, with the country's defence minister assuring Friday that the current situation was an "anomaly."
Donbass forces have expressed concerns recently about the potential for an escalation provoked by foreign mercenaries, or by the neo-Nazi militias operating in the area which, while formally subordinate to the Ukrainian military, operate autonomously and continue to demand that the independence-seeking territories be crushed by force.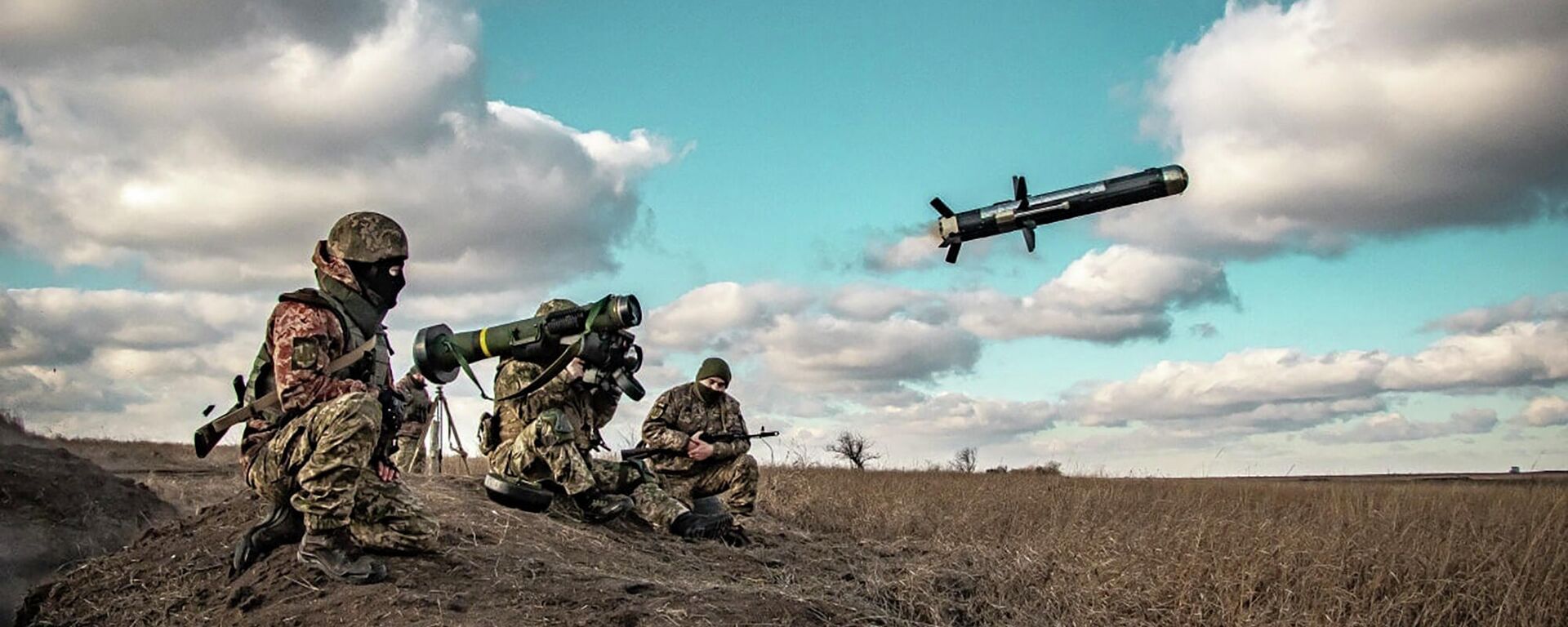 17 February 2022, 03:42 GMT
Moscow has repeatedly called on Kiev to implement the Minsk Agreements. The Minsk deal, signed in the Belarusian capital in February 2015, called on the Ukrainian military and the Donbass militias to reach a ceasefire, and withdraw troops and heavy military equipment from the line of contact. It also stipulates for elections to be held in the breakaway regions, and for Kiev to grant them broad autonomy in exchange for a return to Ukrainian jurisdiction. The Ukrainian government has so far refused to implement the second part of the agreements, with flirting in this direction by President Volodymyr Zelensky in 2019 met with protests in Kiev organised by neo-Nazi volunteer veterans and various opposition forces threatening to overthrow his government.