The transfer of Russian gas supplies through the Ukrainian gas transmission system is expected to remain close to maximum required capacity through Sunday, data from the
Gas Transmission Operator of Ukraine
(GTOU) and GSA Platform indicates.
Current orders for the pumping of Russian gas through Ukraine are amounted to 107.33 million cubic meters, close to the maximum contractual obligations for Gazprom (which average about 109 million cubic meters per day).
Data shows that the pumping of Russian gas through the Ukrainian gas transit system has grown sharply since Thursday, when Russia kicked off its "special military operation" in Ukraine aimed at "demilitarizing" and "denazifying" the country. On Saturday, 108.1 million cubic meters of gas were delivered through the Ukrainian transit system, according to Gazprom. For comparison, deliveries through the network last Monday amounted to less than 50 million cubic meters.
On Friday, GTOU
reported
that it was continuing to perform "its functions of transporting natural gas to consumers and balancing the system," with operations continuing "in all regions, including in areas of hostilities."
GTOU also reported that the work of two gas distribution centers in conflict zones in Lugansk and Kharkov regions were temporarily suspended Thursday due to damage to the network caused by hostilities, with company employees closing a distribution station near the town of Shchastia, Lugansk to minimize risks to the local population.
Gazprom previously assured that it would continue to supply gas through Ukraine in accordance with the requests of European customers.

25 February 2022, 12:22 GMT
Yamal-Europe, a major Russian pipeline transiting gas to Europe through Belarus and Poland,
saw about 1.2 million cubic meters per hour
shipped through the system between Saturday night and Sunday morning, but no additional capacity for transit had been booked for the month of February, according to GSA Platform. Yamal-Europe has a maximum capacity of 3.7 million cubic meters per hour.
The heating season in Europe is coming to a close, with temperatures warming but countries typically continuing to withdraw gas from reserves until the end of March. The region's reserves of gas at underground storage facilities reached an average of 30.14 percent as of 23 February, a low but not dangerously low showing for this time of year.
Spot prices on gas showed strong volatility on Thursday and Friday on news of the Russian military operation in Ukraine, with futures on the TTF index
jumping past
$1.60 per thousand cubic meters – or over 60 percent. However, prices fell Friday, fluctuating in the range of $1,030-$1,330 dollars per thousand cubic meters. Oil prices
jumped sharply and then dipped
during the same period, with Brent crude settling at $97.93 per barrel Friday after temporarily jumping past $100 a barrel a day earlier.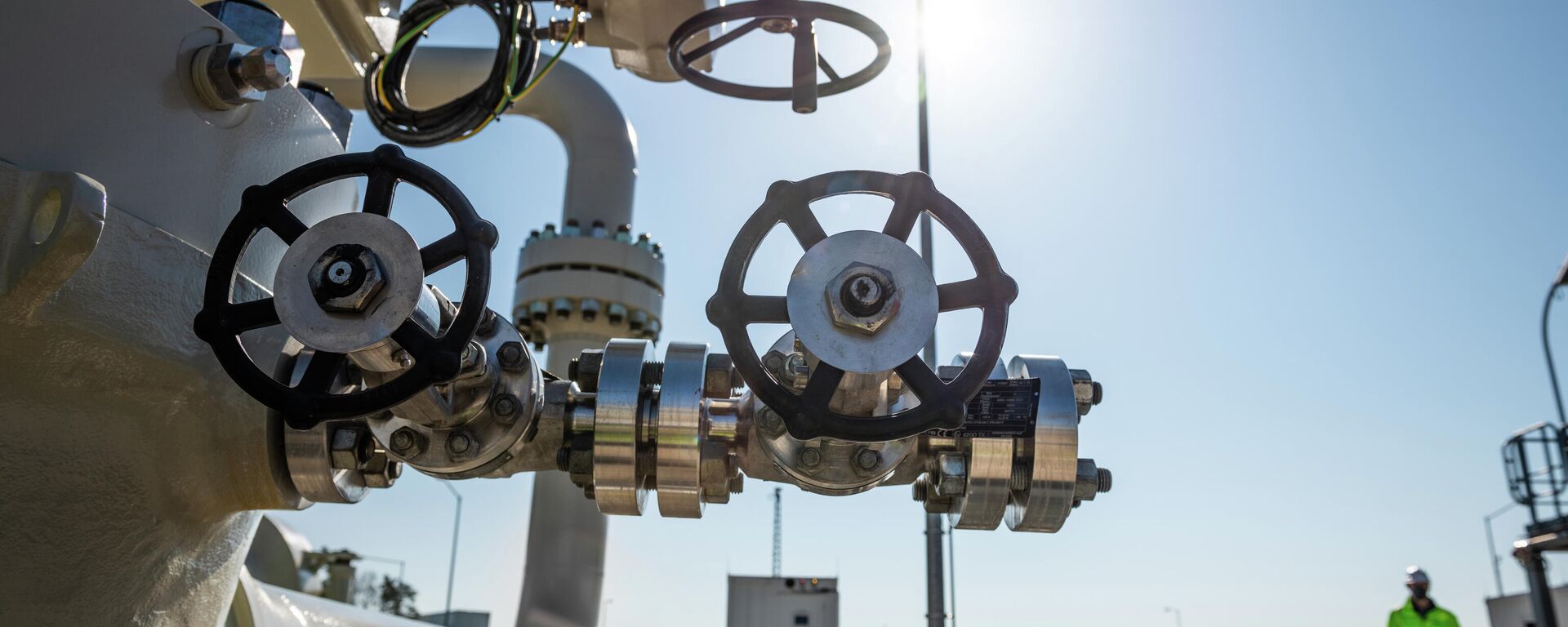 25 February 2022, 11:28 GMT
The US and its allies slapped tough new sanctions on Russia Thursday and Friday in areas including banking, as well as technology exports, and personal restrictions, asset seizures and travel bans against officials and businessmen. Dmitri Medvedev, deputy chairman of the Russian Security Council, warned that Moscow would respond in a tit-for-tat manner over the restrictions, and said that Russia has a "rich experience" in this area, "so the fun is just beginning."
Berlin suspended the certification of Nord Stream 2, the new 55 billion cubic meters-per-year capacity pipeline built to transport gas from Russia to northeastern Germany along the bottom of the Baltic Sea, on Tuesday, doing so after Moscow formally recognized the Donetsk and Lugansk People's Republics.

26 February 2022, 13:23 GMT