Indian students fleeing the Ukrainian city of
Kharkov
have accused the country's military of threatening to "shoot" them if they tried to board a train to the western city of Lvov, as per an eyewitness account.
Divyansh Dixit, a medical student at Kharkov National Medical University, told Sputnik that he was part of a group of nearly 1,000 Indian students who made their way to Kharkov's Pivdennyi Vozkal railway station minutes after the Indian Embassy in Ukraine issued an advisory for its nationals on 2 March.
The advisory, the second of the day, urged Indians in Kharkov (including those at the station) to leave the city "immediately in light of the deteriorating security situation" and proceed to Pesochin, Babai, and Bezlyudovka, three towns within a distance of 11-16 kilometres of Kharkov.
The advisory urged Indians to leave for the destinations "on foot" if they were unable to find any other means of transport.
The first Indian advisory issued earlier that day urged Indians to reach the three towns by 6 p.m. (Eastern European Standard Time).
Dixit says that the Indian student group, of which he was a part, was told by Ukrainian soldiers that they would be killed if they tried to board the train to Lvov, a relatively safer city located close to the Polish border.
"Many of us were forced to walk on foot to the places mentioned in the advisory", says Dixit, who finally managed to reach Pesochin safely.
"There are around 200-250 Indian students still stuck in Kharkov as they were unable to get out", he claims.
At a media briefing on Wednesday evening, Indian Foreign Ministry spokesperson Arindam Bagchi said that the Indian advisories were issued on the basis of
input received from Russia
.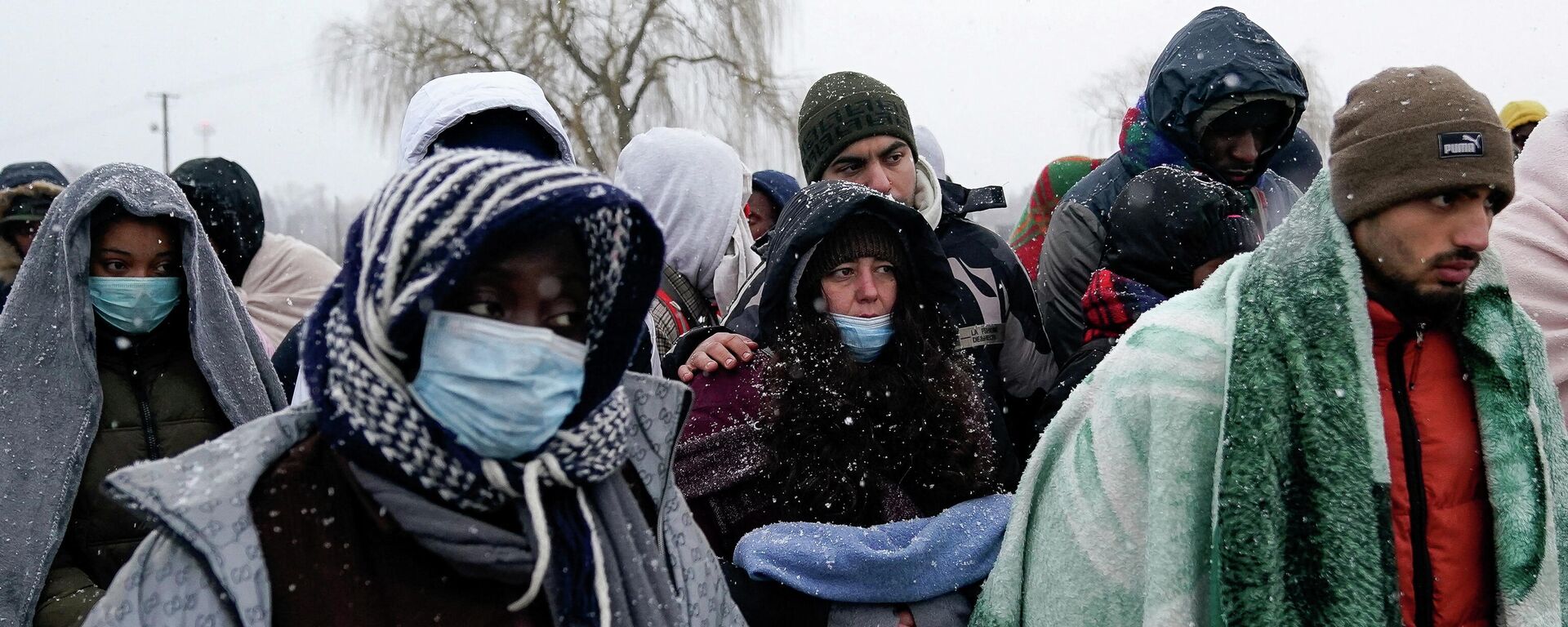 28 February 2022, 11:18 GMT
Bagchi didn't reveal how many Indian students have been left stranded in Kharkov. He, however, did give a broad picture of the Indian evacuation efforts, saying 17,000 of the 20,000 Indians who had been in Ukraine had been evacuated as of yesterday.
Besides Dixit's account, several videos posted on social media as well as reports in the Indian media have also documented the mistreatment allegedly suffered by Indian students at the hands of Ukrainian forces as they tried to flee Kharkov, Ukraine's second-largest city.
© Photo : Twitter / @Chaiti
Indian students in Ukraine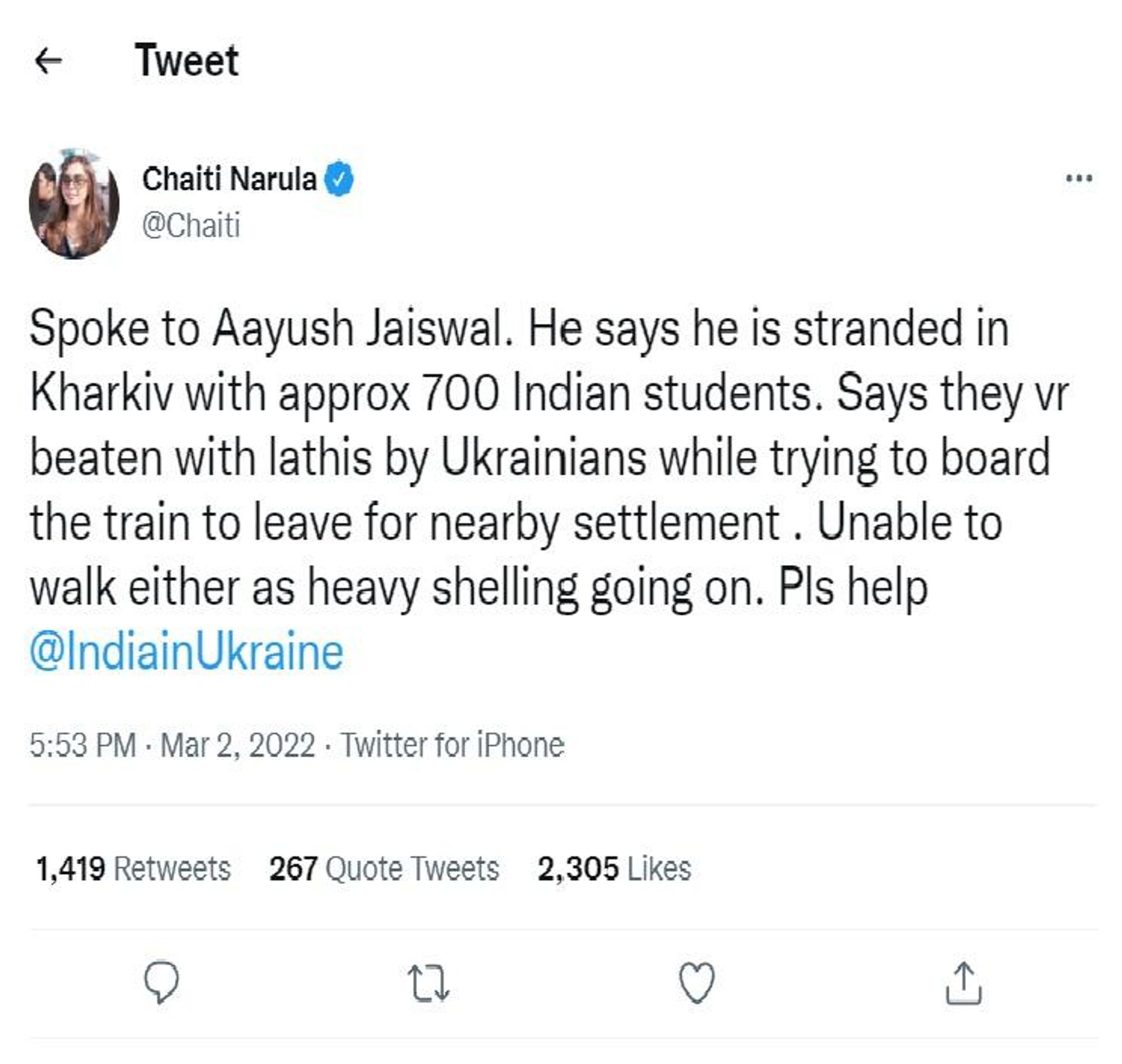 Indian students in Ukraine
© Photo : Twitter / @Chaiti
The English daily
The Times of India
reported on Thursday morning that Ukrainian guards beat up Indian men trying to board trains at a Kharkov metro station.
"We weren't able to board the train. Only Ukrainians were allowed. Then, those with babies and older persons. Then, if there was any more space left, girls were let in. Boys were beaten up if they stepped inside", Anenna Vinod, a student at the Kharkov National Medical University, told The Times of India.
A minister in the Indian state of Karnataka, governed by federally ruling BJP, also posted a video saying that a group of girls were allowed to leave Kharkov by train yesterday (Wednesday), while the boys in the same group were barred from boarding the train.
Glad to learn that over 20 MBBS girl students from Karnataka managed to board a train earlier today from Kharkiv to Lviv near Poland border. 28 MBBS male students, who weren't allowed to board the train, are on their way to a place on the suburbs as advised by Indian Embassy. pic.twitter.com/wYCDaBgKKT

— Dr Sudhakar K (@mla_sudhakar) March 2, 2022
Indian Students Being Taken 'Hostage' by Ukraine, Putin Tells Modi
Russian President Vladimir Putin told Indian Prime Minister Narendra Modi during a telephone call on Wednesday that some Indian students had been "taken hostage" by Ukrainian security forces as they tried to flee Kharkov for Belgorod, a Russian city close to the Ukrainian border.
A Russian Defence Ministry spokesperson said at a briefing Wednesday evening that the Indian students were asked to leave the country via the Polish border, thus taking them through territory where "active hostilities" have been taking place.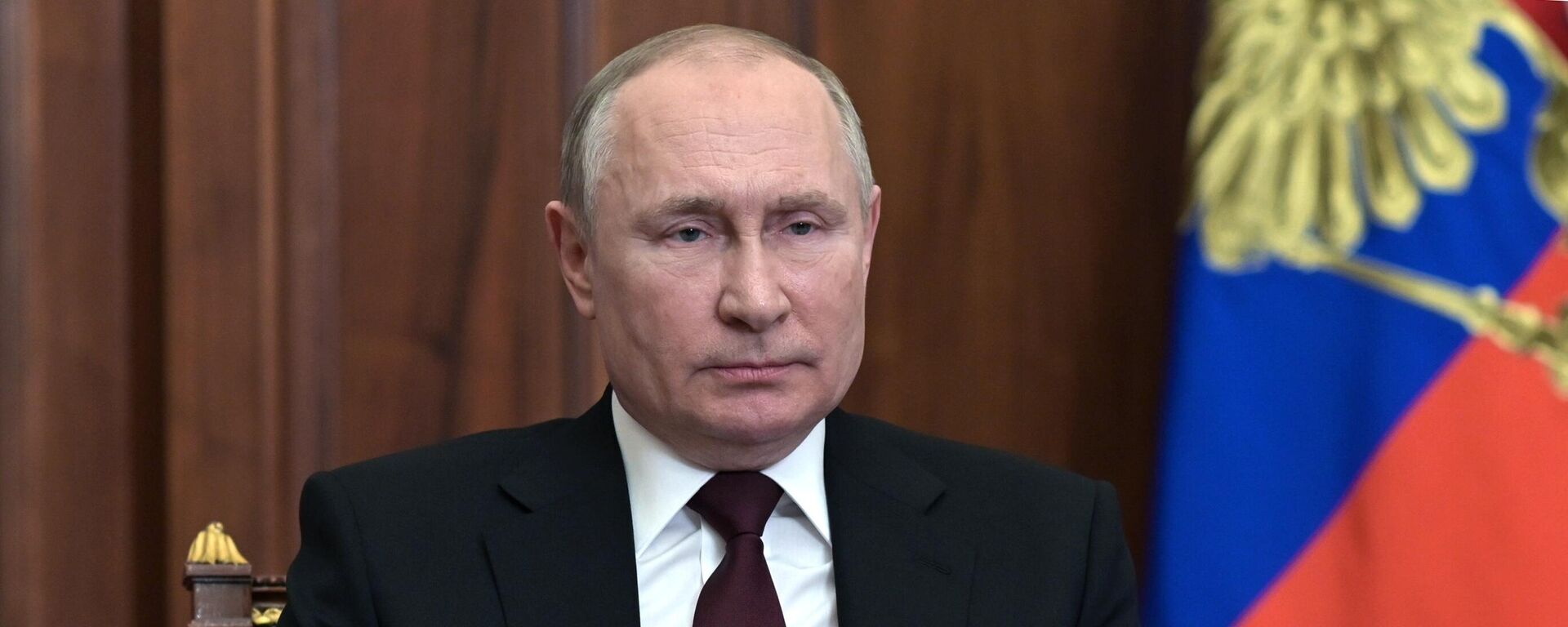 28 February 2022, 15:24 GMT
The Ukrainian Foreign Ministry claimed soon after Moscow's charge, that the evacuation of Indian and other foreign students was obstructed due to Russian military operations in the region.
The Indian Foreign Ministry Thursday morning claimed that it hadn's received any reports about a "hostage situation" involving Indian students in
Ukraine
.
"We have requested support from Ukrainian authorities in arranging special trains for taking our students from Kharkov and neighbouring areas to the western parts of the country", a Foreign Ministry spokesperson said.