Divisions appeared within the Quad, a security dialogue between the United States, India, Japan, and Australia during a virtual meet hosted by US President Joe Biden on Thursday.
In an apparent bid to persuade India to accept the agenda of the other three members to
expand the Quad's ambit
to the Euro-Atlantic region, Biden mentioned that he had discussed with the Quad leaders "Russia's ongoing attack on Ukraine", and the group's "commitment to sovereignty and territorial integrity around the world, including in the Indo-Pacific".
This was apparently not well received by the Indian side, as evident from Indian Foreign Ministry spokesperson Arindam Bagchi's statement on Friday: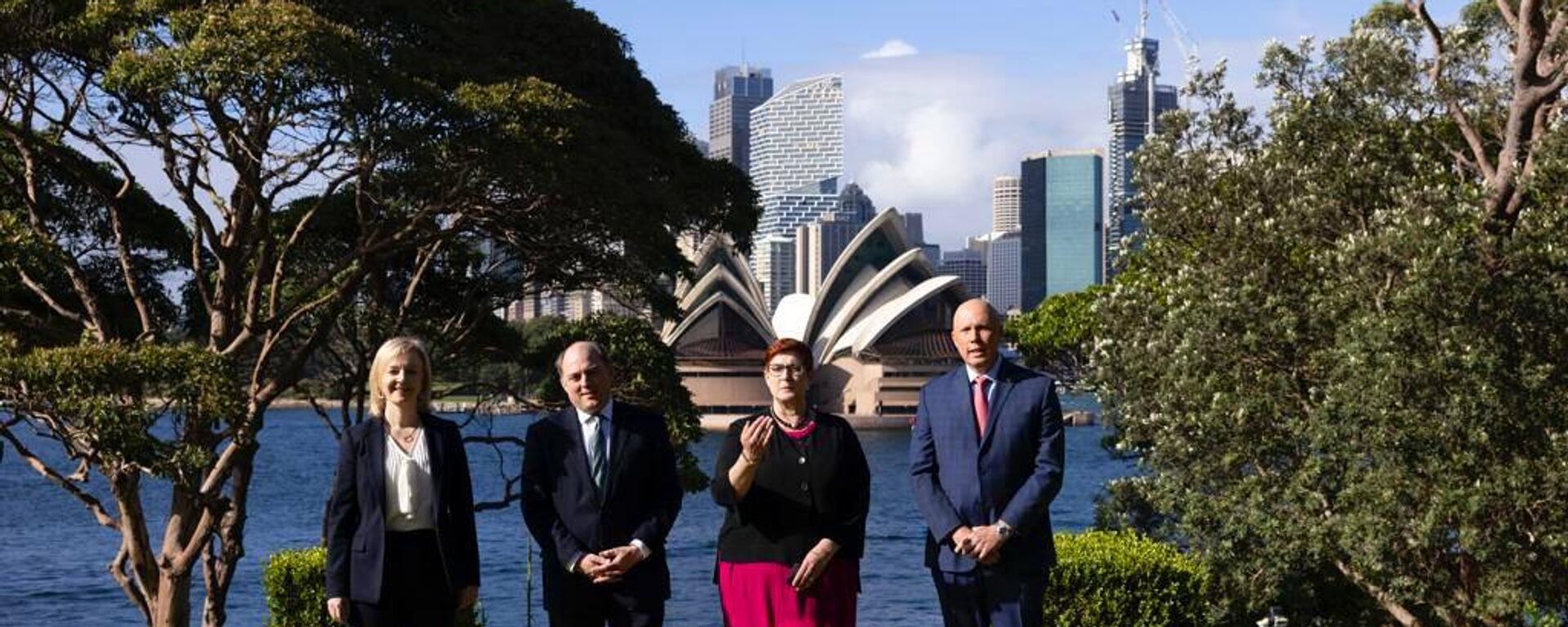 21 January 2022, 14:21 GMT
America's attempt to change the Quad agenda is part of its
strategy to ease pressure on China
, says Brahma Chellaney, professor of strategic studies at the New Delhi-based Centre for Policy Research.
"As if to allay China's concerns, he [Biden] has diluted the Quad's Indo-Pacific focus by broadening its agenda to everlasting global challenges like climate change and sustainability. Now he has brought in Ukraine and European security", Brahma Chellaney says.
Last month, Indian Foreign Minister S. Jaishankar made it clear that Indo-Pacific geography does not cover Ukraine.
"India's position at the Quad is certainly different from the position that the United States, Japan, and Australia have taken on the Ukraine crisis and I do not think India is going to change its stand anytime soon given the constraint it faces in managing Russia", Professor Harsh V. Pant, head of the Strategic Studies Programme at the New Delhi-based Observer Research Foundation, says.
The Quad summit was held as the US State Department said in a cable that India's stance on Ukraine puts it in
"Russia's camp"
, while New Delhi says its policy is based on the country's "best interests".
"Russia is an important defence partner, and India needs that partnership to manage China. Also, India needs Russian support in managing the
evacuation of its nationals from Ukraine
", Pant underlines.
Two thirds of India's military hardware is of Russian origin, and it is heavily dependent on spare parts from the country. Russia, a privileged strategic partner, is also part of
India's Act East Policy,
which aims to expand its outreach to the Arctic region.
"The Quad is being developed as a special purpose vehicle for providing public goods and pursuing stability and prosperity in the Indo-Pacific. That's its primary objective", says Manoj Kewalramani, a China Studies fellow and chair of Indo-Pacific Studies at the Bangalore-based Takshashila Institution.
India's balancing act on Ukraine could face scrutiny very soon, as Western nations are putting
severe financial sanctions on Russia
, analysts warn, adding that the Quad may eventually become a "casualty of Western pressure".
"I think there are differences certainly, but the Quad is a platform, not an alliance relationship, and it is primarily focused on the Indo-Pacific. So I don't think there is going to be a long-term problem for the Quad, but certainly, short-term challenges", Harsh V. Pant concluded.
Nevertheless, an immediate signal on the future of the Quad may appear sooner if the Biden administration sanctions New Delhi under the Countering America's Adversaries through Sanctions Act (CAATSA) law over the
$5.43 billion S-400 air missile defence system deal
, under which delivery started last December from Russia.
Enacted in 2017, CAATSA authorises the US president to impose sanctions on countries that purchase major defence hardware from Russia.