Meta has made a temporary change to its hate speech policy to allow Facebook and Instagram users in some countries to call for violence against Russian people and Russian soldiers, Meta spokesperson Andy Stone said in a statement via Twitter.
Using the Russian special operation in Ukraine as a justification for the move, Meta described racist speech against Russian-speaking people as "forms of political expression," vowing to continue to prevent "credible calls for violence against Russian civilians."
"As a result of the Russian invasion of Ukraine, we have temporarily made allowances for forms of political expression that would normally violate our rules like violent speech such as 'death to the Russian invaders.' We still won't allow credible calls for violence against Russian civilians," a Meta spokesperson reportedly said in a statement.
Apart from greenlighting hate speech in certain countries, Meta will also allow posts "that call for death to Russian President Vladimir Putin or Belarusian President Alexander Lukashenko," Reuters reported, citing internal company emails.
Calls for violence against Russian soldiers will be considered permissible by the company, but not against prisoners of war, the report said.
The change reportedly applies to Latvia, Lithuania, Estonia, Poland, Slovakia, Hungary, Romania, Russia and Ukraine.
In another inexplicable move, corporate emails also showed that praising Ukraine's neo-Nazi Azov battalion will also be considered "okay," according to The Intercept. The Azov Regiment, founded by white supremacists, is now a unit of the National Guard of Ukraine (NGU) that has enjoyed cooperation with Washington as a tool to propel radical forces in Ukraine against Russia, investigative journalists have found. Its members have engaged in hostilities against the people of Donbas in Eastern Ukraine, and in 2016, the Office of the UN High Commissioner for Human Rights (OHCHR) officially accused them of war crimes, including kidnapping, torture and mass looting. Azov has been one of the primary tools used by Kiev in its crackdown against anti-Maidan protesters.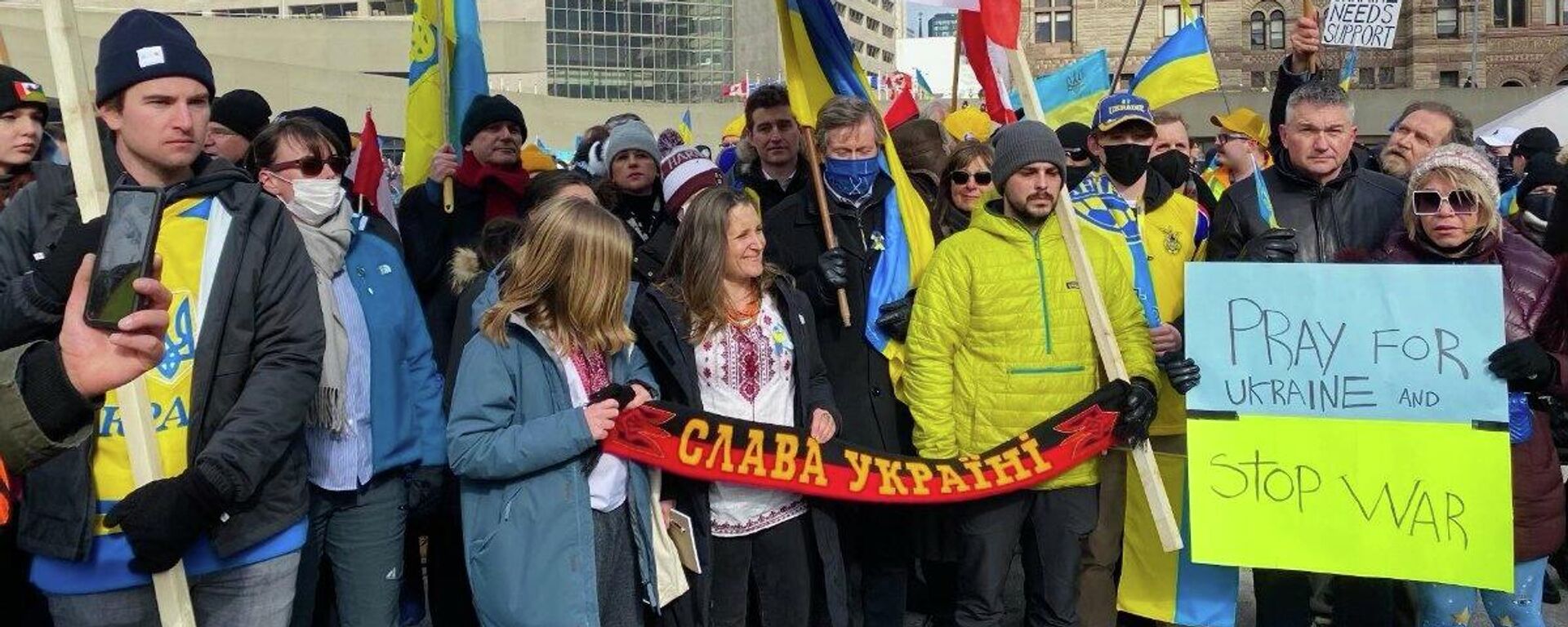 28 February 2022, 23:27 GMT
The Azov Battalion recently triggered outrage after its members were captured greasing bullets with pork fat, for use against Muslim (Chechen) soldiers, in a video shared by Ukraine's National Guard on Twitter. The footage, in which they referred to Chechen soldiers as "Kadyrov orcs," was ultimately deleted, but not by Twitter: the platform attached a label to it, saying, "This Tweet violated the Twitter Rules about hateful conduct. However, Twitter has determined that it may be in the public's interest for the Tweet to remain accessible."