"No one wants any war, much less a nuclear war, which is a threat to the very existence of human civilisation. In this sense, those analysts who say, perhaps somewhat cynically, but nevertheless, that the development of nuclear weapons has prevented a huge number of conflicts in the 20th and 21st centuries, are right. This is true. In fact, it is what it did", Medvedev said, answering a question about a possible nuclear conflict or a war between Russia and NATO.
"So it is obvious that the threat always exists", Medvedev added.
Russian Prime Minister Dmitry Medvedev
© Sputnik / Ekaterina Shtukina
/
He noted that the current crisis is worse than during the Cold War, because Russia's counterparts at that time were not trying to bring the situation to a boiling point, they did not impose sanctions on industries, agriculture, and individuals.
Medvedev added that if the Russian leadership had taken an irresponsible stance, it would have withdrawn from the New START treaty (Strategic Arms Reduction Treaty), as the people who signed it are now on the West's sanctions list.
Economic Situation
Addressing the situation with the Russian economy, Medvedev noted that the nation was less protected during the 1998 financial meltdown than during the current crisis.
"You cannot step into the same river twice. I had nothing to do with the government in 1998, and I perceived it from the perspective of a person from the civilian world, if you like, from the business world. But our society, our country was also much less protected then", Medvedev said, answering a question of whether a financial meltdown in Russia could happen again.
"Everything that is happening now is just an
economic war declared on Russia
, as one French minister said. They have declared an economic war on Russia. And they are trying to wage this war without any rules", the deputy chairman added.
He noted that this economic war without rules will lead to the destruction of the entire global economic order.
"They are seizing assets of financial institutions and even of the [Russian] Central Bank, and are even talking about foreclosing these assets, about nationalising them in other words. Well, look, this is a war without rules. What will be the consequences of this war - the destruction of the entire world economic order", Medvedev said.
© Sputnik / Maksim Bogodvid
 / Go to the mediabank
Banknotes printed at a printing factory of the Federal State Unitary Enterprise "Goznak" in Perm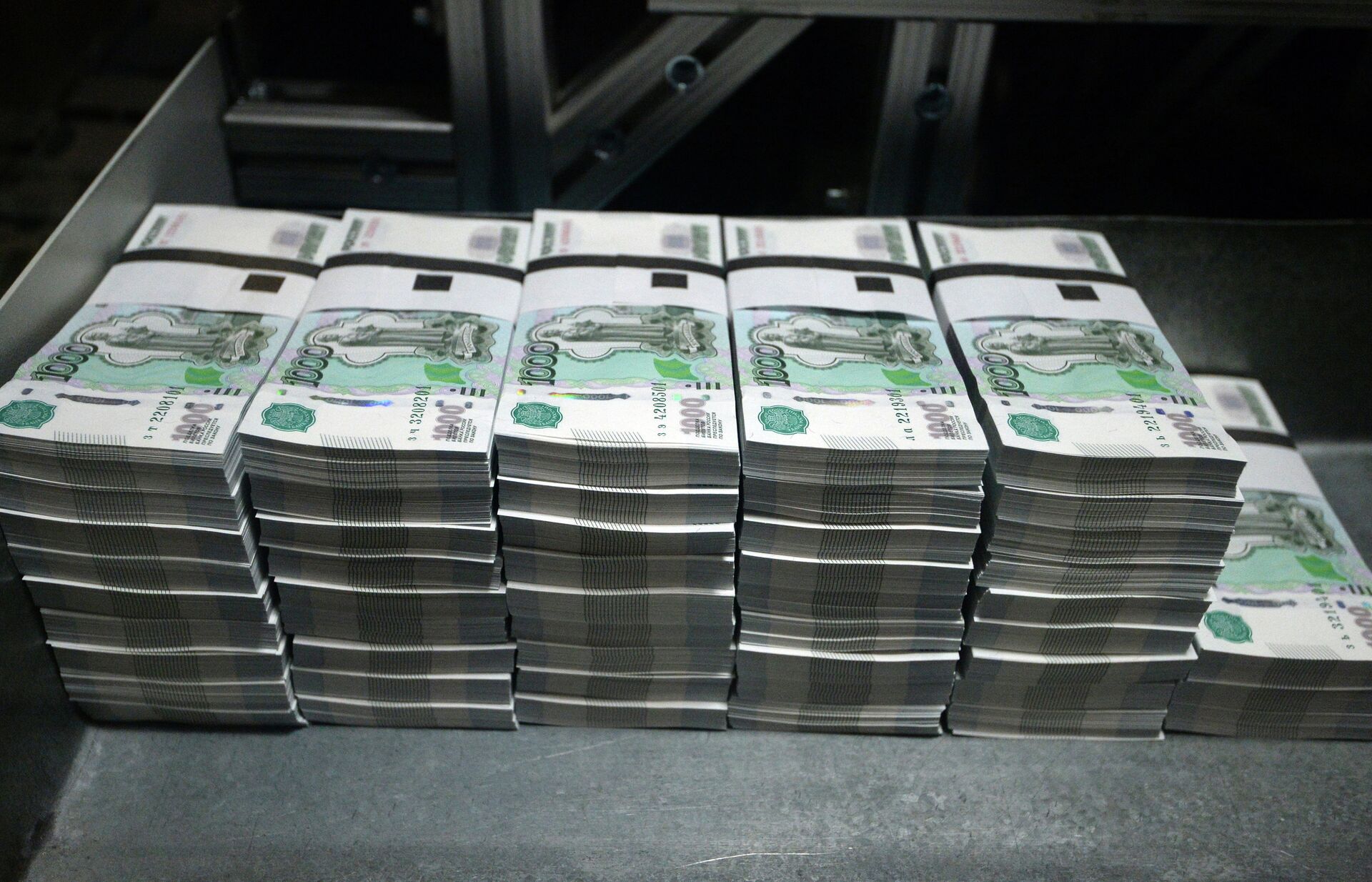 Banknotes printed at a printing factory of the Federal State Unitary Enterprise "Goznak" in Perm
© Sputnik / Maksim Bogodvid
/
The economic war against Russia, initiated by Western countries, will cause a symmetrical response from Russia, the deputy chairman said.
Russia cannot rely on anyone while Western sanctions are imposed, therefore the nation's authorities themselves need to solve issues concerning industry and other areas, Medvedev concluded.
G20 Issue
The ex-president also noted that Russia cannot be excluded from the G20 because this format was created by the consensus.
"We created G20 in 2008. They say: 'Let's exclude Russia from G20!' But I remember how it was born before my eyes, these decisions were made together. First [former US President George W.] Bush took part in it, then [former US President Barack] Obama. Everyone was happy to have representatives of such different countries sitting around the same table: Russia, the United States, China, and India. And this was a format created by the consensus, by the unanimity. And now they tell us: 'Let's exclude.' No, guys, you cannot do that," Medvedev said.
The deputy chairman added that G7 is no longer of any importance after Russia has suspended its participation. However, Medvedev said, G20 is different as it helped Russia to overcome the economic crisis of 2008.