A Hindu group -- Hindu Sena -- has put up posters and
saffron flags
at the main gate of India's prestigious Jawaharlal Nehru University (JNU) in Delhi, warning students of "stringent steps" if anyone were to mete out "insult to the saffron".
Saffron is deemed a sacred colour in Hinduism.
Various Hindu organisations Rashtriya Swayamsewak Sangh (RSS), the ideological parent organisation of the federally governing Bharatiya Janata Party, Bajrang Dal, Vishwa Hindu Parishad (VHP), and Hindu Sena also use saffron-coloured flags for identification.
Hindu Sena chief Vishnu Gupta stated that the group put up posters with text reading "Bhagwa (saffron) JNU".
"Saffron is being insulted on the JNU campus on a regular basis. We want to warn those who are doing this. Mend your ways. We won't tolerate this", Gupta stated in a video message.
"We respect your ideology and every religion. Insult to saffron will not be tolerated and we might take stringent steps", he added.
Meanwhile, police promptly removed saffron flags and banners that had been put up outside the JNU.
Gupta, however, said that the police disrespected the constitution by removing the flags.
"Police should not be in such a hurry to take down saffron flags. Saffron is not a symbol of terror that the police are showing haste (about removing them)".
On Sunday, violence broke out on the JNU campus between students of two groups, in which over 60 people were injured.
© Photo : Deexa Khanduri
JNU Ram Navami violence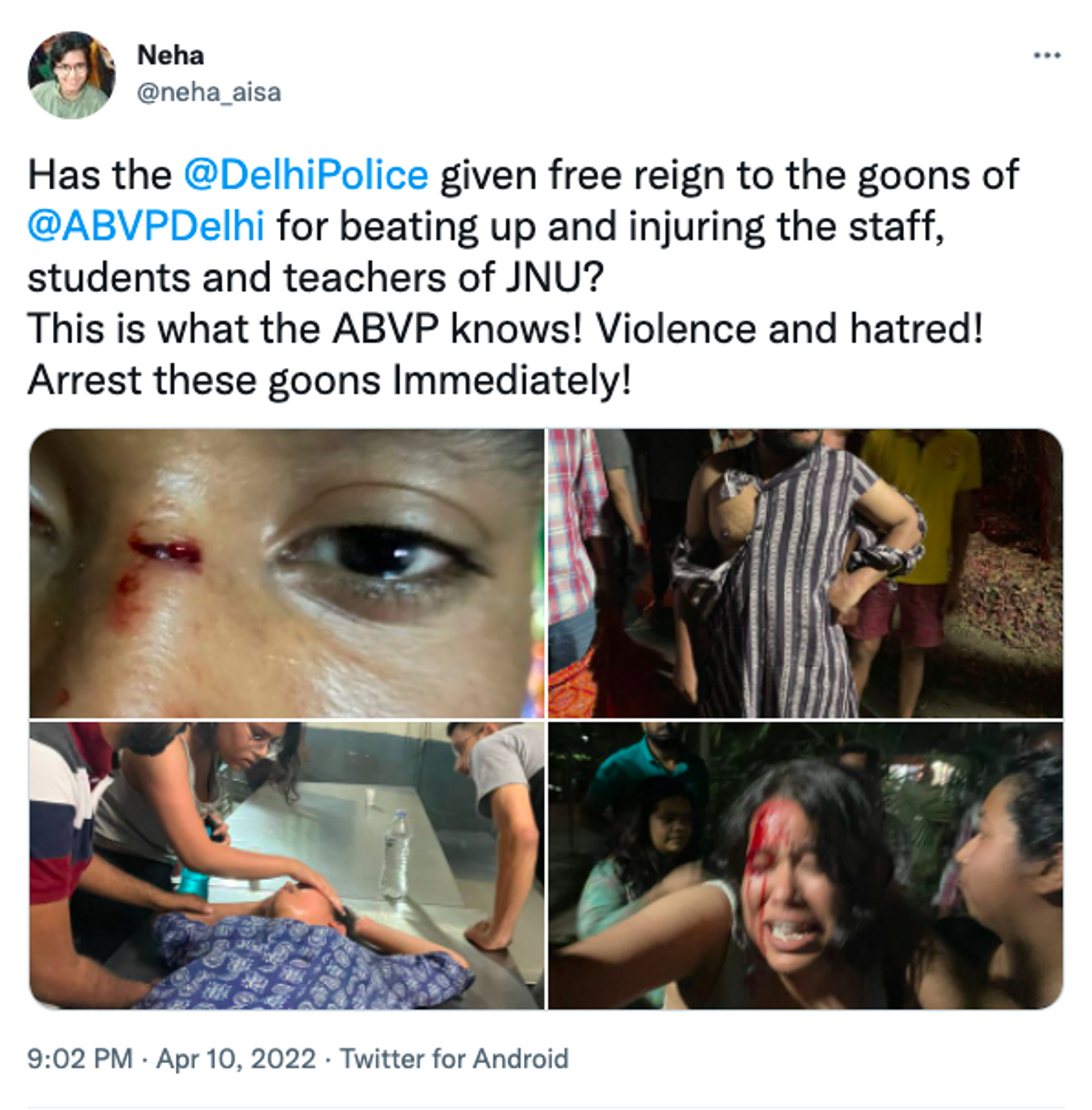 JNU Ram Navami violence
While one of student organisations -- JNU Students' Union (JNUSU) -- is leftist, the other, Akhil Bharatiya Vidyarthi Parishad, is the student wing of the Hindu nationalist organisation RSS.
The JNUSU alleged that
ABVP members
stopped students from having non-vegetarian meals in the hostel mess and "created a violent atmosphere".
However, the ABVP denied the charge and claimed that JNUSU obstructed a Hindu Puja organised at the hostel marking the birth anniversary of Lord Rama -- "Ram Navami".