Hundreds of residents, along with many politicians, held a protest at Shaheen Bagh in Delhi on Monday ahead of a
demolition drive
planned by the Bharatiya Janata Party-governed South Delhi Municipal Corporation (SDMC).
Notably, Shaheen Bagh was the epicentre of anti-Citizenship (Amendment) Act (CAA) protests in 2019-20.
On Monday, the SDMC scheduled demolitions in the Shaheen Bagh area; however, locals and Congress workers staged a sit-in and prevented bulldozers from razing the structures.
Amanatullah Khan, a lawmaker and governing party leader representing the district, has also joined the protest.
By noon, police had detained many protesters,
including women
who tried to climb on top of bulldozers.
© Photo : Twitter
Women Being Detained At Shaheen Bagh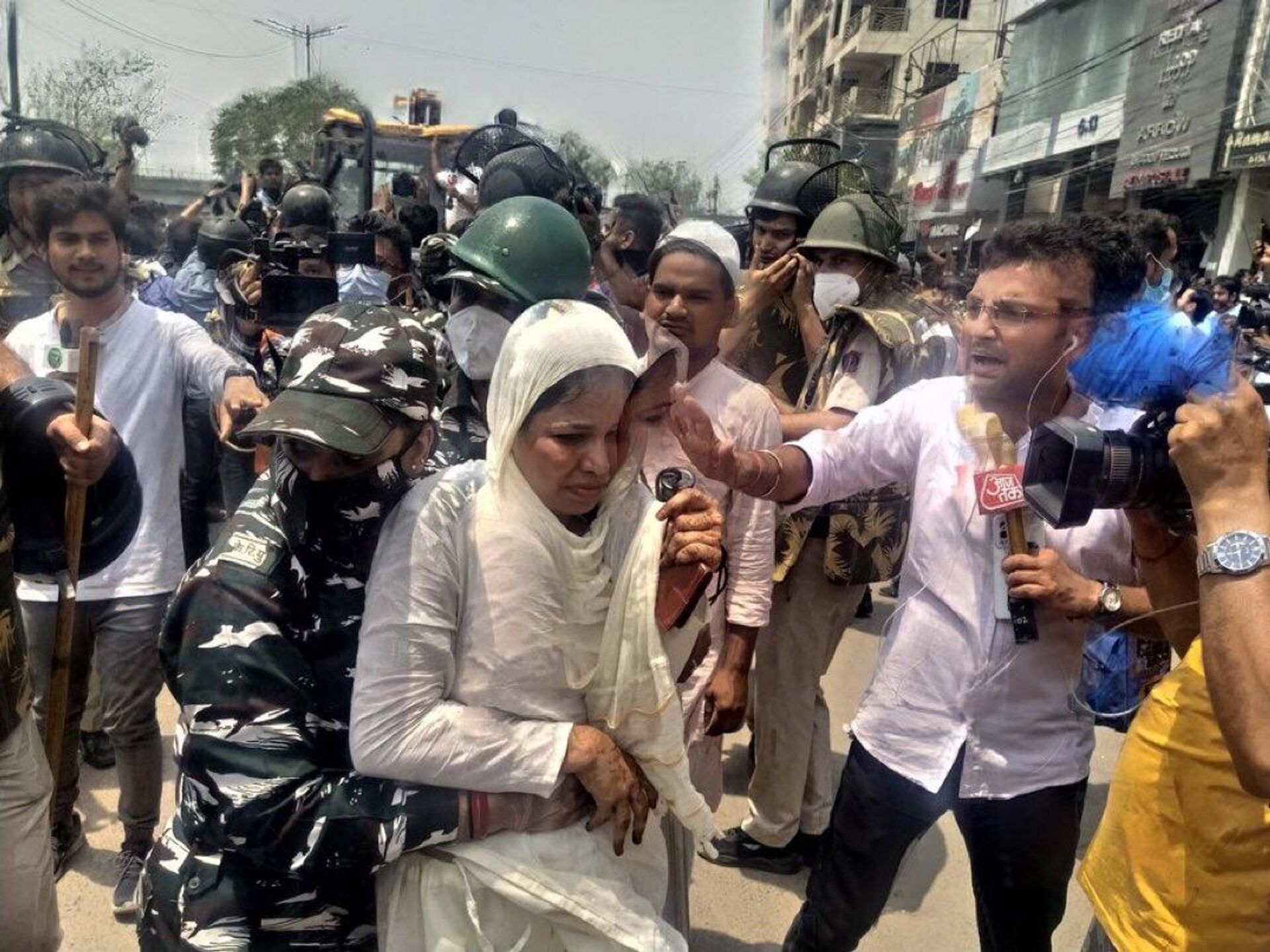 Women Being Detained At Shaheen Bagh
Some local traders and others at the site asked authorities not to use bulldozers and started removing the unauthorised structures.
"We will remove our goods from the encroached areas within an hour. The area which is encroached is hardly 10 feet long, covered with tin shelters or tarpaulin sheets. But if the SDMC will use bulldozers, it will cause heavy losses and we have goods here. We are assuring the SDMC that this will be removed within an hour", Maroof Khan told Sputnik.
© Photo : Twitter
Protestors Stood In Front Of Bulldozer In Shaheen Bagh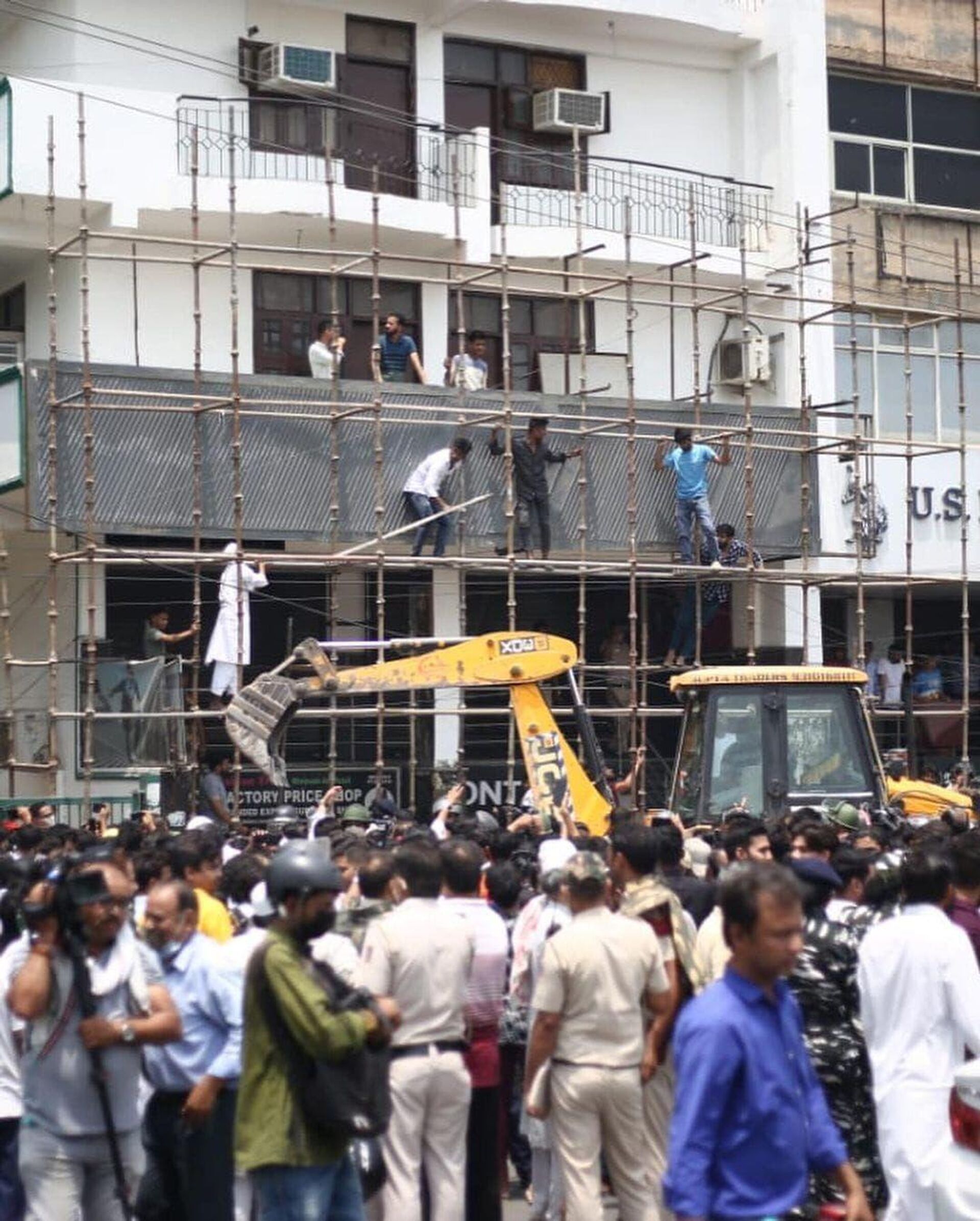 Protestors Stood In Front Of Bulldozer In Shaheen Bagh
On 5 May, the Delhi High Court directed the SDMC and Delhi Industrial and Infrastructure Development Corporation Limited (DSIIDC) to take action within two weeks against the illegal construction efforts in the area.
Bulldozers, which arrived in the area at around noon (Indian Standard Time), left around 2 pm without demolishing any structures, as the protest intensified.
Meanwhile, Amanatullah Khan told Sputnik "that there are no illegal structures in the area, as those had already been removed after my request last week".
However, if any particular shop has encroached the area illegally, we request SDMC officials to inform us, and we will peacefully remove it, Khan said.
Slamming the BJP for creating chaos in the area, Khan said: "Why have they (BJP people) come here? This is residential area, you don't need bulldozers here when people are ready to co-operate".
Khan further said that the BJP is trying to oppress minorities, arguing that the demolition has no legal basis at all.
© Photo : Twitter
Locals protesting in front of Bulldozers In Delhi's Shaheen Bagh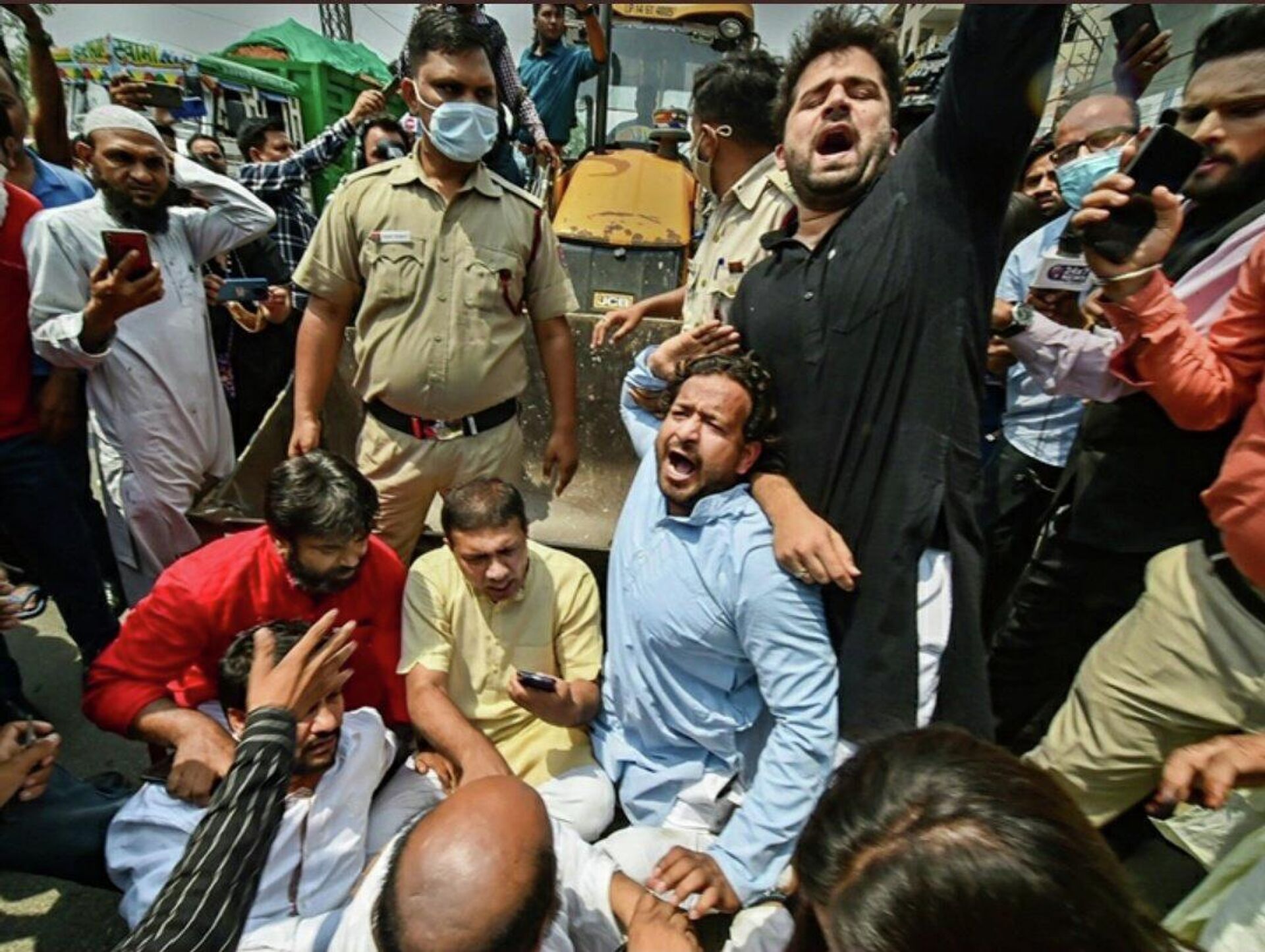 Locals protesting in front of Bulldozers In Delhi's Shaheen Bagh
Meanwhile, SDMC chairman Rajpal Singh said that the civic agency is doing its work as per court directions.
"Encroachments will be removed wherever they are", Singh said in a text message.
"The first phase of demolition drives in South Delhi began on 4 May from the Karni Singh Shooting Range area in Tughlakabad and will continue till 13 May", an SDMC official told Indian news website The Quint.
Meanwhile, many Muslim locals were angry at the BJP, as they said that the federally governing party only wants to suppress minorities and
bulldoze Muslims home
s.
On 20 April, a demolition drive was carried out in Delhi's Jahangirpuri on the morning of 20 April until the Supreme Court ordered it to be halted.