The Lockheed Martin Corporation plans to dramatically ramp up its Javelin production, and expects strong demand for the anti-tank system and other weapons amid an increasingly unstable global situation, CEO Jim Taiclet has announced.
"So right now, our capacity is 2,100 Javelin missiles per year. We're endeavouring to take that up to 4,000 per year, and that will take a number of months, maybe even a couple of years to get there because we have to get our supply chain to also crank up. As we do so, we think we can almost double the capacity in a reasonable amount of time", Taiclet said, speaking to CBS' Face the Nation on Sunday.
Taiclet noted that the Ukraine "situation" had "highlighted a couple of really important things" for the weapons maker.
"One is that we need to have superior systems in large enough numbers. So like Javelin, Stingers, advanced cruise missiles, equipment like that. So we know there's going to be demand for those kinds of systems from the US and for our allies as well and beyond into Asia-Pacific, most likely too. The second really valuable lesson was control of the airspace is really critical", he said.
The CEO expects Lockheed-made weapons "like F-16, F-35, Patriot missiles VAD missiles" to enjoy growing demand in the wake of Ukraine, given the supposed global Russian, Chinese, Iranian, and North Korean "threat" to the US and its allies.
The Pentagon approved a
$1.45 billion
cash injection for the US Army and Marine Corps on Friday to replenish stocks of Javelins, Stinger anti-aircraft missiles, and other weapons. The cash is separate from the $33 billion request for additional Ukraine "aid" being sought by the White House, which includes $5.4 billion for weapons.

The US alone has sent Ukraine over 5,500 Javelins and over 1,400 Stingers over the past few months, with these numbers accounting for about 1/3 and 1/4 of Pentagon stockpiles of these systems, respectively.
Raytheon Technologies, another company manufacturing Javelins, as well as Stingers, announced in late April that it wouldn't be able to ramp up Stinger production until at least 2023, since some of the components for the anti-aircraft system, which was first introduced in 1981, are no longer being made. Raytheon CEO Greg Hayes told investors that the "redesign" of "some of the electronics in the missile and the seeker head" are "going to take us a little bit of time".
Joe Biden toured a Lockheed factory making Javelins in Troy, Alabama last week, boasting it as an
"extremely effective"
weapon against Russian and Donbass armoured forces in Ukraine.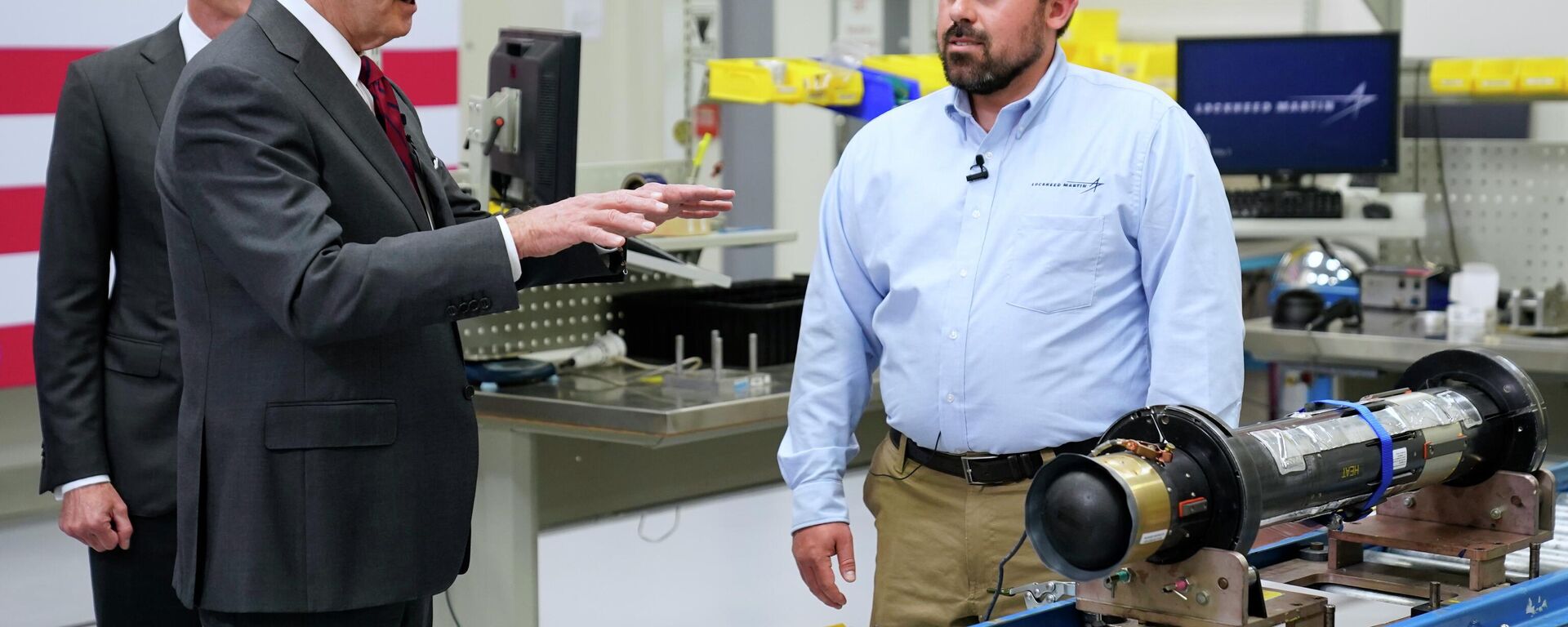 Lockheed, Raytheon, and other arms makers in the US and Europe have enjoyed a bonanza of orders and profits as Washington and its allies have pawned off aging weapons stocks on Ukraine, committed to replenishing stocks with freshly-made arms, and benefited from dramatic increases in NATO military spending.
Developed in the late 1980s but never deployed against its intended targets thanks to the end of the Cold War, Javelins were introduced with the US Army in the mid-1990s, and made their combat debut in the 2000s during the US invasions of Afghanistan and Iraq, where they were used extensively in counter-insurgency (COIN) operations against mostly lightly armed militants in urban areas. In the 2010s, Javelins were spotted being used by Daesh (ISIS)* in Syria and Iraq, and in Libya – a North African nation that turned into a failed state following the 2011 NATO intervention in the country.
The Trump administration first approved sending Javelins to Ukraine in 2017, with the Biden administration expanding deliveries from 2021 on.
* A terrorist group outlawed in Russia and many other countries.