Boris Johnson has been accused of rewriting the UK Ministerial Code to "save his skin" ahead of a Privileges Committee inquiry into the Prime Minister's role in the "partygate"
scandal
, reported The Guardian.
After a
new version
of the handbook of rules for how ministers should conduct themselves was published on Friday, the Labour party and the Liberal Democrats suggested that the Tory PM was "rigging" the system to "get himself off the hook" by ensuring that from now on ministers will not always be expected to resign for breaching the code of conduct.
Under revised rules, ministers who knowingly mislead parliament will still be expected to resign, with the code saying:
"It is of paramount importance that ministers give accurate and truthful information to Parliament."
However, for the first time,
the code
introduces the idea of a "minor" breach followed by sanctions "which the prime minister may decide to issue in a given case".
Such sanctions could include a "public apology, remedial action, or removal of ministerial salary for a period".
Changes to the Code also relate to new terms of reference for Boris Johnson's independent adviser on ministers' standards, Lord Geidt. The independent adviser will now be able to initiate an investigation into potential breaches of the code - something that previously only the PM could do.
The independent adviser will be supported by a dedicated set of civil servants, have its own gov.uk webpage, and be responsible for managing its own affairs and correspondence, a policy statement said. Nevertheless, the rulebook adds that the final decision will still rest with the PM.
In what is the first update since the edition of the Code was released under Johnson's premiership in August 2019, the PM also removed an instruction to ministers in his foreword to "uphold the very highest standards of propriety".
"We must uphold the very highest standards of propriety - and this code sets out how we must do so. There must be no bullying and no harassment; no leaking; no breach of collective responsibility. No misuse of taxpayer money and no actual or perceived conflicts of interest."
No 10 released
a statement
on Friday, offering clarifications regarding the revised Ministerial Code, saying that it was "disproportionate to expect that any breach, however minor, should lead automatically to resignation or dismissal".
Changing the rules was ostensibly needed to "avoid incentives for trivial or vexatious complaints, which may be made for partisan reasons," according to Downing Street.
The changes follow a review of the Ministerial Code by advisory body, The Committee on Standards in Public Life, which made a series of recommendations for reforms in a report in November 2021. That came in the wake of the Owen Paterson lobbying "sleaze" scandal last year.
'Rigging the Rules'
Deputy Labour leader Angela Rayner slammed the fact that Boris Johnson had scrapped "all references to integrity, objectivity, accountability, transparency, honesty and leadership in the public interest".
"He's acting like a tin-pot despot - I have never, ever witnessed in my entire life a prime minister of any political persuasion behaving in such an outrageous way and it just completely undermines our democracy," said Rayner on BBC Radio 4's PM programme.
Labour will introduce an Independent Integrity and Ethics Commission to end loopholes and hiding places.

Removed from politicians, it will have powers to launch investigations without ministerial approval, collect evidence and decide sanctions.

It's time to stop the rot. 🌹

— Angela Rayner 🌹 (@AngelaRayner) May 28, 2022
Tory MP Sir Bob Neill, who recently submitted a letter of no-confidence in the prime minister over "partygate", was cited as saying: "I certainly don't think that is a wise move and certainly not a good time to be doing this."
The Scottish National Party (SNP) deputy Westminster leader, Kirsten Oswald, said:
"This move strikes at the very heart of our democracy and will threaten the ability to scrutinise the prime minister for years to come."
Wendy Chamberlain, chief whip of the Liberal Democrats, said the changes amounted to an "appalling attempt by Boris Johnson to rig the rules to get himself off the hook".
'Partygate' Not Over
The
final report
from senior civil servant Sue Gray on illegal gatherings in Downing Street during the COVID-19 lockdown in 2020-21, was not damning for Johnson. The Scotland Yard probe before that slapped just one minor solitary Fixed Penalty Notice (FPN) fine on the PM, his wife, Carrie, and Chancellor of the Exchequer Rishi Sunak for having attended a surprise party for Johnson's 56th birthday on 19 June 2020, that was found to have breached coronavirus lockdown restrictions.
However, "partygate" is far from over, as Boris Johnson faces an inquiry by the Standards and Privileges Committee into whether he misled parliament over the illegal lockdown parties in Downing Street, which he claimed he thought had been "work events".
The aforementioned offence could represent a breach of the ministerial code, and the inquiry might result in more damning photos being published, such as the bombshell images released by ITV News ahead of the publication of Gray's report.
© Photo : ITV News/screenshot
Boris Johnson under fresh scrutiny after new party pictures emerge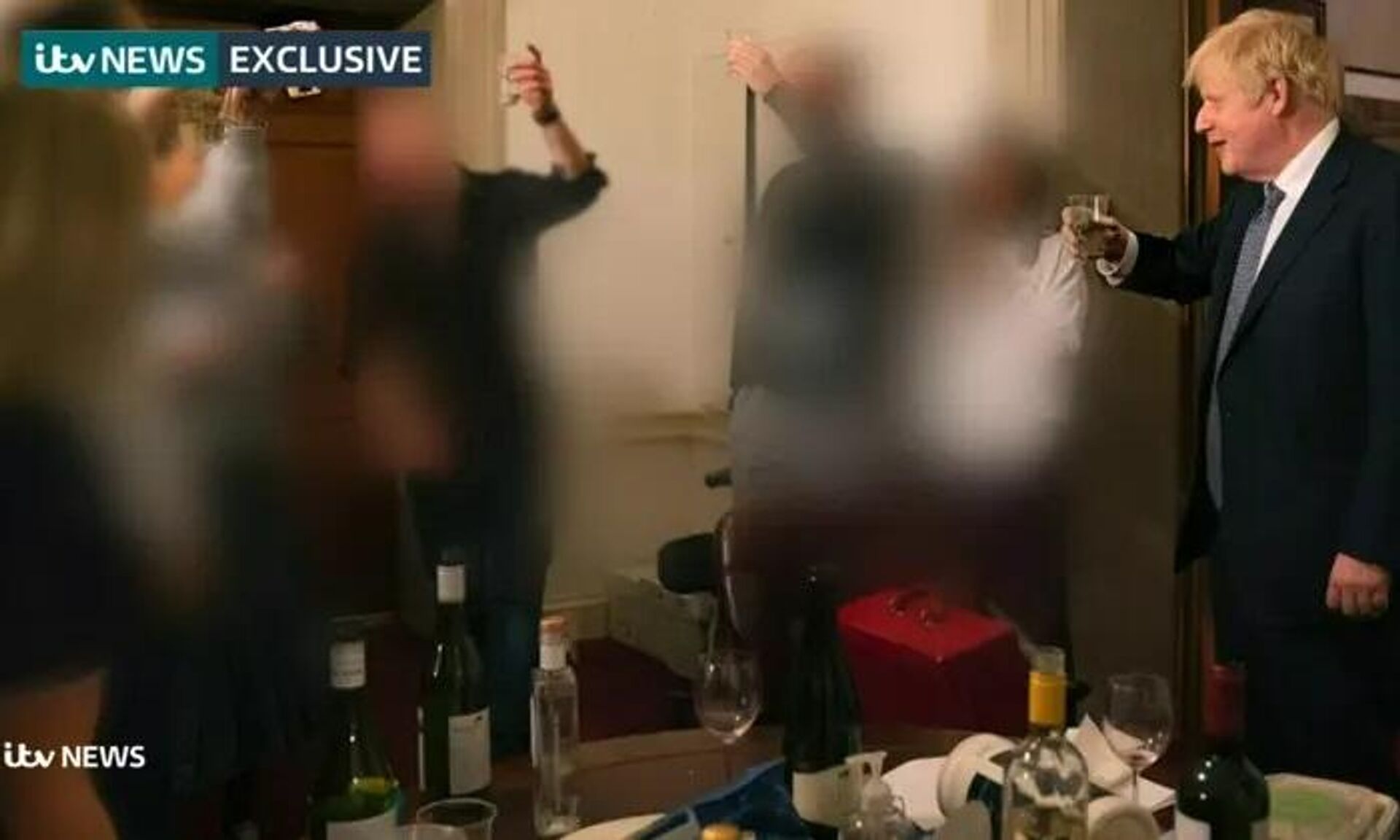 Boris Johnson under fresh scrutiny after new party pictures emerge
© Photo : ITV News/screenshot
They showed Johnson appearing to raise a toast at a leaving party for outgoing director of communications Lee Cain on 13 November 2020.
Some MPs have accused Johnson of misleading parliament after he denied attending the 13 November party. In December 2021 in the House of Commons, Labour MP Catherine West asked the prime minister "whether there was a party in Downing Street on 13 November [2020]?" Johnson replied: "No, but I am sure that whatever happened, the guidance was followed and the rules were followed at all times."
The PM could be found in contempt of Parliament if he deliberately
misled the Commons
, but he could also be in breach of the ministerial code if he knowingly lied to MPs.