Some scientists believe that the technological level of humanity can be measured by the ability to use the energy from natural sources, including the Sun. Sunlight can become a base for new energy which will be more environmentally-friendly and improve people's lives in many areas.
Photocatalysts that speed up the chemical reactions when exposed to light can be way more affordable and eco-friendly in energy synthesis than the toxic chemicals used today. However, the scientists note that the existing photocatalysts are not effective enough or too expensive. This is why the improvement of the characteristics of these materials drew a lot of scientific attention across the world.
© Photo : Tomsk Polytechnic University
Raul D. Rodriguez, professor of TPU's Research School of Chemistry & Applied Biomedical Sciences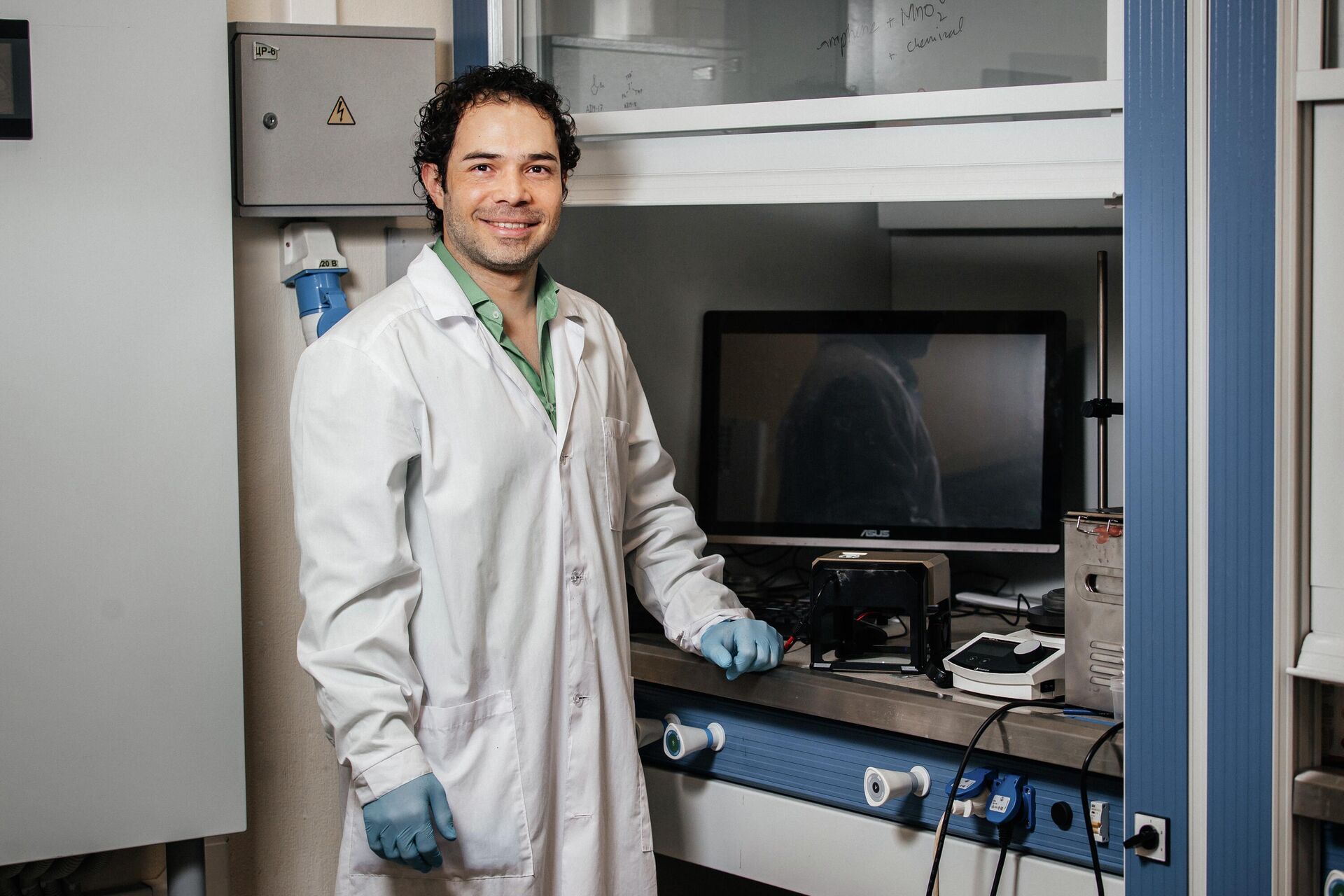 Raul D. Rodriguez, professor of TPU's Research School of Chemistry & Applied Biomedical Sciences
© Photo : Tomsk Polytechnic University
Researchers from the TPU, joined by their colleagues from China, have found a way to alter the microstructure of carbon nitride – an important photocatalyst. They treated it with water in high temperatures in order to create porous nanolayers with inclusions of oxygen molecules.
"Photocatalysts' performance [is] either expensive or not efficient enough. And this is precisely what we did; we focused on a promising and inexpensive photocatalytic material, carbon nitride, that can be easily synthesized by high-temperature reaction of urea or other nitrogen and carbon compounds. What we did differently was to use a water vapor and high-temperature treatment of the photocatalyst to induce the separation of thick layers that have low performance into ultrathin layers that have much better performance for the generation of hydrogen using sunlight", professor Raul D. Rodriguez told Sputnik.
According to him, the international team created a new type of material that can work better in the visible spectrum, increasing its energy efficiency to record-levels.
With the help of computer calculations made on the atomic level, the scientists were able to determine the causes of processed carbon nitride acquiring unique properties. They also checked how time affects the stability of the material in conditions of hydrogen fuel generation, which is the main area where the new findings can be used.
"Our process allows drastically improving the performance of an inexpensive but inefficient photocatalyst. Our discovery makes this material more attractive for large-scale industrial hydrogen generation in solar farms. We focused on hydrogen generation given the immense potential this clean fuel has in fuel cells to produce electricity or in combustion engines providing only water as a byproduct", Rodriguez noted.
The scientists also plan to refine their methods of processing raw materials for the development of hydrogen energy. According to them, it would contribute to Russia and China's leadership in the industry.