As the clock ticks down to the UK Home Office's first
flight to Rwanda
in its migrant offshoring plan - conceived as a way to tackle the soaring numbers of illegal English Channel crossings - it is facing a second legal injunction.
Up to 30 illegal arrivals are expected to be flown one way to the east African country on 14 June, according to The Guardian. However, the policy of forcing some asylum seekers to claim sanctuary in that country instead of in the UK has raised serious concerns for the rule of law.
A refugee charity, Asylum Aid, applied for an urgent interim injunction on 9 June to prevent any such flights from leaving until after its application for a judicial review has been heard. Acting on behalf of the charity, solicitors' firm Leigh Day - a personal injury and human rights specialist - submitted the application, which is also being supported by the charity Freedom from Torture.
The government's plan to remove asylum seekers to Rwanda is unlawful & unfair–plain & simple. Today we launched a legal challenge to stop removals on 14 June & ensure all those seeking safety have access to a fair process. Support our vital legal action: https://t.co/pfq4DHxkm2

— Asylum Aid (@AsylumAid) June 9, 2022
The charity has argued that the government's rapid process of issuing asylum seekers with a one-way ticket to Rwanda is unlawful as it is inconsistent with statutory powers conferred by parliament. They also deem it to be procedurally unfair and constituting a grave impediment to access to justice.
This is not the first such legal hurdle, as emergency proceedings were launched in the high court on Wednesday against Home Secretary Priti Patel's much-touted plan. The application for a judicial review came from the Public and Commercial Services Union (PCS), the charity Care4Calais and the pressure group Detention Action, along with four individual asylum seekers facing removal to Rwanda.
We have spoken to over 100 people in detention who've been told they will be forcibly sent to Rwanda. Almost all are overwhelmed by total shock and despair.

Many came to the UK believing it to be a good place that would treat them more fairly than the places from which they pic.twitter.com/QXvUOx6uSO

— Care4Calais (@Care4Calais) June 8, 2022
Patel's right to carry out such removals is being challenged on three levels - the judiciousness of her claim that Rwanda is generally a "safe third country", whether there is adequate malarial prevention provision in Rwanda; and whether the policy complies with the Human Rights Act. The hearing is slated for 10.30am this Friday, and the application from Asylum Aid will be heard on 13 June.
Furthermore, a petition started by a Syrian doctor, Hamza Al Khatib, calling for the Rwanda flight to be halted, has already received almost a million signatures. It urges people to email their MP to lobby the government to halt the Rwanda flight.
Airlines that have been chosen to enact the deportation flights have also come under pressure from activists and public figures. They have written to Titan Airways, Privilege Style and Iberojet, chartered by the Home Office, and urged them not to get involved with the policy.
Strategy to Overhaul 'Broken Asylum System'
The policy conceived as a way
to offset
soaring numbers of illegal migrants crossing the English Channel had been introduced by UK Home Secretary Priti Patel as a major milestone and an opportunity to defeat "people smugglers". So far this year, 10,020 migrants have crossed the Channel to the UK, analysis of Government figures by the PA news agency shows.
"Our world-leading partnership with Rwanda is a key part of our strategy to overhaul the broken asylum system and break the evil people-smugglers' business model," Patel pledged.
The scheme initially focused predominantly on single men arriving in small boats or lorries. These individuals would be given a one-way ticket so that they could be processed in Rwanda. If their bid was successful, they would be offered long-term accommodation in the African country.
When Prime Minister Boris Johnson confirmed the Rwandan
deportation plans
in April, he vowed that asylum-seekers resorting to illegal routes would be "swiftly and humanely removed to a third country or their country of origin". Johnson also touted the £120 million pilot scheme as tailored to "save countless lives".
However, right from the start it was expected that the policy would face legal challenges. The opposition Labour party and refugee charities
denounced it
as "absolutely chilling" and "cruel and nasty". Furthermore, questions have been raised over the costs it entails as well as Rwanda's human rights record.
It was also reported on Wednesday that Zambia is another option being considered for the UK's offshoring policy.
According to some reports, up to 130 foreign people are currently waiting in immigration detention centers after being notified they had been picked for the Tuesday flight. Now, if it is stymied by the flurry of legal obstacles, Priti Patel may have to release the migrants.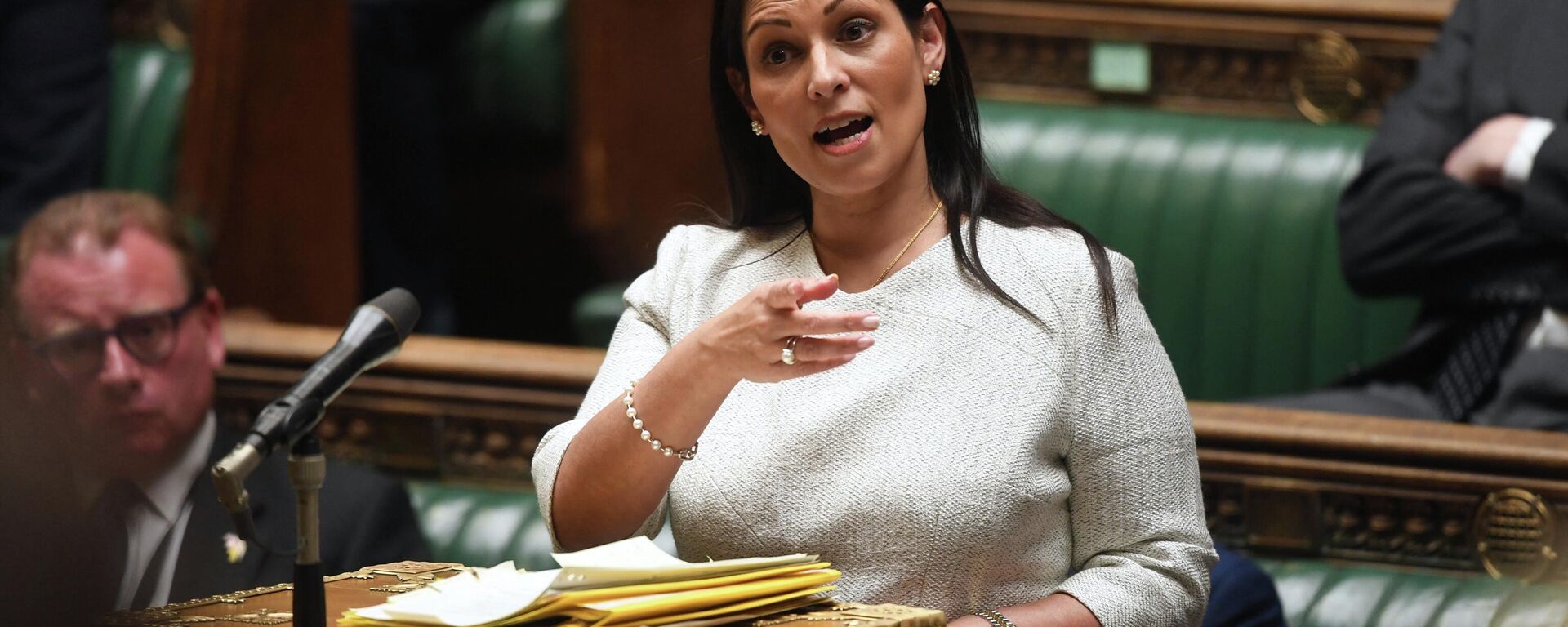 Even temporary legal success in the High Court will most probably result in asylum-seekers either being given electronic tags or being ordered to turn up regularly at reporting centres until further notice. According to existing legislation, foreign nationals can only be detained if they have a "realistic prospect" of being removed from the country.
A Home Office spokesman was cited as saying:
"We have been clear from the start that we expected legal challenges. However, we are determined to deliver this new partnership. We have now issued formal directions to the first group of people due to be relocated to Rwanda later this month. This marks a critical step towards operationalising the policy, which fully complies with international and national law. At present all those in scope for the first flight to Rwanda are in detention – we have not ruled out the use of GPS tagging to monitor individuals if they are released from immigration detention."
Johnson's official spokesman said: "We remain confident in our position; should the legal challenges require us to go to the courts, we will argue our case. It's true to say the first flight is due for next week so we have that ready to go."