Boris Johnson's advisor on public standards has resigned over protectionist trade measures he claimed might breach the Ministerial Code of conduct.
Geidt complained that he had been "tasked to offer a view about the government's intention to consider measures which risk a deliberate and purposeful breach of the Ministerial Code."
He said the request had had placed him in an "impossible and odious position".
"The idea that a prime minister might to any degree be in the business of deliberately breaching his own code is an affront," Geidt wrote.
"A deliberate breach, or even an intention to do so, would be to suspend the provisions of the code to suit a political end," he said. "I can have no part in this."
Geidt's letter did not mention details of the plan in question, but Johnson's reply clarified that the issue was to do with the Trade Remedies Authority (TRA), which identifies tariffs and other measures to prevent harm to UK industries from unfair trading practices or surges in imports.
Johnson wrote back to Geidt stressing that he sought his advice "on a crucial industry, which is protected in other European countries and would suffer material harm if we do not continue to apply such tariffs."
The PM said the tariffs would be in line with UK law but might face the accusation of breaking the country's World Trade Organisation obligations.
"In seeking your advice before any decision was taken, I was looking to ensure we acted properly with due regard to the Ministerial code," he wrote.
A
statement by the TRA
said the case "to which the letter appears to refer was 'called in' by the Government earlier this year, meaning that the Government holds full decision-making authority in relation to the case." It added that the body had already made a report on the matter to trade secretary Anne-Marie Trevelyan on June 1.
Political gossip website
Guido Fawkes
ventured that the trade issue may have been steel import tariffs, which the government has maintained against TRA advice in 2021. The opposition Labour Party offered last year to support government-led legislation to protect the steel industry.
But that did not stop Labour deputy leader
Angela Rayner
from seizing on Geidt's letter to accuse the government of lacking ethics and to repeat opposition demands for Johnson to be forced out.
"This prime minister has, in his own adviser's words, made a mockery of the ministerial code. He has now followed both his predecessor and the anti-corruption tsar out of the door in disgust," Rayner said. "There are now no ethics left in this Downing Street regime propped up in office by a Conservative Party mired in sleaze and totally unable to tackle the cost of living crisis facing the British people."
"This prime minister has debased standards and rigged the rules for far too long," she accused. "It is time for the Conservatives to do the right thing and remove him from office."
But following last week's failed attempt by Tory backbenchers to oust him, Johnson now has a one-year grace period before another internal leadership challenge can be mounted.
Smaller opposition party the Liberal Democrats have vowed to table a Parliamentary
no-confidence motion
in Johnson — but not in the government, which would force an early general election.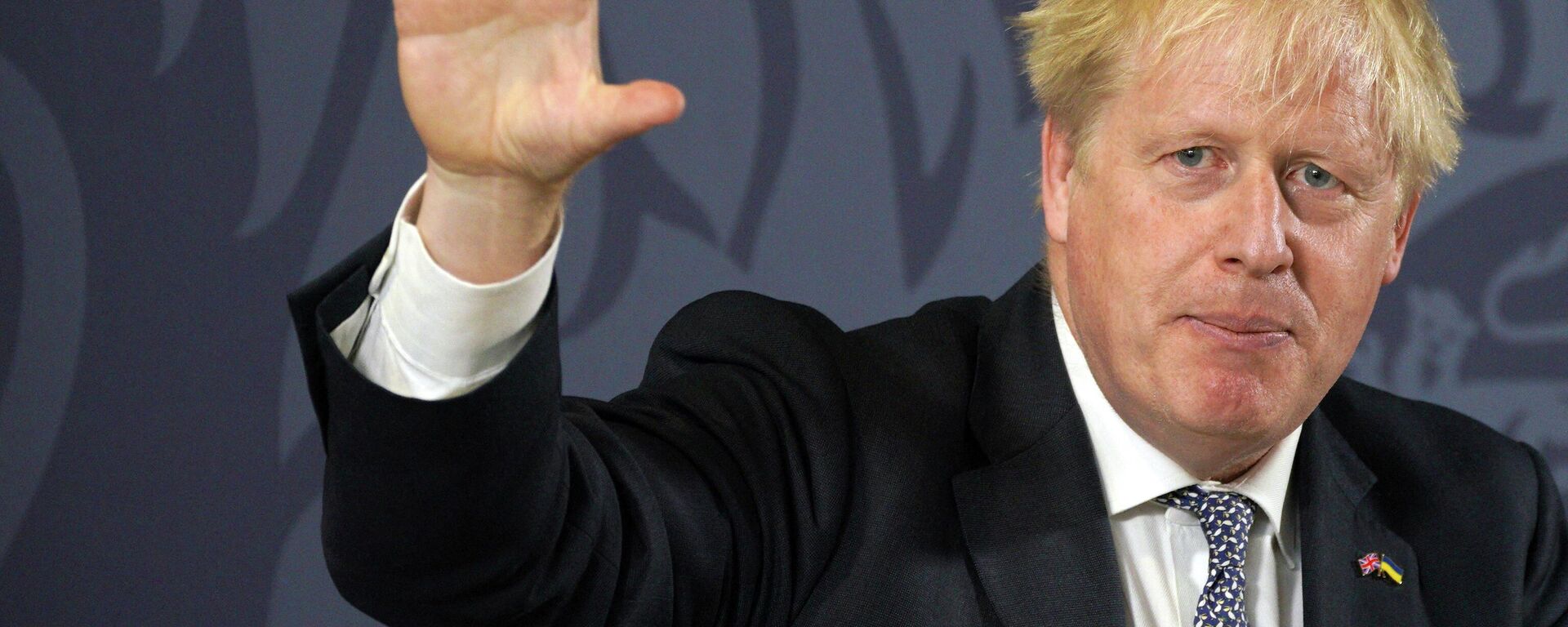 Geidt also wrote of his "frustration" that Johnson had yet to address the criticisms in senior civil servant Sue Gray's report into workplace drinking at Downing Street during the COVID-19 lockdowns. Gray criticised a "failure of leadership" at Number 10 that fostered the behaviour.
The adviser said he had been questioned about Johnson's conduct while presenting his annual report to the Parliamentary Public Administration and Constitutional Affairs Committee on Tuesday. The preface to the report referred to Johnson's tight-lipped stance.
Geidt acknowledged that Johnson to explain that he did not believe the £50 fine he personally received for attending a surprise birthday party in the Cabinet Room in June 2020 meant that he had breached the ministerial code of conduct.
Johnson has been accused of misleading Parliament with several statements where he said he did not believe he, cabinet members or staff broke any of the lockdown restrictions, which have since been lifted.
Geidt said he was "disappointed " that the PM's explanation "was not fuller".
"Moreover, I regret the reference to 'miscommunication' between our offices, with the implication that I was somehow responsible for you not being fully aware of my concerns," he wrote.