"Representative Gaetz's resolution touches a deep strain of conservative American political thought. Original immigrants to the New World wanted isolation from affairs and wars overseas," explained Professor David Woodard, Clemson University political scientist and former political consultant for Republican congressmen.
"The American Midwest region became the home of immigrants who wanted to escape the 'entangling alliances' endemic to the mother country. The American perspective of the world, in the mind of isolationists, was that the nation could address the cause of freedom and democracy by avoiding long-standing conflicts abroad. Isolationism had a geographic and political base that was quite strong," he told Sputnik.
Times have changed, but Conservative Republicans today remain the grandchildren of their isolationist relatives: the longer the war goes on, the louder Gaetz's voice of criticism will be, according to the professor.
"President Joe Biden must have forgotten his prediction from March 2022 suggesting that arming Ukraine with military equipment will escalate the conflict to 'World War III.' America is in a state of managed decline, and it will exacerbate if we continue to hemorrhage taxpayer dollars toward a foreign war," Rep. Matt Gaetz (R-Fla.) said in an official statement on Thursday.
The statement outlined that Washington has so far been the "top contributor of military aid to Ukraine," having allocated over $110 billion in humanitarian, financial, and military assistance. The lawmaker insisted that Washington "must suspend all foreign aid for the war in Ukraine and demand that all combatants in this conflict reach a peace agreement immediately."
The list of the document's co-sponsors includes Reps. Lauren Boebert (R-Colo.), Marjorie Taylor Greene (R-Ga.), Anna Paulina Luna (R-Fla.), Andy Biggs and Paul Gosar (R-Ariz.), Thomas Massie (R-Ky.), Mary Miller (R-Ill.), Barry Moore (R-Ala.), Ralph Norman (R-S.C.), and Matt Rosendale (R-Mont.).
'Put America First!'
On October 18, 2022, then-House minority leader Kevin McCarthy told the press that Republicans would not write a "blank check" for Kiev if they win back the House, given the inflation and recession burden. Even though Senate Minority Leader Mitch McConnell later stated that "the Biden administration and our allies need to do more" to arm Kiev, many House GOP lawmakers have been souring on Ukraine funding in recent months.
American taxpayers don't have $70 billion for Ukraine. I fear our increasing involvement is a threat to our national security and sets us on a collision course with another nuclear power.

— Matt Rosendale (@RepRosendale) October 4, 2022
Rep. Matt Rosendale of Montana tweeted on October 4, 2022: "American taxpayers don't have $70 billion for Ukraine. I fear our increasing involvement is a threat to our national security and sets us on a collision course with another nuclear power."
For his part, Sen. Josh Hawley (R-Mo.) pressed Secretary of State Antony Blinken to prioritize arming Taiwan instead of sending more weapons to Ukraine in December 2022. In his letter to the secretary of state, Hawley argued that the Biden administration's placing Ukraine over Washington's "vital security interests" in Asia is "not sustainable."
America is depleting our own military arsenal, giving weapons and now tanks to Ukraine, while China is building its military at the fastest pace in world history.

It's time put America First!

— Rep. Marjorie Taylor Greene🇺🇸 (@RepMTG) January 26, 2023
Prior to Ukrainian President Volodymyr Zelensky's late December testimony in the US Congress Marjorie Taylor Greene (R-Ga.) tweeted ironically: "Of course the shadow president has to come to Congress and explain why he needs billions of American's taxpayer dollars for the 51st state, Ukraine. This is absurd. Put America First!"
For his part, Rep. Chip Roy (R-TX) insisted that Zelensky's speech to the US Congress was purposely timed to get the omnibus $1.7 trillion spending bill, which included funds for Kiev, passed. He specifically lashed out at his Republican Party fellows in the upper chamber who voted for the piece of legislation, nailing them for their hypocrisy over excessive spending. The omnibus bill brought the total amount of money sent to Ukraine to $114 billion.
'Full Crosscutting Report' on US' Ukraine Spending
Tensions grew in mid-January when Sen. J.D. Vance (R-OH) and Rep. Dan Bishop (R-NC) led a letter demanding that the Biden administration produce a "full crosscutting report" detailing all US government-wide expenditures for Kiev since February 24, 2022, when Russia launched its special military operation to demilitarize and de-Nazify the country. According to the US press, a total of 37 lawmakers from the US House and Senate signed the letter.
"The American people deserve to know the extent to which they are underwriting our government's endeavors in Eastern Europe," Vance told the US media. "I do not intend to sit back and allow the Biden administration to keep this information under wraps. I expect to receive this report by the deadline in this letter."
The GOP lawmakers argued that even though the December 2022 omnibus bill mandated a financial report that should be provided 30 days after the legislation came into effect, this "does not include the full picture of expenditures on areas such as budget support for the Ukrainian government and economic assistance."
Remarkably, the Office of Management and Budget failed to send the "crosscutting report" by the February 7 deadline, prompting Vance to release a statement saying that "before President Biden spends another taxpayer dollar in Ukraine, he must lay out a clear plan for ending the conflict in a way that advances our national security interests. No more blank checks."
Kiev's Corruption & Vanishing Weapons
On a separate occasion, Vance expressed concerns over Ukraine's government "corruption" and suggested that sending military assistance to Kiev is making the US more vulnerable against a "possible war with China." Late last year, present and former US defense officials admitted that the Pentagon had exhausted some of its stockpiles due to its ardent military support to the Kiev regime.
Vance's concerns were echoed by his party fellows, Texas Rep. Troy Nehls, Reps. Paul Gosar and Eli Crane of Arizona and Lauren Boebert from Colorado, who on January 27 sent a letter to President Joe Biden and Secretary of Defense Lloyd Austin demanding answers over their decision to provide Kiev with 31 M1A2 Abrams tanks.
"How does your administration plan to account for the loss and destruction of any US military security assistance items and reimburse the American taxpayers?" the lawmakers asked.
They expressed concerns over the possibility of Abrams falling into the hands of criminal networks, terrorists, or being sold for profit. Previously, numerous reports emerged about US weapons literally vanishing in the fog of Ukraine's conflict.
Attack on Crimea & Specter of Nuclear War
When reports emerged saying that the Biden administration "warms" to helping Kiev seize Crimea from Russia, some GOP lawmakers suggested that Washington policy-makers had apparently gone mad.
"Full blown insanity!" Greene tweeted on January 30. "Now the US warmongers say that in order to defend Ukraine that Ukraine must invade Crimea and take it back from Russia. All US led, financed, supported, and stocked with military equipment and weapons of course. It's out of control."
The prospect apparently hit a raw nerve of former Defense Secretary Robert Gates who warned the US press that losing Crimea to Ukraine would cross a "real red line" for Russia and would prompt a serious escalation. Some US observers believe that such an escalation could spiral out of control into a nuclear confrontation.
"First come the tanks, then come the nukes. Get this crazy war ended, now. So easy to do," former President Donald Trump wrote in a post on his Truth Social platform on January 26, commenting on Biden's decision to send tanks to Ukraine.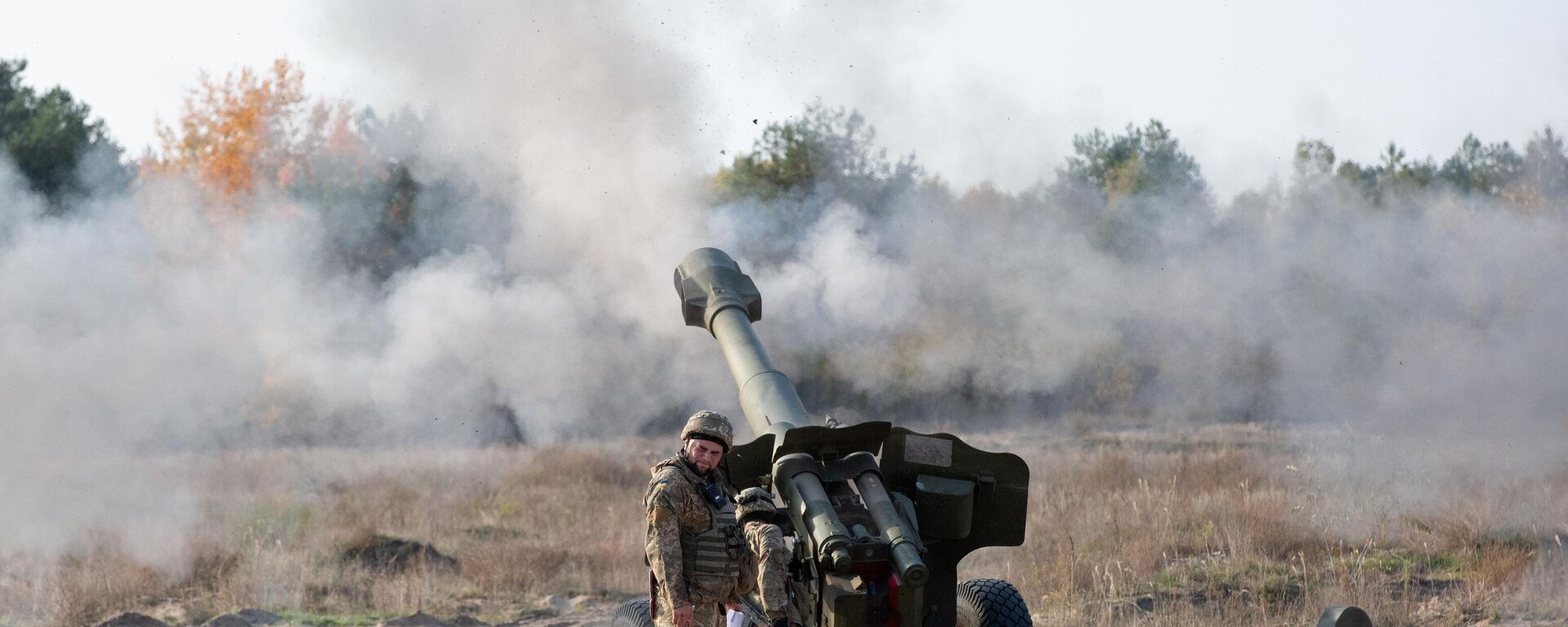 26 October 2022, 13:24 GMT
Remarkably, it's not only Republican lawmakers who have raised concerns about Washington's enthusiasm in arming Kiev coupled with unwillingness to broker the peace talks. In the beginning of the conflict, Democrats and Republican lawmakers alike were deeply worried that the US involvement in the Russo-Ukrainian standoff may draw the US into a direct conflict with nuclear-armed Russia.
"This is the most dangerous moment since the Cuban missile crisis," warned Sen. Chris Murphy (D-Conn.) in mid-March 2022. "We have never been this close to direct conflict with Russia."
"The alternative to diplomacy is protracted war, with both its attendant certainties and catastrophic and unknowable risks," the letter read.
However, very soon the progressive caucus made an abrupt U-turn and withdrew the document. Rep. Pramila Jayapal (D-Wash.), the caucus chair, claimed that the letter was "released without vetting." Still, some US media drew attention to the fact that despite withdrawing the letter, Jayapal did not disavow the substance of the document or the call for engaging in diplomacy. US observers lamented the fact that once vocal progressive peace activists remain largely silent amid the Biden administration's weaponization of Kiev.
The fatigue over the Biden administration's Ukraine adventure is growing among American lawmakers alongside questions as to whether the US establishment's interests really overlap here with those of the American people.