The US and Germany since Scholz took office last December have had their differences on a range of issues, with Washington especially wanting Berlin to do more with respect to Ukraine along with cracking down on Russia and China.
However, the Biden administration hopes the talks represent a chance to size up the relationship and efforts to back Ukraine.
"This meeting really is a good opportunity for the two leaders, a year in, to take stock on the further deepening of our bilateral cooperation over the last year, and in particular to assess where we are with the war in Ukraine a year on," a senior US administration official told reporters on Thursday.
Ukraine Aid & European Security
The US has set the tone for the meeting by setting expectations for the unveiling of a new security package for Ukraine. The White House said it will announce the new security assistance package during Scholz's visit Friday that will include additional ammunition for HIMARS and other weapons systems.
The meeting comes a few days after White House security adviser Jake Sullivan in an interview said Biden only agreed to supply Abrams battle tanks to Ukraine at the urging of Scholz. Germany swiftly denied Sullivan's remarks and cited Berlin's previous denials of any notion of "a package."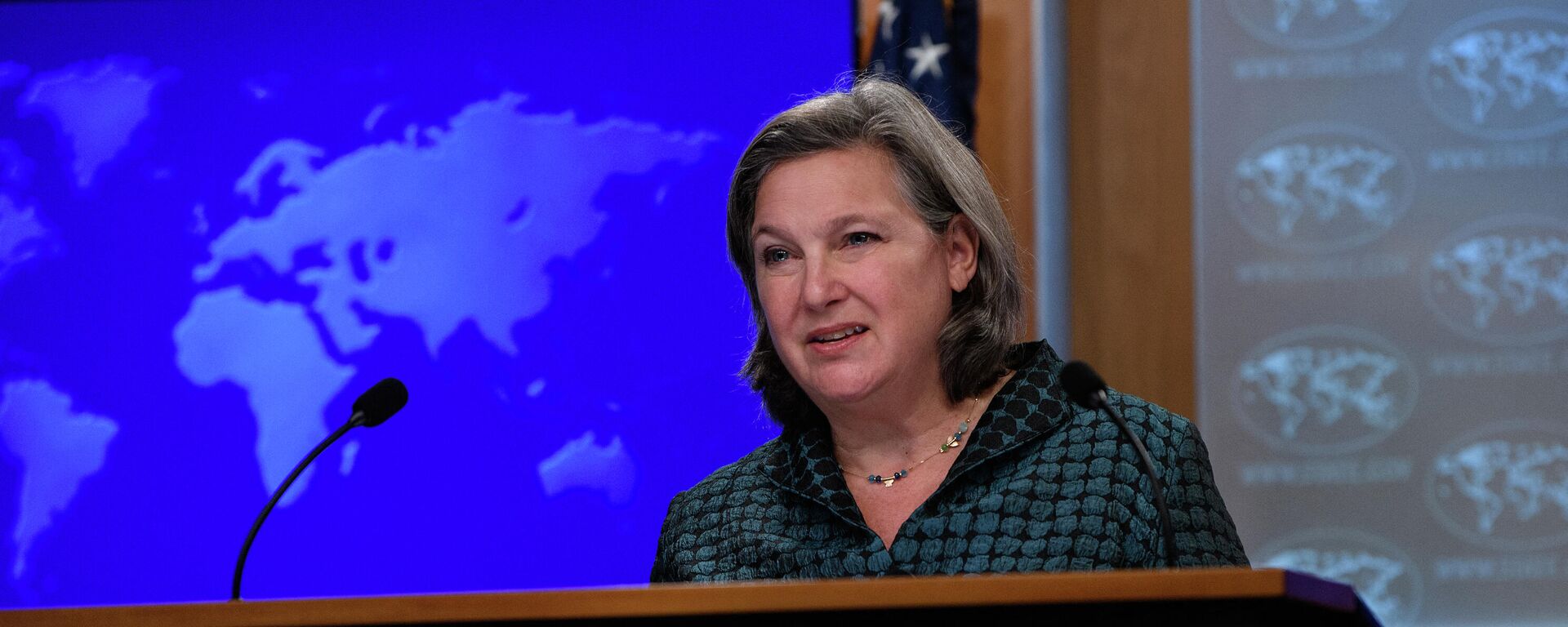 In any event, Scholz comes into the meeting with a stronger record vis-a-vis Washington's wish list, after coming under fire both at home and abroad for being too reluctant during the war in Ukraine, according to journalist Christoph Hasselbach in an article for German media.
"The fact that Germany's Leopard tanks are expected to arrive in Ukraine in the coming weeks, while the American Abrams could take until the end of the year, is likely to further strengthen the chancellor's position in Washington," Hasselbach wrote.
Scholz has taken a rather hawkish tone with Russia in recent days, perhaps flexing his muscles ahead of the Biden talks. On Thursday, the German chancellor said peace cannot be achieved by suspending arms supplies to Ukraine. He vowed to continue backing Kiev and stressed that Russia will not achieve a military victory.
The conflict in Ukraine has underscored the extent to which Germany and Europe rely on the United States, especially the US nuclear umbrella. Berlin could no longer resist abandoning Nord Stream and dragging its feet on Ukraine support.
Not to mention the silence emanating from Berlin in the aftermath of a report by Pulitzer Prize-winning investigative journalist Seymour Hersch detailing the United States' involvement in the sabotage of Russia's Nord Stream energy pipelines to Germany.
"The idea that Europe could act autonomously in its security policy, I think that dream is over for the time being," Henning Hoff of the German Council on Foreign Relations told German media. "Europe has to make an incredible effort to catch up in terms of defense policy and security policy."
The US administration official said, although the meeting will center around shared support for Ukraine, the leaders are also expected to cover other issues including the upcoming NATO summit in Vilnius. In addition, the official said Scholz may also raise European concerns about measures included in the US Inflation Reduction Act.
China
The two leaders are also expected to discuss the strategic competition with China, an area in which the two allies differ in perspective. The US, on the one hand, sees China as its greatest rival and threat - while Germany has largely seen Beijing as a trading partner.
Biden during the meeting may try to win over Scholz to committing to backing sanctions against China should they arm Moscow. Although Berlin recently joined the chorus in warning Beijing against sending weapons to Russia, it may be hesitant to take a tougher stand on other issues. China, after all, is Germany's top trading partner.
"Germany's trade with China involves far greater sums and dependencies than the dealings it had with Russia," Hasselbach said. "Germany has been doing good business with China for many years, and especially since the days of Chancellor Angela Merkel."
It is also noteworthy that Scholz lauded China's 12-point Ukraine peace plan - a proposal Biden said would only benefit Russia. This came after a Chinese delegation met with the general staffs of Germany and other European states.
"US policymakers have a chronic concern that industrial European powerhouses like Germany will allow their commercial interests in China to temper their willingness to take tough positions on security and geopolitical issues," former US diplomat Daniel Russel told US media.
"The Biden administration will use the Scholz visit to try to shift Germany's balance in the direction of stronger pushback."