Former President Donald Trump expects to be arrested Tuesday amid the Manhattan DA Office's investigation against him, and has encouraged his supporters to come out in protest.
"Now illegal leaks from a corrupt and highly political Manhattan District Attorneys Office, which has allowed new records to be set in violent crime and whose leader is funded by George Soros, indicate that, with no crime being able to be proven, and based on an old and fully debunked (by numerous other prosecutors!) fairy tale, the far and away leading Republican candidate and former president of the United States of America, will be arrested on Tuesday of next week. Protest, take our nation back!" Trump wrote in an all-caps post on Truth Social on Saturday.
The "illegal leaks" referred to by Trump relate to
reports
that Trump could face a grand jury indictment over the hush money allegedly paid to porn star Stormy Daniels ahead of the 2016 election by former attorney Michael Cohen.
Trump has vocally denied any wrongdoing in the case, saying he never slept with "Horseface Daniels," and accusing Biden-allied Manhattan DA Alvin Bragg of going after him instead of taking on violent crime in New York City.
"Working closely with the Weaponized Justice Department, this is a continuation of the Greatest Witch Hunt of all time. They long ago missed the Statute of Limitations, and I recently won big money against 'Stormy' in the 9th Circuit - NEVER HAD AN AFFAIR. This is old news," Trump wrote in January.
Trump attorney Joe Tacopina told US media this week that his client would not refuse to surrender into custody if he were indicted. "There won't be a standoff at Mar-a-Lago with Secret Service and the Manhattan DA's office," Tacopina
said
.
DA staffers
reportedly met
with New York Police Department intelligence bureau members on Thursday to discuss potential security implications in the event of Trump's indictment, with city police said to be cooking up a plan together with the Secret Service.
The former president has been under investigation by the Manhattan DA since 2018, with the wide-ranging probe focusing on a number of issues, including Trump's business dealings and the alleged Daniels payoff.
Daniels lost a defamation suit against Trump last year, and was
ordered to pay
nearly $300,000 in legal fees. Daniels
spoke to prosecutors
from the Manhattan DA's office on Wednesday about the hush money claims, according to her lawyers.
The former president and his supporters have characterized the Daniels claims as the latest attempt to prevent him from taking another shot at the White House in 2024 after the collapse of Russiagate - the allegation that Trump "colluded with" the Kremlin during the 2016 election, and the failure of two attempts to impeach him - the first over a phone call with Ukrainian President Volodymyr Zelensky urging Kiev to restart a probe into Hunter Biden's activities in Ukraine, and the second over Trump's response to the Capitol riots on January 6, 2021.
Trump is emerging as the clear frontrunner for the Republican nomination ahead of the upcoming primaries in 2024. A
poll
this week put Trump's support at 46 percent, with his nearest potential rival, Florida Governor Ron DeSantis, enjoying 32 percent support. DeSantis has not yet announced a run, and has been urged not to do so by the MAGA wing of the Republican Party.
The former president also apparently enjoys a significant lead against President Joe Biden in a hypothetical 2024 matchup, with a fresh Harvard CAPS-Harris Poll finding him beating Biden 46-41 percent if the election was held today. Trump would also defeat Vice President Kamala Harris 49 percent to 39 percent if the two were matched up, according to the same poll.
If Trump is correct about the Manhattan DA's plans, he will become the first former president in history to be indicted.
Tesla and Twitter billionaire Elon Musk weighed in on Trump's predicament, predicting that if he was arrested, "Trump will be re-elected in a landslide victory."
© Photo : Twitter / @elonmusk
Screengrab of tweet by Elon Musk.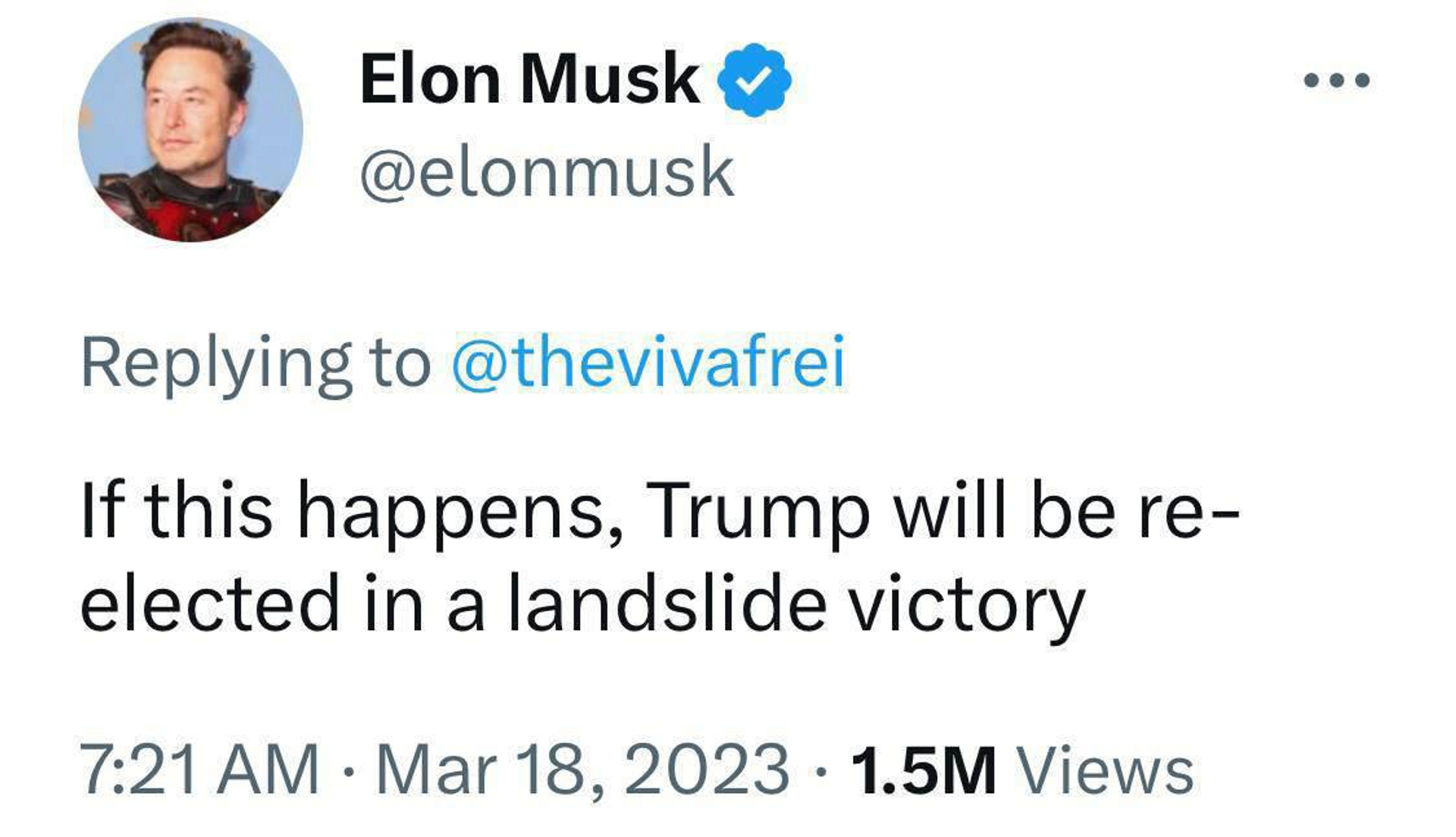 Screengrab of tweet by Elon Musk.
© Photo : Twitter / @elonmusk