The Polish Ministry of National Defense has rolled out a permanent US military garrison in the country. Among NATO members, Poland has the longest border with Ukraine (over 500 km or 300 miles). The launch of the US Army's garrison in Poland comes amid the ongoing Ukrainian conflict as Russia continues its special military operation.
What is this garrison all about and are there any other such US troops deployed in Europe. Sputnik has answers.
Where is US Army's Poland Garrison?
Tuesday saw the launch of the first garrison of the US Army in Poland, with an unveiling ceremony attended, among others, by Polish Defense Minister Mariusz Blaszczak and senior US officials.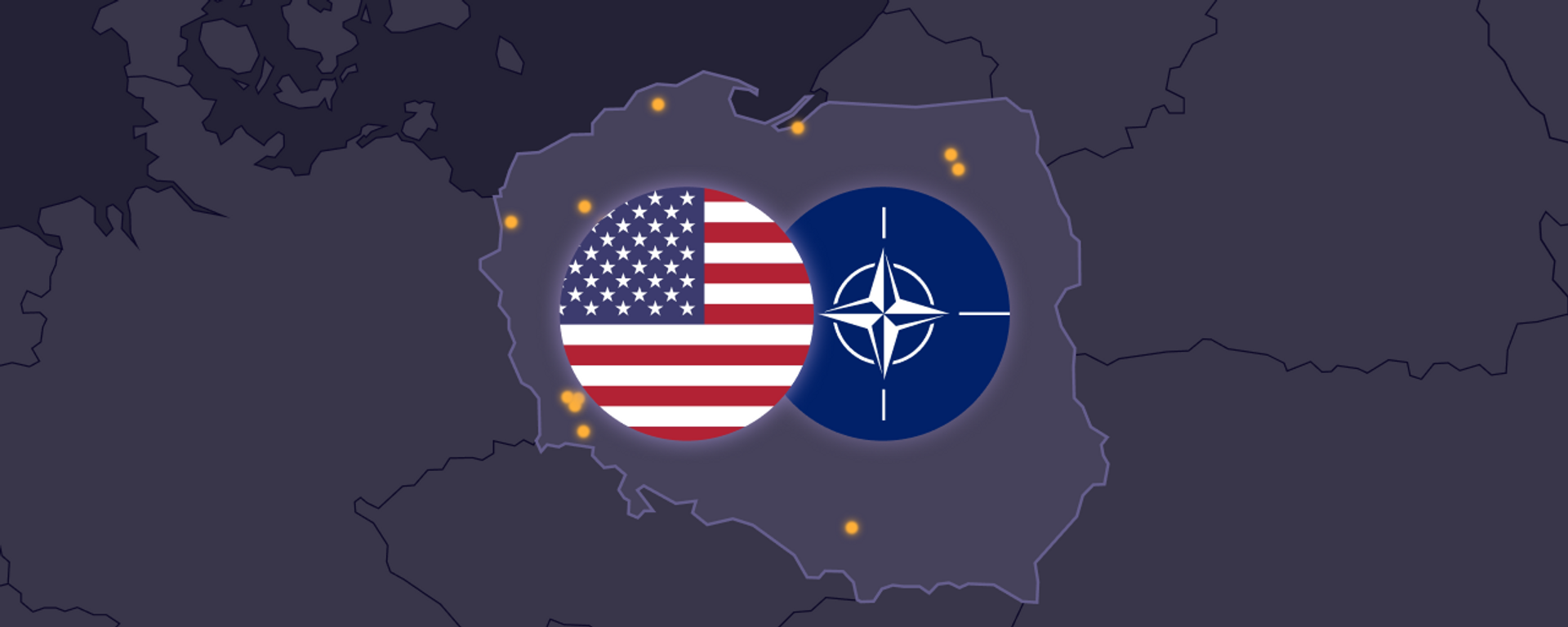 The Ministry of Defense (MON) tweeted
earlier in the day that the ceremony to transform the Area Support Group Poland into US Army Garrison Poland (USAG-P) would take place at Camp Kosciuszko in the western Polish city of Poznan.
The ministry recalled that the USAG-P was formed in line with an order that was issued by US President Joe Biden in 2022.
What is USAG-P's Official Goal?
According to the MON, the garrison will deal with an array of tasks, including those related to the infrastructure support of US soldiers, as well as the management of advanced outposts of US troops in Poland.
As for Camp Kosciuszko that is manned by 200 US soldiers operating on a rotational basis, it is also known as the US V Corps' Forward Operating Station Poznan that was described by Biden as the eastern flank of NATO.
"Its main task is to coordinate and oversee US ground forces in Europe, as well deal with operational planning, as well as cooperation and synchronization of the actions of US troops with the troops of other NATO countries," according to the MON.
What is Pentagon's Strance on USAG-P?
The Pentagon recently described the USAG-P as sort of the US Army's new headquarters in Poland.
Pentagon spokesman Pat Ryder explained that the garrison had been established "to meet US Army in Europe and Africa mission requirements, improved command and control capabilities and manage foreign, forward operating sites within the Republic of Poland."
He told reporters that the unit would be "one of the enduring improvements" to the US Department of Defense's posture in Europe "based on assessments from the 2021 Global Posture Review and consultations with NATO allies" and announced by President Joe Biden in June 2022.
"Joining the existing seven Installation Management Command Europe Garrisons, US Army Garrison Poland will deliver quality base operations support, infrastructure and services to soldiers and civilians to enable US Army in Europe and Africa Command readiness," Ryder said.
He explained that the USAG-P "will be comprised of approximately 13 military personnel and 140 civilian personnel."
Unveiling the 2021 Global Posture Review (GPR) in late November 2021, the Pentagon noted in particular that in Europe, the GPR boosted the effectiveness of NATO forces and "strengthens the US combat-credible deterrent" against what the US Department of Defense (DoD) described as "Russian aggression".
Where are Other US Army Garrisons in Europe?
Apart from the USAG-P, there are seven US Army garrisons located in Europe and managed by the Installation Management Command Directorate, according to
US Army Europe and Africa
.
US Army Garrison Benelux, which is situated in Belgium, the Netherlands and Germany. The garrison supports an international military community, including Supreme Headquarters, Allied Powers, Europe and NATO.
US Army Garrison Ansbach, located in south-western Germany's Franconia region.
US Army Garrison Bavaria consisting of two installations and two communities in Germany.
US Army Garrison Rheinland-Pfalz, located in another area in south-western Germany.
US Army Garrison Stuttgart, composed of five installations spread throughout the greater metropolitan area of the city.
US Army Garrison Wiesbaden, which is home to US Army Europe and Africa Headquarters, servicing 15 installations and housing areas in and around the German city.
US Army Garrison Italy
How Many US and NATO Bases are in Poland?
Currently, there are a total of thirteen US military bases in Poland, including those located in the towns of Redzikowo, Zagan, Skwierzyna, Swietoszow, Drawsko Pomorskie, Boleslawiec, Torun, Bemowo Piskie, Powidz, Poznan, Miroslawiec, Lask, and Karliki.
NATO bases are now stationed in Szczecin, Elblag, Orzysz and Bydgoszcz. The list will soon be replenished as the construction of two more NATO bases are underway near the towns of Trzebien and Pstraze.
As for the number of US military personnel currently stationed in Poland, President Andrzej Duda recently said in an interview with a French newspaper that the figure stands at about 10,000, almost a two-fold increase as compared to 2020.
"Today, with the strengthening of NATO's presence on the eastern flank, almost 10,000 American troops are present on our soil," Duda said, also pledging to spend more than 4% of the country's GDP on defense in 2023.
Moscow has repeatedly slammed
NATO's eastward expansion
, with Russian President Vladimir Putin stressing that western countries misled Russia by expanding NATO in Eastern Europe despite previous promises not to do so.