The Ugandan parliament has passed an anti-gay law that proposes new penalties for homosexual intercourse and criminalizes anyone identifying as LGBTQ. This move has come as the country's lawmakers argue that the current ban on same-sex relations is insufficient.
The 2023 Anti-Homosexuality Bill was introduced by Asuman Basalirwa, a member of parliament, at the beginning of this month. According to the lawmaker, the purpose of the bill is to protect the culture,
religious and family values
of the Ugandan people "from acts that are likely to promote sexual promiscuity in this country."
"The objective of the bill was to establish a comprehensive and enhanced legislation to protect traditional family values, our diverse culture, our faiths, by prohibiting any form of sexual relations between persons of the same sex and the promotion or recognition of sexual relations between persons of the same sex," Basalirwa said.
Apart from expanding on the criminalization of same-sex intercourse, the act bans promoting and abetting homosexuality, as well conspiring to engage in same-sex relations, prescribing jail terms of up to 5 years.
It also criminilazes those who "hold out as a lesbian, gay, transgender, a queer, or any other sexual or gender identity that is contrary to the binary categories of male and female," with a punishment of up to ten years in prison. The same penalty could be invoked against anyone, who engages in "same-sex activity." According to Human Rights Watch (HRW), if the bill comes into effect, it will be the first
to outlaw identifying
as LGBTQ.
Moreover, violations under the law specify capital punishment for "aggravated homosexuality," which among other things applies in cases of sexual relations involving those infected with HIV and underage minors.
The legislation was passed by the parliament on Tuesday, after a roll call ordered by the House speaker. It was supported by the overwhelming majority of legislators. Following the vote, the bill will now be presented to the president, who may choose to sign it into law or use his veto.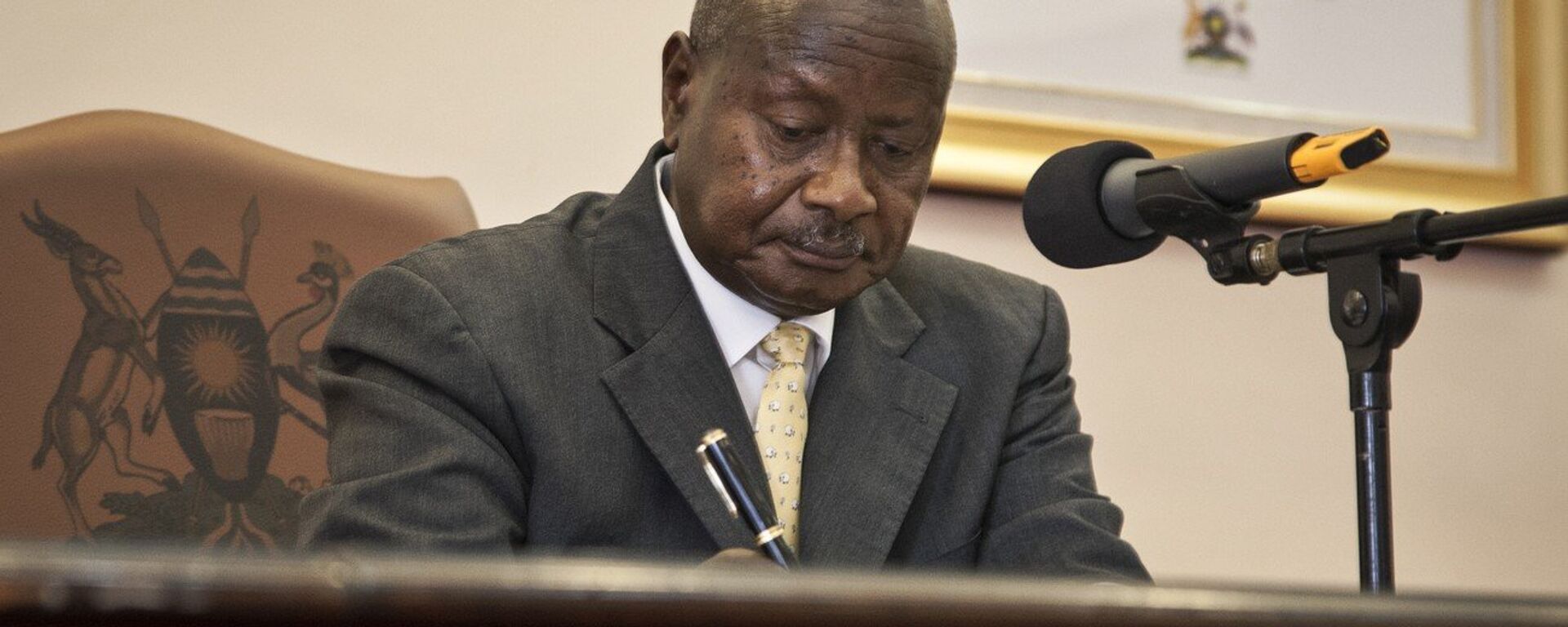 In his recent speech, President Museveni
accused Western nations
of "trying to impose their practices on other people," saying that Uganda won't follow "people who are lost," referring to West's tendency to normalize homosexuality.
"The homosexuals are deviations from normal. Why? Is it by nature or nurture? We need to answer these questions," President Museveni was quoted as saying by media.
HRW
called the bill a "more egregious version" of the Anti-Homosexuality Act of 2014, which stipulated that "aggravated homosexuality" should be punishable by life imprisonment, but was ruled invalid by a court on procedural grounds.
The reintroduction of the Anti-Homosexuality Bill comes after several months of debates over the LGBTQ issue, which has been revived following scandals over reported cases of recruiting youth in homosexual pornography, thereby re-igniting calls from public figures for
criminalizing homosexuality
.