Demonstrators have vowed to "paralyze" Israel this week in response to the government's declaration that it intends to pass a bill that would give it direct control over important Supreme Court appointments.
Protesters who oppose Israeli Prime Minister Benjamin Netanyahu's controversial attempts to bring the judiciary under the control of his coalition
announced
on Friday that starting on Sunday, they will be launching major demonstrations in cities including Tel Aviv and Jerusalem.
Protesters say they will be turning out en masse to express their displeasure with pro-Netanyahu ministers and lawmakers on Sunday and Monday, and promised "days of paralysis" on Wednesday and Thursday, which will reportedly include a "giant protest" at the Israeli legislature in Jerusalem.
"We're going into the most fateful week in the history of Israel," protest leaders said in a statement, according to Israeli media. "This destructive government is tearing the nation apart and dismantling the military and the economy."
Describing the proposed changes to the court system as an "attempt to turn Israel into a dictatorship," protesters vowed that "millions" will turn out to "defend the State of Israel and the Declaration of Independence."
"Every citizen who wants to live in a democracy must come out to the streets and oppose the dictatorship at all costs," the statement insisted.
Netanyahu has defended his proposed overhaul by saying he and his coalition partner do not seek a "controlled court," but a "balanced" one. Netanyahu painted the protests as foreign-backed attempts to sow "anarchy," and his son, Yair, went as far as accusing the US State Department of sponsoring the unrest.
But with opposition to his judicial reforms now in its third month, demonstrations show little signs of stopping.
Ongoing threats by military reservists — like a recent pledge by 100 backup members of the Air Force to stop following orders if the judicial changes are made — reportedly led the Israeli military's chief of staff, Lt. Gen. Herzl Halevi, to suggest the protests call Israel's military readiness into question.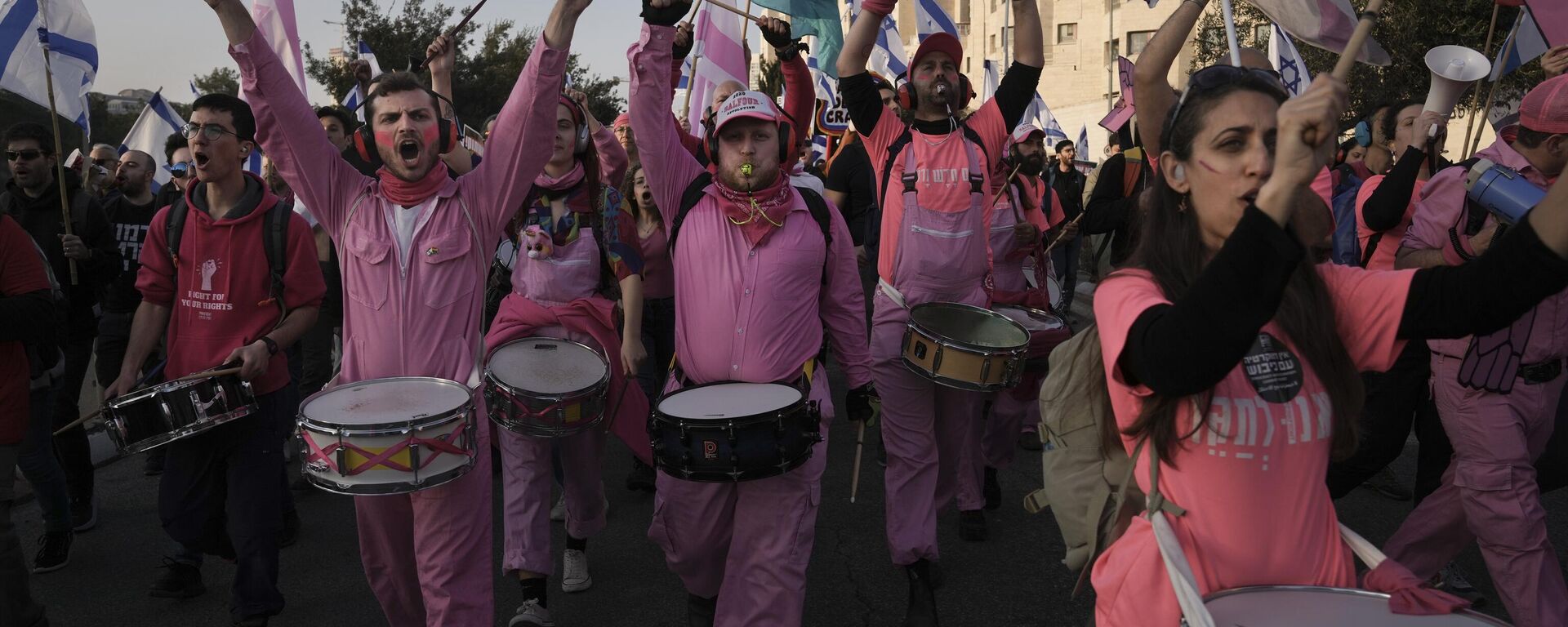 Netanyahu demanded a swift end to what he called "the refusal to serve," demanding Sunday that the military's chief of staff and the heads of the security services to "aggressively combat" the phenomenon."
"There's no place for refusal to serve in the public discourse," he claimed, insisting that "a state that wishes to exist can't tolerate such phenomena and we will not tolerate it as well."