Israeli President Isaac Herzog, amid protests in the country, called on the government to immediately halt the adoption of judicial reform.
"We have seen very difficult scenes tonight. I appeal to the Prime Minister, the members of the government and members of the coalition ... For the sake of the unity of the people of Israel, for the sake of the responsibility we are obliged to, I call on you to stop the legislative process immediately," Isaac Herzog said.
Late on Sunday night, thousands of protesters broke through the last police checkpoint in front of Israeli Prime Minister Benjamin Netanyahu's residence in Jerusalem. Police used water cannons against the demonstrators.

The Sunday mass protest started after Netanyahu dismissed Defense Minister Yoav Gallant, who became the first key Israeli minister to call for a halt of the controversial judicial reform on Saturday.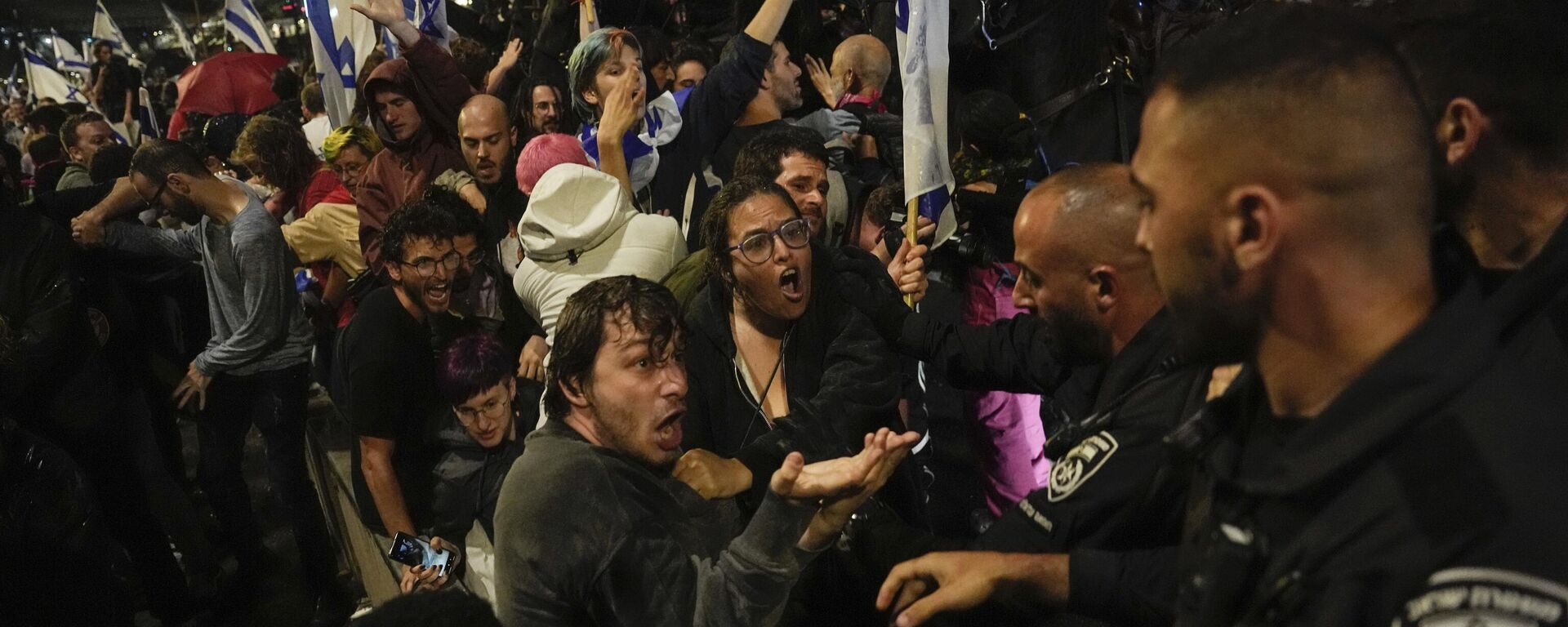 On Friday, organizers of the protest movement against the judicial reform in Israel declared a "week of paralysis," which would include nationwide demonstrations against the divisive legislative action. Earlier this week, hundreds of activists swarmed outside the residences of prominent Israeli government officials — including Tourism Minister Haim Katz, Diaspora Affairs Minister Amichai Chikli, Environmental Protection Minister Idit Silman, and Defense Minister Yoav Gallant, among others — to protest against the judicial reform.
Mass protests against the judicial reform have been held in Israel for 12 straight weeks. According to Israeli Prime Minister
Benjamin Netanyahu
, the Israeli government plans to pass a key part of the proposed legislation in the coming days.
In January, Israeli Justice Minister Yariv Levin rolled out a legal reform package that would limit the authority of the Supreme Court by giving the cabinet control over the selection of new judges, as well as allowing the Knesset to override the court's rulings with an absolute majority. In mid-February, the Israeli parliament approved the first part of the legislation. The second half was approved by the Constitution, Law and Justice Committee of the Israeli parliament, the Knesset, at the beginning of March.

The reform's opponents argue it will undermine democracy in Israel and put the country on the verge of a social and constitutional crisis.