The American-born singer Tina Turner (born Anna Mae Bullock) died on Wednesday at the age of 83-years-old after battling an undisclosed illness.
"Tina Turner, the 'Queen of Rock'n Roll' has died peacefully today at the age of 83 after a long illness in her home in Kusnacht near Zurich, Switzerland. With her, the world loses a music legend and a role model," a representative said.
Turner's life as the "Queen of Rock 'n' Roll" was iconic and saw her inducted in the Rock and Roll Hall of Fame twice - in 1991 for her work as one-half of Ike & Tina Turner Revue and 2021 for her decorated solo career.
Beginning in 1967, Turner became the first Black and female artist to appear on the cover of Rolling Stone magazine.
"Tina Turner is an incredible chick. She comes in this very short miniskirt, way above her knees, with zillions of silver sequins and sparklers pasted on it. Her dancing is completely unrestrained. Unlike the polite hand-clapping Motown groups, she and the Ikettes scream, wail and do some fantastic boogaloo. No matter what you may think of the music, Tina Turner is worth sitting down and paying close attention to," the magazine wrote.
Turner, who was raised in Nutbush, Tennessee, was a naturalized Swiss citizen at the time of her death. With what she called "memories of picking cotton with her family as a child," Turner first rose to fame in the 1960s as the lead singer of the Ike & Tina Turner Revue alongside, who would eventually become her husband, Ike Turner.
The duo became a supporting act for stars such as the Rolling Stones, David Bowie, Sly Stone, Cher, Elvis Presley and Elton John. Their hits included "Proud Mary" which won them a Grammy in 1972.
Following abuse at the hands of her husband, as well as his adultery and drug addiction, Turner filed for divorce from Ike and left the duo in 1976. The proceedings were finalized in 1978. She left the marriage after a fight with only 36 cents and a Mobil credit card.
For two years, Tina lived off food stamps while staying with friends. She played small club gigs to pay her debt following the divorce and separation of the group.
"My relationship with Ike was doomed the day he figured out I was going to be his moneymaker," Turner wrote in her 2018 biography
My Love Story
. "He needed to control me, economically and psychologically, so I could never leave him." By the end of her life, however, Turner amassed a net worth of $250 million, according to
Celebrity Net Worth
.
In 1979, Australian record promoter Roger Davies sat down with Turner and the two worked to bring her back to the stage. Two years later, in 1981, singer-songwriter Rod Stewart heard her show at New York rock club "the Ritz '' and asked her to perform with him on Saturday Night Live. By 1982, she became one of the first Black artists to appear on MTV with her music video for "Ball of Confusion."
After signing with Capitol Records in 1983, Turner was finally given the chance to record a studio album. But she only had two weeks to do so. She recorded her album Private Dancer, which reached No. 3 on the Billboard 200.
The album was certified Platinum five times and sold 10 million copies globally. That same year, after touring with Lionel Richie, Turner's single "What's Love Got to Do with It" reached No. 1 on the Billboard Hot 100 and helped her win three Grammys at the 1985 Grammy Awards. Her album "Foreign Affair" sold over 6 million copies globally and included her hit single "The Best."
"Turner's musical character has always been a charged combination of mystery as well as light, melancholy mixed with a ferocious vitality that often flirted with danger," wrote scholar Daphne A Brooks in 2018.
Turner's prominence includes singing alongside David Bowie, Eric Clapton, Mick Jagger, and Beyonce—to name a few. She also starred opposite Mel Gibson in the 1985 film Mad Max Beyond Thunderdome, as well as wrote two songs for the film, including "One of the Living" which won her a Grammy Award for Best Female Rock Vocal Performance.
Turner's music career includes 10 studio albums, two live albums, two soundtracks, and five compilation albums. Awards for her musical work amount to more than 160, and her nominations include over 180. Her life was also canonized in three memoirs, a biopic, a musical, and the 2021 documentary film Tina. In 2018, she received the Grammy Lifetime Achievement Award.
© AFP 2023 / GEORG WENDT
American-born Swiss singer, songwriter, dancer and actress Tina Turner reacts on stage after the German premiere of the musical "Tina - Das Tina Turner Musical" in the Operettenhaus in Hamburg on March 3, 2019.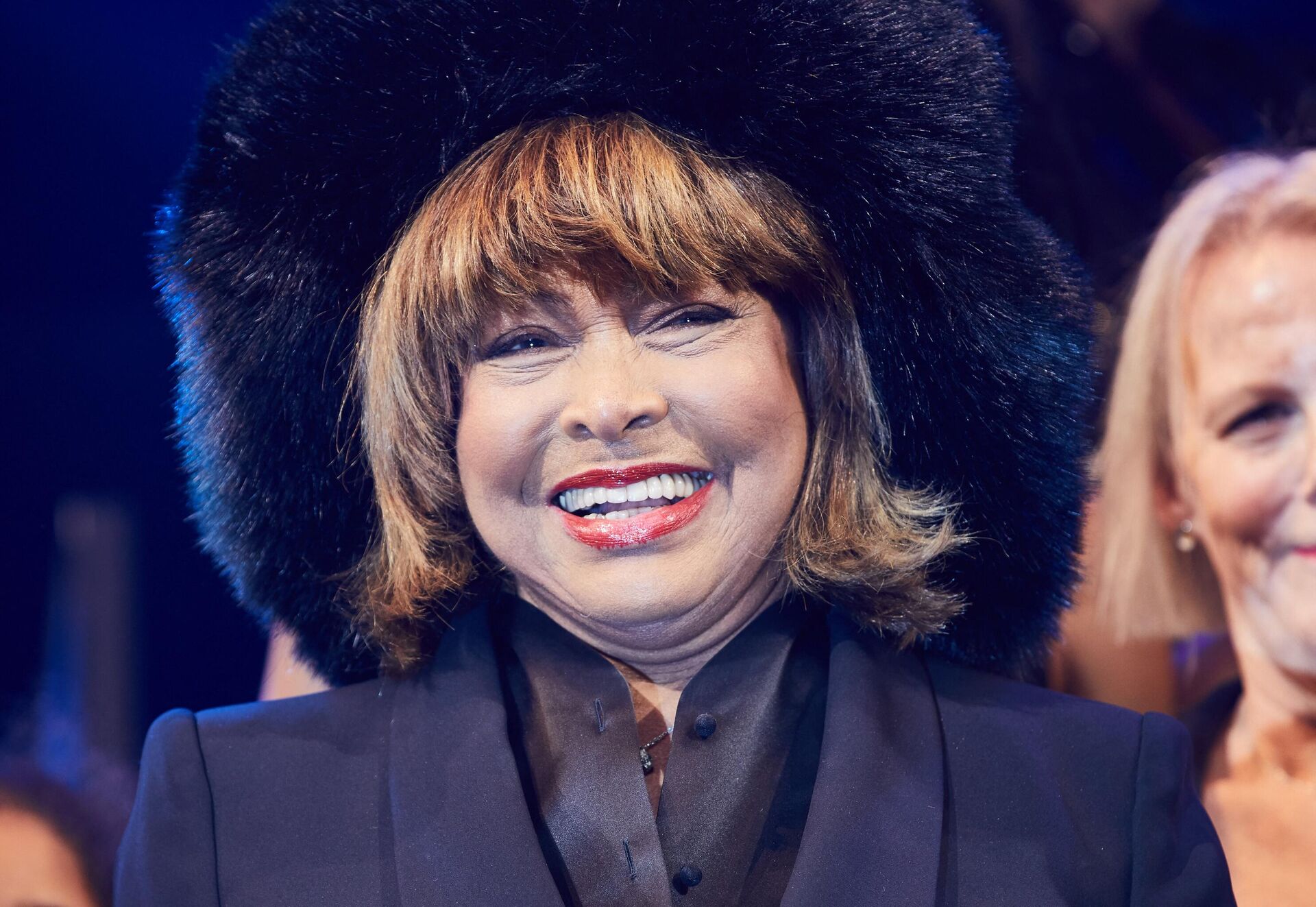 American-born Swiss singer, songwriter, dancer and actress Tina Turner reacts on stage after the German premiere of the musical "Tina - Das Tina Turner Musical" in the Operettenhaus in Hamburg on March 3, 2019.
"Without Tina Turner we have no Beyonce. We have no Rihanna. We have no generation of Black women performers who transgressed all sorts of musical genres and without Tina Turner, we have no reclamation of Black woman's sexuality in the context of rock and roll," Brooks, who serves as a scholar of popular music studies and Black feminist literature and culture at Yale University, told US
media
.
"Without Tina Turner, we have a new bereft in terms of our conversations about domestic abuse, about Black woman's ability to be able to withstand patriarchy."
Turner gained fame throughout Europe, with many of her albums charting and selling at higher volumes across the pond than they did in the US. She told
Larry King
in an interview, explaining her move to Europe, that in the US she is not "as big as Madonna" but is seen as being as such in Europe, and in some countries is even viewed as being "as big as the Rolling Stones."
In November 1996, Turner visited Russia for the first time during her tour in support of her studio album "Wildest Dreams," later returning in 2008 for a concert at the Kremlin Palace in Moscow celebrating the state-owned gas company Gazprom's 15-year anniversary.
By late 2021, Turner sold the rights to her music catalog for a reported $50 million to the music publishing company BMG.
Fans of Tina Turner took to social media on Wednesday, including celebrities and fellow musical artists.
The words legendary, iconic, diva, and superstar are often overused and yet Tina Turner embodies them all and so many more - an incredible performer, musician and trailblazer. To me, she will always be a survivor and an inspiration to women everywhere. Her music will continue to… pic.twitter.com/ur7djmFHnW

— Mariah Carey (@MariahCarey) May 24, 2023
"I was a benefactor of the energy, creativity and talents of Tina Turner. A woman who started in rural Nutbush, TN cotton fields and worked her way to the very top. Tina was a great inspiration to me when I was starting out and remains so to this day. Love you Tina. RIP." —DH pic.twitter.com/2sqg0biujc

— Debbie Harry/BLONDIE (@BlondieOfficial) May 24, 2023
Omg, I just saw that Tina Turner passed. Legend & Icon & that doesn't even scratch the surface. May she rest in perfect peace & may her legacy of brilliance & resilience live on forever. #SimplyTheBest pic.twitter.com/LTeLdPWVGZ

— Nicki Minaj (@NICKIMINAJ) May 24, 2023
Turner is survived by her second husband and longtime manager Erwin Bach, as well as two of Ike Turner's sons whom she adopted.