The watch was a Patek Philippe Reference 96 Quantieme Lune, one of just eight known to exist. The unknown collector who purchased it did so at nearly twice the price it was expected to net, setting a record for the make of watch and for timepieces previously owned by emperors.
The ultra-rare timepiece was made in Geneva in 1937 and has a Bauhaus-inspired platinum case that houses a silvered dial, with a rose-gold chapter ring and enamel hour markers. It also has an indicator for phases of the moon and a triple-date calendar - features just as rare in 1930s watches as the watch itself.
#phillips selling last emperor Puyi's Patek Philippe May 23 in Hong Kong. One of only 8 made, and 3 known to still exist. Estimate: $3 million. Appeals to watch nerds and history buffs. Puyi's gifted it to Russian interpreter in 1950 after 5 years internment in Siberia. #watches pic.twitter.com/CCrDZEEwEQ

— Frederik Balfour (@Frederikbalfour) May 23, 2023
"I was delighted because after more than 3 years of hard work on researching, we found all the missing pieces of this beautiful puzzle," said Thomas Perazzi, Phillips' head of watches for Asia. "This result brings Hong Kong to a new level as really a hub for fine watches and extremely important, collectible timepieces."
It's not known how Puyi acquired the watch, which he gave to his Russian interpreter, Georgy Permyakov, while in a Soviet prison after World War II. Puyi was arrested by Soviet forces during the final weeks of the war, as the Red Army launched its invasion of Japanese-held territories in China and Korea. Puyi had ignominiously served as the Japanese Empire's ruler of Manchukuo, the puppet state established in Manchuria after it seized the region from China in 1931.
Puyi was just two years old when he ascended to the Dragon Throne in 1908 at the urging of the late Empress Dowager Cixi, who died days before his crowning as the Xuantong Emperor. Just four years later, Puyi was forced to abdicate the throne by a swelling revolutionary movement, which declared a Republic of China in February 1912, ending 2,132 years of imperial rule. However, he continued to live in the palace complex and was briefly reinstalled as emperor as warring factions vied for power.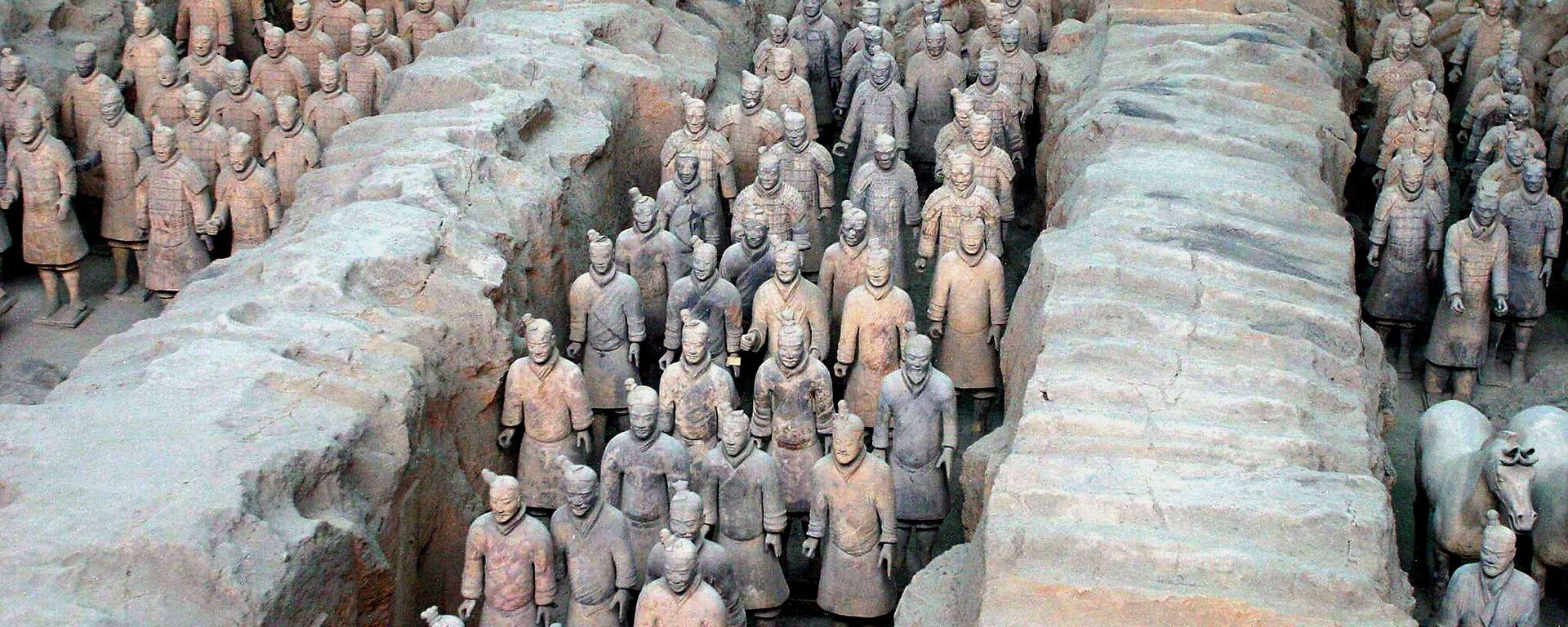 25 December 2017, 13:50 GMT
In 1932, he successfully courted the Japanese Empire, which allowed him to become its puppet ruler in Manchukuo, taking on the name Kangde. However, he was almost totally a figurehead, signing proclamations issued to him by Tokyo.
Following his arrest by the Soviets in 1945, Puyi was imprisoned and tried for war crimes at the Tokyo Trials, but escaped execution and was instead sentenced to ten years in prison and to be politically reeducated. In 1950, he was extradited to the newly-founded People's Republic of China, which had succeeded at reuniting all of China except for Taiwan under a socialist republic. He was released in 1959 a deeply changed man, expressing regret for his time as an emperor. Puyi joined the Communist Party of China and even served as a representative in the Chinese People's Political Consultative Conference and the National People's Congress before dying in 1967.
Other items sold at the auction also belonging to Puyi include a manuscript notebook, a leather-bound edition of Confuscius' "Analects," which together sold for $121,634 - almost five times the pre-sale estimate - and an inscribed red paper fan given to Permyakov in Tokyo, which sold for $77,846 - six times the pre-sale estimate.