"That's still in play"
was Joe Biden's four-word answer to a reporter outside the White House on Monday after being asked whether the US plans to deliver ATACMS to Ukraine. He did not elaborate.
Made to be used by the M142 High Mobility Artillery Rocket System road-mobile multiple rocket launchers which the US began to send to Ukraine last summer, and older M270 Multiple Launch Rocket Systems (M270s) sent by Germany, Italy, Norway, and the UK, ATACMS have been
touted
by US media
and politicians
as one of the most fearsome conventional weapons in America's arsenal.
What are ATACMS Used For, What is Their Range, How Fast Can They Fly, and How Accurate are They?
Created in the mid-1980s at the twilight of
the Cold War
and entering into service with the US Army in early 1991, just in time for a US-led war against Saddam Hussein's Iraq, ATACMS are a solid-fuel, surface-to-surface ballistic missile with an effective firing range of up to 300 km, and a maximum velocity during boost phase of up to Mach 3, or 1 km/second, making them difficult to intercept using older air defense systems.
ATACMS' characteristics vary wildly depending on model, block number, and configuration. For example, while they can be armed with 500 pound (230 kg) penetrating high explosive blast fragmentation warheads, they can also be fitted with other explosives weighing
anywhere from
160 and 560 kg, including anti-personnel and material cluster "bomblets."
There are also notable differences in the weapons' guidance systems, with older variants relying on inertial guidance, while newer missiles include built-in GPS.
Where Have ATACMS Been Used Before and What Countries Have Them?
Along with the 1991 Gulf War, ATACMS were used extensively during the US-led wars in Afghanistan and Iraq in the 2000s.
Besides the US military, the missiles are operated by just a handful of US partners and clients, including NATO allies Greece, Turkiye, Poland, and Romania, as well as South Korea, Bahrain, Qatar, and the United Arab Emirates. Australia, Taiwan, Lithuania, Estonia, and Morocco have either signed contracts on the purchase of the weapons, or submitted formal requests to do so.
How Much Do ATACMS Cost?
ATACMS are pricey. So pricey that the Netherlands decided to shop around for and find an alternative earlier this year. Finland made a similar move in 2014. The US Army – the ATACMS' main user, decided to wind the program down in 2007, citing high costs, and penning a
life extension contract
with Lockheed Martin to upgrade the remaining stock of missiles. A specialized "cross-domain" ATACMS proposed in 2016 was also
killed off
in the fiscal 2021 defense spending bill, due to unspecified "technical problems."
ATACMS have an estimated cost of over one million dollars (the Pentagon provided an
$820,000 per missile
price tag in the late 1990s – which would be equivalent to over $1.5 million today, with no newer valuations made available since).
Over 3,700 ATACMS of various modifications were produced between the late 1980s and 2007, with about 600 expended by Washington in its wars over the past 30 years.
© AP Photo / South Korea Defense Ministry
Army Tactical Missile System or ATACMS missile is fired during a joint military drill between U.S. and South Korea. File photo.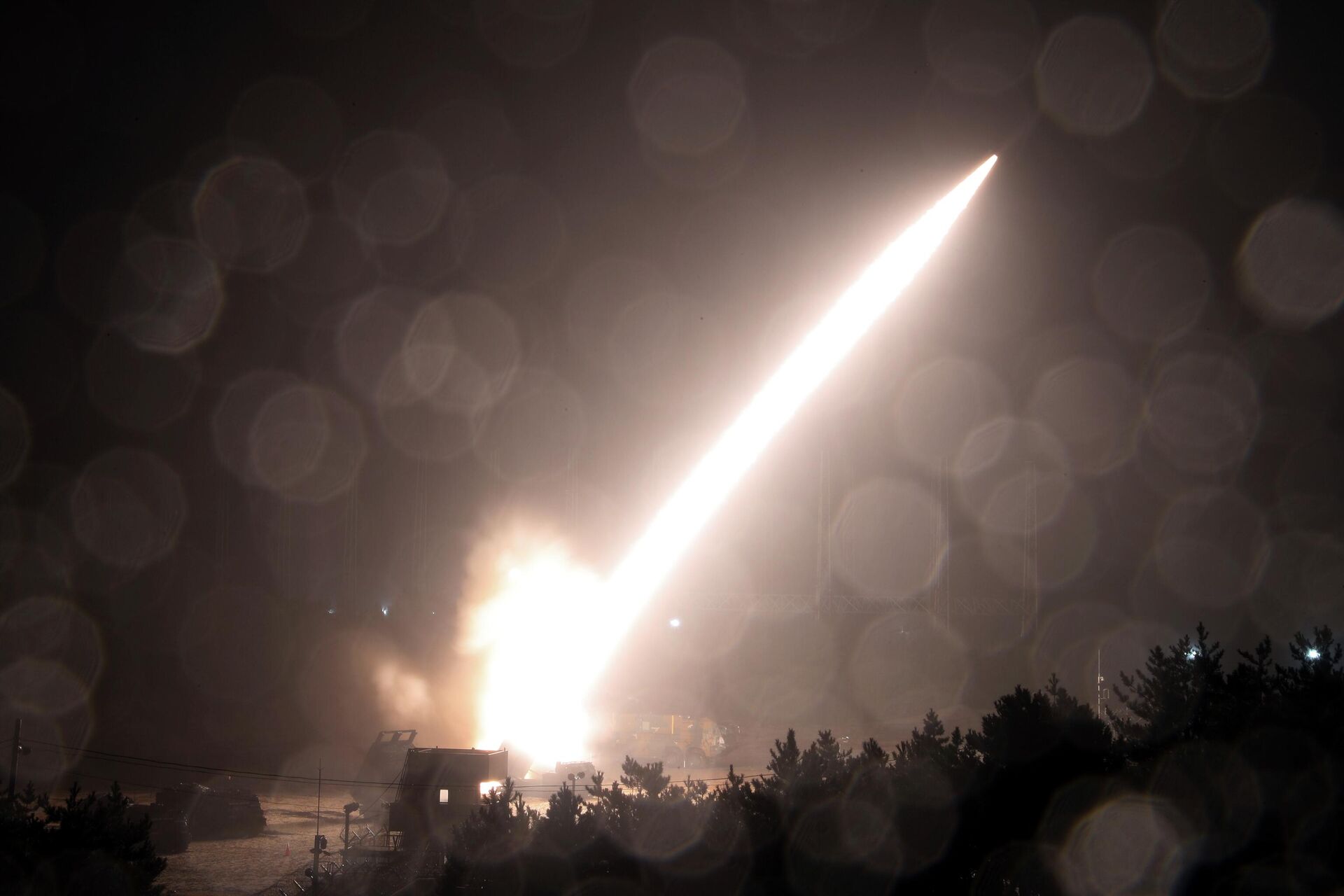 Army Tactical Missile System or ATACMS missile is fired during a joint military drill between U.S. and South Korea. File photo.
© AP Photo / South Korea Defense Ministry
What is the Russian Equivalent of the ATACMS?
About half-a-dozen non-US missile systems have been compared to the ATACMS, including the OTR-21 Tochka, a Soviet-made tactical ballistic missile, the 9K720 Iskander, a Russian-made missile, the Fateh-313 – an Iranian-made tactical missile design, and the P-12 variant of China's B-611 missile. North Korea, India, Israel, and
Ukraine
have also tinkered with comparable systems, with
varying degrees of success
.
Iskanders boast superior range and payload characteristics to the ATACMS, but their launchers are only capable of firing their specially designed missiles, whereas ATACMS can be fired from HIMARS and MLRS launchers.
What System is Expected to Replace the ATACMS?
Lockheed Martin's
Precision Strike Missile
is expected to succeed the ATACMS. In development since 2016, the missile is expected to have a longer maximum range (500 km or more), and be slim-lined to allow for two to be fitted per carrier.
Why Would ATACMS Deployment in Ukraine Be a Major Escalation?
In light of Kiev's propensity to use its Western-provided weapons to attack targets inside Russia – including civilian infrastructure in Donbass, Moscow has warned repeatedly that sending ATACMS to Ukraine would
dramatically increase the danger
of an escalation, and possibly even lead to direct military clashes between Russia and the US.
Earlier this year, Russian Deputy Foreign Minister Sergey Ryabkov blasted lawmakers in Washington over their calls to ship ATACMS missiles to Ukraine for strikes against Crimea, calling such proposals "an element of psychological warfare," and warning that the West's escalation of the
proxy war
could have unpredictable consequences.
In late 2022, US media reported that Pentagon officials had urged the White House
not to send ATACMS to Ukraine
, similarly citing their potential use "against targets inside Russian territory," and the danger that they could "potentially set off a wider war with Russia."