The coastal areas of Maine, New Hampshire and the Canadian Maritime provinces of New Brunswick, Nova Scotia and Prince Edward Island were left dealing with widespread damages and power outages in the aftermath of Hurricane Lee this weekend.
The storm, which brought with it intense winds, rough surf and rain, prompted the
death
of at least one individual in Maine.
The center of the post-tropical cyclone first made landfall about 135 miles west of Halifax, Nova Scotia's capital, according to the
National Hurricane Center
, just 50 miles southeast of Eastport, Maine. Lee brought with it maximum sustained winds of 75 miles per hour (120 kilometers per hour); however, more averaged speeds of 45 MPH. The storm later downgraded as it headed north to New Brunswick and the Gulf of St. Lawrence.
But before doing so, Lee caused extensive damage across Maine and the Canadian Maritime provinces. The wind knocked down dead trees, and caused surf swells that prompted possible life-threatening surf and rip current conditions.
Hundreds of miles from the storm's center, residents of Maine and Canada found themselves without power. At around midday on Saturday, 27% of Nova Scotia was without power, 8% of New Brunswick and 3% of Prince Edward Island was also without power. At least 11% of customers in Maine also found themselves without power. About 100,000 power outages in Maine were reported at the height of the storm.
By Sunday, large parts of New England enjoyed warm, sunny weather, including Boston, Massachusetts, and parts of Maine.
But by Monday at around 4:30 p.m. local time, more than 2,600 people in the state of Maine were still without power, while 1,417 people in Vermont and 816 people in New Hampshire were also without power, according to PowerOutage.us.
Bar Harbor—a town on Maine's Mount Desert Island popular to tourists as it allows access to Acadia National Park—experienced a whale watch boat breaking free from its mooring and crashing onshore. The national park officials chose to close every campground in the park, expecting trees to come down due to the storm.
© AP Photo / Robert F. Bukaty
A worker prepares to unload diesel fuel from the Eden Star, a 70-foot tour boat that broke free of its mooring during storm Lee, Saturday, Sept. 16, 2023, in Bar Harbor, Maine.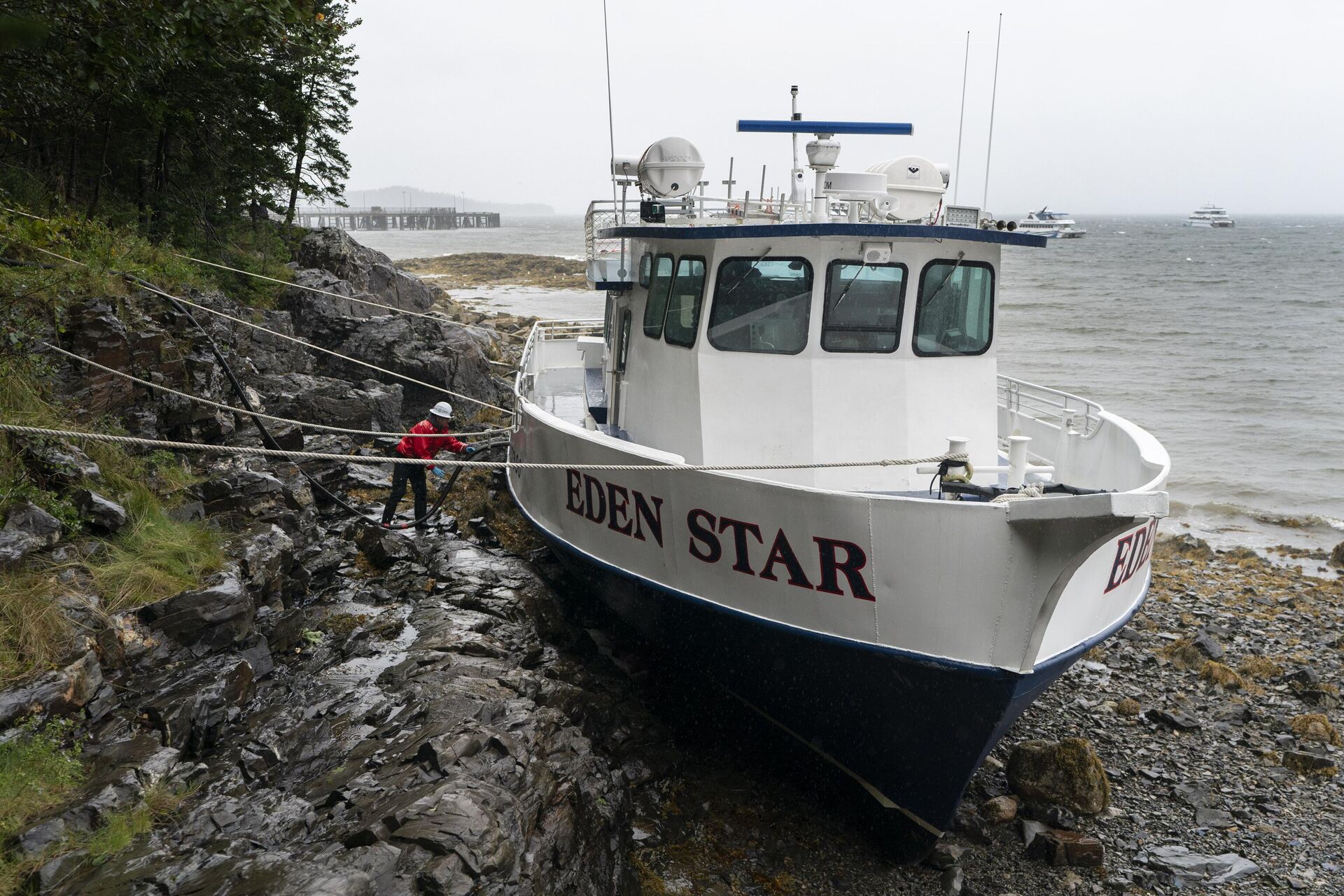 A worker prepares to unload diesel fuel from the Eden Star, a 70-foot tour boat that broke free of its mooring during storm Lee, Saturday, Sept. 16, 2023, in Bar Harbor, Maine.
© AP Photo / Robert F. Bukaty
A 51-year-old in Searsport died after a large tree limb fell on his vehicle while he was traveling on US Highway 1 during a period of high wind speeds. According to officials, the tree limb also brought down live power lines that were first shuttered before officials could remove the injured person. The individual later died at the hospital.
Destructive waves of 3 feet were expected along the coast. In Maine, a lobsterman and state lawmaker reportedly experienced a rogue wave while hauling traps on the coast of Winter Harbor a day before the storm impacted the state. The lobsterman as well as a crew member were thrown overboard when a large wave struck the starboard side of his 42-foot boat, capsizing the vessel.
"We had just finished hauling for the day, and were watching the waves break on the ledges of Turtle Island a few hundred feet inside us," he wrote on social media. "Ready to continue towards the harbor we saw a sight I never thought I would see and never want to again. It was a giant rogue wave bearing down towards us."
"It's not normal for waves to break in that depth, but this one crested. I just remember the force. It hit like a freight train. I didn't know this in the moment but later realized I had gripped the wheel so tight and was torn off with such force that the calluses on the palm of my hand were torn off when I was ripped from the helm," he added.
Both persons survived the rogue wave.
Images
of trees downing power lines, crashing onto vehicles, and blocking roads were reported in the Mid-coast cities of Maine, including Rockland and Camden. Closer inland, the effects of the storm had less destructive effects.
A major tree was toppled onto a home here in Rockland, Maine which was on of the communities hardest hit by #Lee. I talked to a neighbor and the homeowner was inside at the time. I'll have a full story on this, this afternoon on @accuweather #MEwx pic.twitter.com/41jOldVCjJ

— Aaron Rigsby (@AaronRigsbyOSC) September 17, 2023
"The storm was not as bad as it was made out to be, and I'm thankful for the electrician teams who brought power back after only a few hours," a resident near Damariscotta, Maine, told Sputnik.
The companies of Central Maine Power and Versant Power had hundreds of workers, including those from out of state, to assist in bridging back power.
"The wind was mildly sporadic from the north, and caused a lot of dead branches to shake from the trees. The rain was mild, to even a misting. Some trees fell, a majority being those with shallow roots or which were already dead," the eyewitness added.