WARSAW, June 27 (RIA Novosti) – Polish investigators have found no traces of explosives on debris from a jet that crashed in Russia in 2010, killing Poland's then-president, Lech Kaczynski, a top prosecutor said Thursday.
The Russian-made Tu-154 jet, carrying Kaczynski, his wife and a host of top officials, crashed in heavy fog as it attempted to land at an airfield near the western Russian city of Smolensk on April 10, 2010. The delegation was flying to Smolensk to mark the 70th anniversary of the 1940 Katyn massacre of thousands of Polish officers by Soviet secret police. All 96 people aboard the plane died.
Last fall, the Polish newspaper Rzeczpospolita claimed that traces of explosives were discovered on the plane's debris. Military prosecutors denied the claims, saying the final results of chemical tests would be made public in six months. The newspaper's editor-in-chief resigned following the publication.
Ireneusz Szelag, head of Warsaw's district military prosecutor's office, on Thursday convened a press conference in Warsaw to inform journalists of the results of chemical tests of specimens taken in 2012.
"As a result of tests held, experts have not revealed any traces of explosive devices or products of their decomposition on the plane debris," Szelag said.
The only place in which nitroglycerin traces were found was a Nitromin spray, used to treat heart disease.
© RIA Novosti
The plane crash that killed the Polish president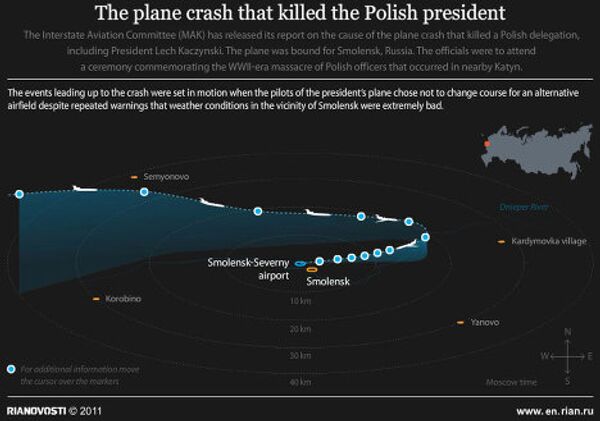 The plane crash that killed the Polish president
"The conducted research is only part of expert process," Szelag said. "They are insufficient to make a conclusion of a possibility of explosive changes near the examined objects."
Russian and Polish investigators carried out a joint investigation from February to March this year in response to speculation that the late Polish president could have been the victim of a conspiracy to blow up his plane with a bomb.
Investigative Committee spokesman Vladimir Markin said at the time that investigators had examined "trees and aircraft fragments and took more than 300 samples for comparative tests carried out in Russia and Poland."
"The experts concluded that the examined objects carried no traces of an explosion," he said.
© Russia's Interstate Aviation Committee (MAK)
In its probe into the air crash, the Moscow-based Interstate Aviation Committee said the Polish flight crew was responsible for the accident. Poland, which carried out a separate investigation, partially blamed Russian air traffic controllers.