MOSCOW, September 14 (RIA Novosti) – With the arrival of Russian military ships in the eastern part of the Arctic Laptev Sea off Russia's northern coast in recent days the Ministry of Defense said Saturday that Russia now had a permanent military presence in the Arctic region.
"Two days ago a naval task force from the Northern Fleet began major exercises around the Novossibirsk Islands. We arrived there or – more accurately – we have returned there forever," said Deputy Defense Minister Arkady Bakhin following a meeting chaired by Defense Minister Sergei Shoigu.
Under international law the Arctic belongs to no single country, but the huge area is strategically important for northern hemisphere countries, and is believed to contain huge quantities of hydrocarbons and other minerals.
The Russian task force is led by the heavy nuclear-powered guided-missile cruiser Pyotr Veliky, and includes the large amphibious assault ships Olenegorsky Gornyak and Kondopoga and a variety of other support vessels. The group of ships will take part in exercises around the Novossibirsk Islands, which are located between the Laptev Sea and the East Siberia Sea, Bakhin said.
© RIA Novosti
Pyotr Veliky – flagship of the Northern Fleet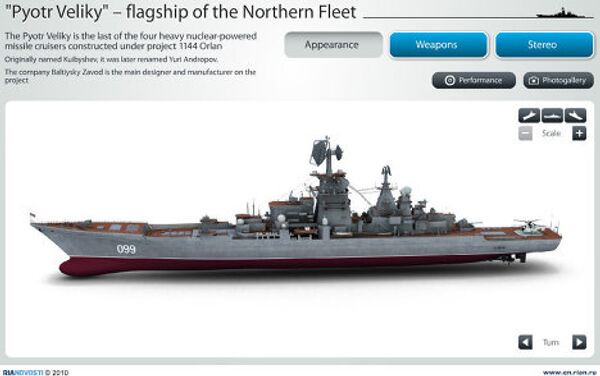 Pyotr Veliky – flagship of the Northern Fleet
"It is the first part of tasks set by the Russian president and the Defense Minister for the development and perfection of all sea lanes of the Northern Sea Route," said Bakhin. The Northern Sea Route is a transport corridor following Russia's northern coast linking Europe and Asia that is increasingly open to commercial traffic as the climate warms and Arctic sea ice retreats.
The Defense Ministry is also planning to upgrade and open a military airfield on the Novossibirsk Islands that will be able to function throughout the year, according to Bakhin.
Russian Deputy Prime Minister Dmitry Rogozin said in December 2012 that Russia risks losing its sovereignty by the mid-21st century if it does not assert its national interests in the Arctic today.