MOSCOW, November 11 (RIA Novosti) – A Moscow court sentenced four men to lengthy prison sentences ranging from 10 years to life imprisonment Monday for their role in organizing a 2011 suicide terrorist attack on an airport in the Russian capital that left 37 dead.
Prosecutors said the men − Bashir Khamkhoyev, Akhmed Yevloyev and brothers Islam and Ilez Yandiyev − assisted the suicide bomber by organizing his travel from Russia's North Caucasus republic of Ingushetia and providing him with the bomb.
The Moscow Regional Court sentenced Yevloyev to 10 years in a penal colony, while the other three defendants – of whom only Islam Yandiyev had admitted his guilt – were sentenced to life in prison. The four men have 10 days to appeal the verdicts.
On January 24, 2011, Yevloyev's brother Magomed detonated explosives in Domodedovo Airport's international arrivals hall, killing dozens and injuring 172.
Doku Umarov, a leader of the simmering Islamist insurgency in Russia's turbulent North Caucasus region, later claimed responsibility for the attack.
In recent years the North Caucasus republics have been plagued by violence and regular clashes between militants and federal forces.
© RIA Novosti
Domodedovo Airport terrorist attack: 3D-reconstruction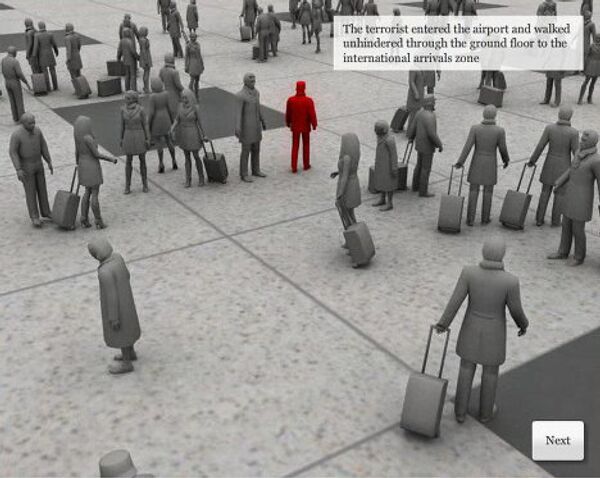 Domodedovo Airport terrorist attack: 3D-reconstruction
The Investigative Committee released a statement Monday saying that the security forces are searching for Umarov and Aslan Byutukayev, a subordinate militant whose group allegedly prepared the suicide bomber for the attack.
Khamkhoyev and Akhmed Yevloyev were sentenced for helping Magomed prepare for the attack while in Ingushetia and for organizing his trip to Moscow, while the Yandiyev brothers were convicted of assisting the bomber in the capital.
Several others suspected of helping to organize the bombing were killed by security forces during special operations.
Umarov is wanted in connection with a series of fatal terror attacks. He claimed responsibility for two suicide bombings on the Moscow metro in 2010, among others.
The Chechen rebel leader earlier urged militants to target and disrupt the 2014 Winter Olympic Games, due to be held in the southern Russian city of Sochi next February. Federal forces have repeatedly pledged that high-security measures will be in place during the Games to prevent violence.
Russia has in recent weeks been unsettled by apparent acts of terrorism.
The North Caucasus republic of Dagestan has witnessed a series of blasts, and a female suicide bomber targeted a bus in the southern city of Volgograd, killing six.
Updated with the investigators' statement, background.