MOSCOW, February 7 (RIA Novosti) – Russia says it will provide North Korea with 50 tons of grain this year as humanitarian assistance.
Alexander Timonin, Russia's ambassador to North Korea, said that Moscow has over the 2012-2013 period become one of Pyonyang's largest humanitarian benefactors under the UN World Food Program. Russia has endowed $8 million of aid over that period, Timonin told RIA Novosti in an interview.
Timonin said that last year, three medical units worth a total of 50,000 euros ($68,000) that included drugs, equipment, surgical kit and material required for post-operative treatment were provided by Russia under a World Health Organization program.
Russia also supplied North Korea almost 2,500 tons of wheat flour under a World Food Program humanitarian project to launch a network of enterprises producing fortified nutritional formulas, the ambassador said.
North Korea's economy has been assailed by sanctions imposed as a result of its nuclear weapons program, pursued in defiance of international criticism.
Director of US National Intelligence James Clapper said in a statement to the Senate in Washington last month that Pyongyang appears to have expanded a uranium enrichment facility and restarted a plutonium reactor that had been shut down since 2007.
That development followed a nuclear test conducted last February that drew wide condemnation, including from traditional ally China.
Timonin said Moscow had no information that North Korea was planning further tests.
The envoy said that Russia has paid close attention to recent efforts to soothe relations between North and South Korea aimed at minimizing military activity on the peninsula.
"It is of course too early to speak about normalization of the situation but any steps by North Korea in this direction deserve endorsement in our view," Timonin said.
Timonin said avoiding the eventuality of another nuclear test would depend on a show of goodwill from Washington and Seoul.
© Sputnik
Maximum Range of North Korean Missiles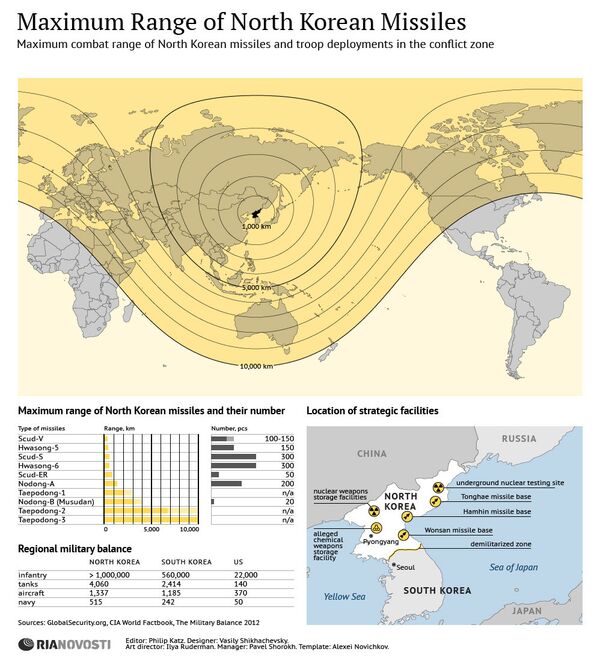 Maximum Range of North Korean Missiles
If they show "goodwill and take reciprocal steps to defuse tension and engage with dialogue with the North, then the probability of new North Korean nuclear tests will be significantly reduced."
North Korea declared itself a nuclear power in 2005, and followed up with underground tests in 2006, 2009 and 2013. Pyongyang withdrew from six-party talks with South Korea, Russia, the United States, China and Japan in 2009.