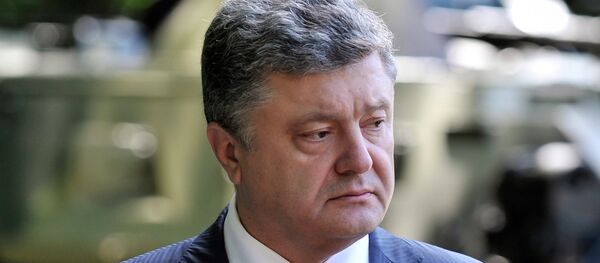 21 November 2014, 13:23 GMT
KIEV, November 26 (Sputnik) – Ukrainian parliamentary factions are due to form a coalition Thursday to consider a candidate for the post of the country's new prime minister, a senior politician said Wednesday.
"Tomorrow we will create a coalition of political parties that would consider the candidacy of the new Ukrainian prime minister submitted by the Popular Front, as was said before," Volodymyr Hroisman, who heads a parliamentary group charged with preparations for the session, said at the group's meeting.
On November 21, representatives of five Ukrainian parties — the Petro Poroshenko Bloc, the People's Front party, headed by incumbent Prime Minister Arseniy Yatsenyuk, the Samopomich (Self-Help) party, former Prime Minister Yulia Tymoshenko's Batkivshchyna (Fatherland) party and the Radical Party – signed a draft agreement on the creation of a coalition in the country's parliament.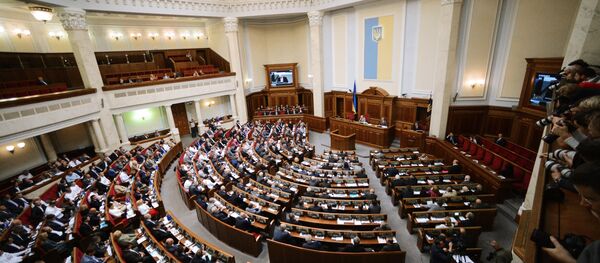 21 November 2014, 00:23 GMT
Early parliamentary elections took place in Ukraine on October 26. The Petro Poroshenko Bloc received a total of 132 seats, People's Front gained 82 seats, while Samopomich, Radical Party, Batkivshchyna and the Opposition Bloc, the sixth party that made it to the Ukrainian parliament, Verkhovna Rada, received 32, 22, 17 and 27 seats, respectively.
Following the vote, Poroshenko and Yatsenyuk entered talks to form a "powerful democratic coalition" of pro-European parties in the Rada. All the parties that made it to the parliament, except for the Opposition Bloc, were invited to join the coalition.
Last week, Ukrainian President Petro Poroshenko confirmed that he would submit Yatsenyuk's candidacy for the post of the country's prime minister for parliament's approval as soon as possible.