MOSCOW, November 27 (Sputnik) – Hundreds of people have gathered around the US Embassy in London, condemning the grand jury verdict not to charge US white police officer who killed African-American teenager Michael Brown in Ferguson, BBC reported Thursday.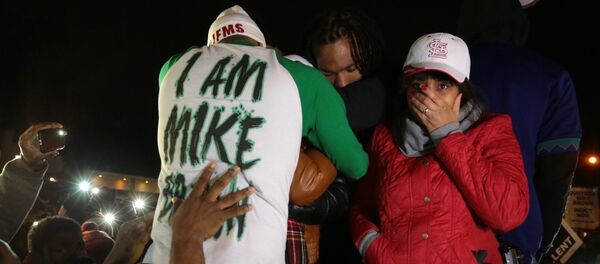 27 November 2014, 00:32 GMT
According to the news agency, the protest campaign was organized by Stand Up To Racism and London Black Revolutionaries Group.
The vigil is intended to raise protest against non-indictment verdict for the US police officer Darren Wilson, which was delivered by the grand jury in Ferguson on Monday, the statement on the Stand Up For Racism official website says. The statement adds that the US jury's decision comes on the day of similar incident in Cleveland, where a policeman shot dead 12-year-old African-American Tamir Rice, who was carrying a toy gun.
The court decision not to charge Wilson over the August 9 shooting has led to a wave of protests across the United States, raising issues of race discrimination and police brutality within the US law enforcement system. Demonstrations took place in 38 US states, Washington DC and over 170 other US cities on Tuesday.