MOSCOW, November 29 (Sputnik) — Police in the St. Louis suburb of Ferguson arrested 15 people after fresh protests on Friday over a grand jury decision regarding the death of an unarmed black teenager, according to an official statement.
Confirmed: 15 arrested in #Ferguson; one facing assault on a law enforcement officer charge. Other protesters remain peaceful.

— St. Louis County PD (@stlcountypd) 29 ноября 2014
Police in #Ferguson issued warning to protesters leave streets. Some protesters ignored warnings. Were taken into custody.

— St. Louis County PD (@stlcountypd) 29 ноября 2014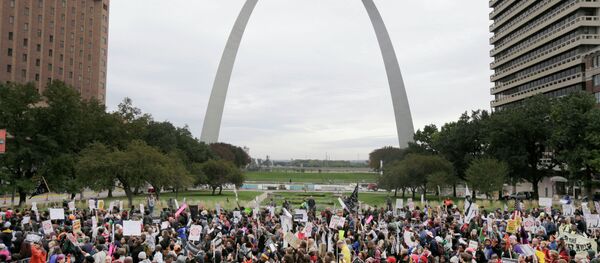 28 November 2014, 09:02 GMT
The arrests took place on Friday evening, after protesters coerced a crowd in St. Louis to close a mall two hours before the scheduled time amid a Black Friday boycott campaign.
On Monday, the grand jury decided not to indict Darren Wilson, the white police officer who shot 18-year old Michael Brown in Ferguson in August. The decision triggered a wave of protests nationwide.
Earlier this week, the network Blackout for Human Rights and other activists urged the public to boycott Black Friday, which is the day after Thanksgiving Day and the biggest shopping day of the year in the Unites States, to protest police violence against minorities.