MOSCOW, December 1 (Sputnik) — The Ukrainian authorities will hire foreign qualified civil service professionals; US citizen Natalie Jaresko and Mikhail Saakashvili, the notorious former president of Georgia, are reportedly among potential candidates.
"Prague-based Pedersen & Partners and Korn Ferry, global head hunting firms, have found 185 potential employees, many of whom are members of the Ukrainian community in Canada, the US and the UK. After the job interviews, 24 candidates were recognized as fully qualified to serve in Ukraine's public offices. However, their names haven't been disclosed so far," Kyiv Post reported.
Natalie Jaresko, the Chief Executive Officer Horizon Capital, a private equity fund, was expected to assume the position of Finance Minister. However, according to the latest news, Lviv Mayor Andriy Sadovy recommended Jaresko, "a true patriot of Ukraine," as the best candidate for the position of Ukraine's First Deputy Prime Minister.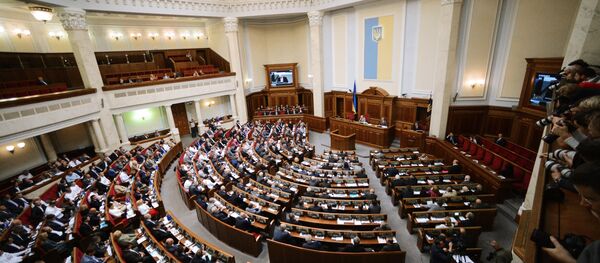 27 November 2014, 12:43 GMT
A Harvard Kennedy School graduate, Natalie Jaresko first arrived in Ukraine in 1992 as an economic section chief in the US Embassy in Kiev. In 1995, she had become an employee of Western NIS Enterprise Fund, sponsored by the US government. Soon after the Orange Revolution of 2004 Jaresko organized Horizon Capital, "a private equity fund manager that originates and manages investments in mid-cap companies with outstanding growth and profit potential in Ukraine, Belarus and Moldova." Horizon Capital's fund has already amassed about $650 million in assets, according to Kyiv Post.
Georgia's former president Mikhail Saakashvili has also been rumored to assume the post of Vice Prime Minister in the Ukrainian government. However, Tbilisi, who issued an arrest warrant for Saakashvili in August 2014, has warned the Ukrainian leadership against such a hasty step. David Kereselidze, the Minister of Foreign Affairs of Georgia has emphasized that if the ex-president or someone from his team was appointed to the government of Ukraine, it would negatively affect the bilateral relations between the two states. Mr. Kereselidze stressed that Saakashvili and his associates were accused of serious crimes. Mikhail Saakashvili, who left Georgia immediately after President Giorgi Margvelashvili's inauguration in November 2013, is facing several charges including abuse of power, using excessive force against protesters and murder.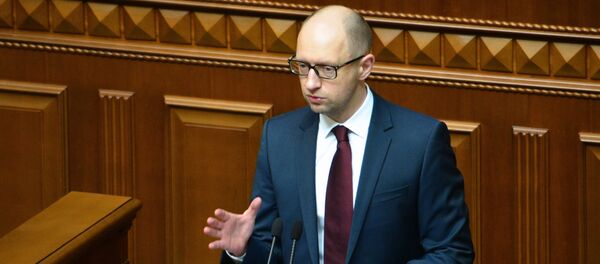 27 November 2014, 10:59 GMT
Kyiv Post reports that the Renaissance Foundation, a global consulting network formed by George Soros, is sponsoring Kiev's "headhunting process" and has already paid about $82,200 to two recruiting companies, seeking foreign professionals for the Ukrainian government. It should be noted that currently Ukrainian laws don't allow foreign citizens to be appointed to the state's civil service. Thus, the candidates are expected to be granted Ukrainian citizenship.