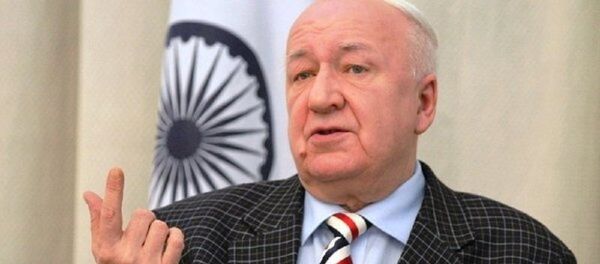 6 December 2014, 18:08 GMT
NEW DELHI, December 8 (Sputnik) — Energy cooperation will be at the top of the agenda during Russian President Vladimir Putin's Visit to India for the 15th India-Russia summit, Russian Ambassador to India Alexander Kadakin said Monday.
"The cooperation for the peaceful use of nuclear energy will prominently figure during the talks. In fact, energy cooperation will be the top on the agenda during the summit-level meeting between Russian President [Vladimir] Putin and Indian Prime Minister [Narendra] Modi. Both countries will come with a vision document regarding how they together progress in the field of energy cooperation," Kadakin told reporters.
Kadakin added that Russia has agreed to build 14 to 16 nuclear units, which may well increase to 20 to 24 on account of growing demand from India.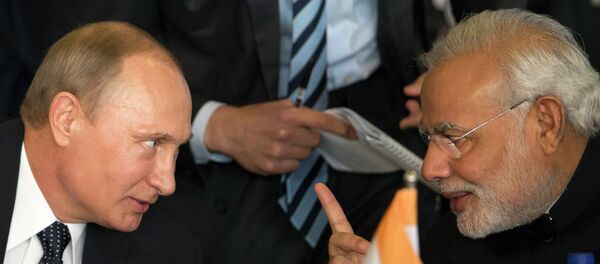 6 December 2014, 00:10 GMT
On the subject of the
Kudankulam nuclear plant
that Russia is currently building in the Indian state of Tamil Nadu, Kadakin noted that the works are proceeding according to plan.
"There is no problem with Unit 2. Regarding Unit 3 and Unit, four technical agreements have been signed; some final document may be singed during the summit. For the unit 5 and unit 6, negotiations will start soon," Kadakin said, noting that Russia is expecting new sites to be named during the upcoming summit.
The ambassador also voiced optimism that the nuclear cooperation between Moscow and Delhi would boost economic growth in India.
The annual summits between India and Russia were spearheaded by Putin in October 2000. The coming summit will follow one hosted by Moscow in October 2013.
Russia, India Should Strengthen Economic Ties 'By All Means'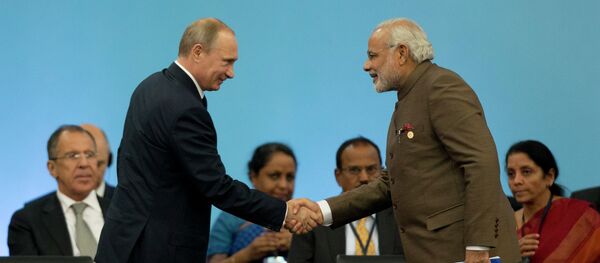 5 December 2014, 19:45 GMT
The potential of India-Russia economic cooperation is still untapped and should be given priority, Russian Ambassador to India Alexander Kadakin told reporters on Monday.
"Our economic cooperation remains at a very low level, so we have to boost it," Kadakin said ahead of a major bilateral summit between India and Russia.
He stressed that the countries should "increase the economic cooperation by all means."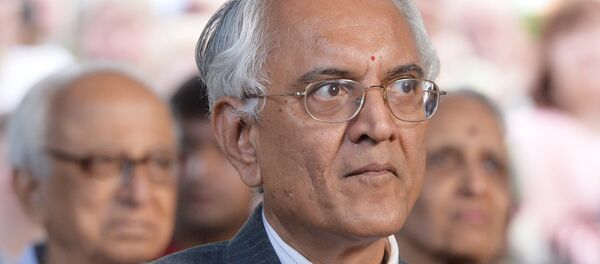 5 December 2014, 13:00 GMT
The 15th Annual India-Russia Summit is scheduled to be held on December 10-11 in New Delhi, and is expected to be attended by Russian President Vladimir Putin. Last week, a source from India's Ministry of External Affairs said that during Putin's visit India and Russia would sign about 15 to 20 agreements, specifically in defense, nuclear, import/export tariffs and banking. The Russian president will co-head the 15th Annual India-Russia Summit.
Ambassador Kadakin noted that President Putin will be accompanied by many senior Russian executives.
"Let the CEOs sit, decide and discuss what can be done to improve the India-Russia economic cooperation," Kadakin said.
According to the Indian Ministry of External Affairs, Russian President Putin and Indian Prime Minister Narendra Modi will have in-depth talks involving CEOs of major Russian and Indian companies during the upcoming summit.
Russia's Military Cooperation with Pakistan Not Harming India
Moscow's increasing defense ties with Pakistan will not harm India as the country remains Russia's old strategic partner, Russian Ambassador to India Alexander Kadakin assured New Delhi on Monday.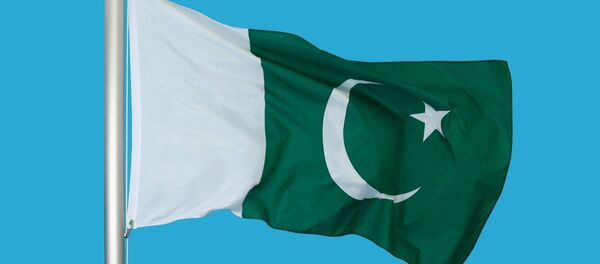 20 November 2014, 15:52 GMT
"I must reassure [you] that Russia is India's strategic partner. Russia will never do anything which is detrimental to India," Kadakin said during a press conference ahead of the 15th Annual India-Russia Summit on December 10-11.
The Russian diplomat added further that, "Russia has signed only a framework agreement with Pakistan and we have not supplied military equipment to Pakistan."
There have been concerns in India about the Russia-Pakistan defense and military cooperation agreement, particularly about the sale of Russian Mi-35 combat helicopters to Pakistan.
"Our relations with Pakistan have their own value. In fact, India is also trying to mend relations with Pakistan so what is problem if we have relations with them," Kadakin said, adding "it will be easier for both of us to influence Pakistan together."
India and Pakistan have long been engaged in dispute over Kashmir. Today, the region is divided between the two, although skirmishes in and around this Himalayan region are not uncommon. India has repeatedly accused Pakistan of funding terrorists in Kashmir, a claim Islamabad has denied.