MOSCOW, December 11 (Sputnik) — Russian dark epic "Leviathan" by Andrei Zvyagintsev has been nominated for the 2014 Golden Globe Best Foreign Language Film Award.
"Leviathan" will be competing against "Ida" by Pawel Pawlikovski, "Force Majeure" by Ruben Ostlund, Israeli "Gett: The Trial of Viviane Amsalem" and "Tangerines" of joint production by Estonia and Georgia.
"This nomination is very important for our film and its promotion, because the Golden Globe is a worldwide renowned award," Zvyagintsev said as cited by the press-office of Non-Stop Production company.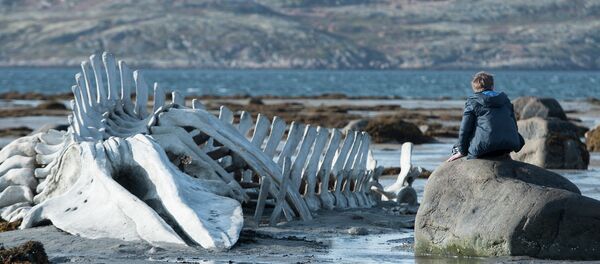 23 November 2014, 13:32 GMT
It is not the first time for Zvyagintsev to receive a Golden Globe nomination. In 2004, his debut movie "The Return" was competing for the same prize.
"Leviathan" is a huge worldwide success, according to producer Alexander Rodnyansky. He believes this is because of the story the movie tells which is absolutely versatile and can be understood by an ordinary man in many countries across the world.
"'Leviathan' tells a story about the destiny of the man, about the fate. Andrei Zvyagintsev is a Russian artist, and he draws inspiration from the great Russian culture," Rodnyansky said.
"Leviathan", described by Zvyagintsev as a loose retelling of the Book of Job, is a present day social drama about an ordinary man struggling with corruption and intimidation in contemporary Russia.
"Leviathan" premiered at the 2014 Cannes Film Festival where it won an award for Best Screenplay.
The film also won awards at several European film festivals, including the Grand Prix at the 58th BFI London Film Festival, the Grand Prix at the Munich festival and the main prize at Palic film festival in Serbia. Additionally, "Leviathan" is Russia's Oscar submission.
The 72nd Golden Globe Awards ceremony will be held in Beverly Hills, California on January 11, 2015.