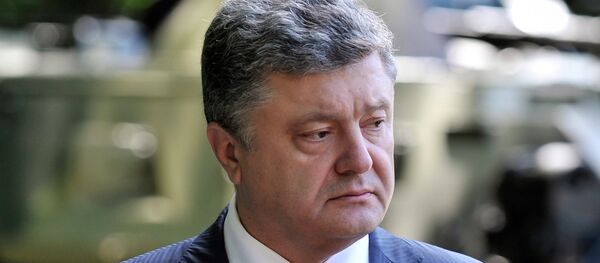 11 December 2014, 07:09 GMT
KIEV, December 14 (Sputnik) — Ukrainian President Petro Poroshenko has instructed security officials to provide residents of eastern Ukrainian regions with heating and electricity, according to an official statement published on Poroshenko's website Sunday.
"We must ensure that people can physically survive in harsh conditions," Poroshenko said during a meeting with Ukrainian security officials.
In November, Poroshenko ordered to stop financing and shut down all government institutions in eastern areas of Ukraine, which are under the control of independence supporters, who refuse to recognize the new Kiev authorities that came to power after a February coup. A presidential decree also terminated banking services in the Donetsk and Luhansk people's republics (DPR and LPR), freezing the accounts of people and companies, in what DPR prime minister said equaled an economic blockade.
Poroshenko's move was linked to the elections held in the DPR and the LPR on November 2 for the heads of local governments and representatives of the legislative bodies, which Kiev called illegitimate.