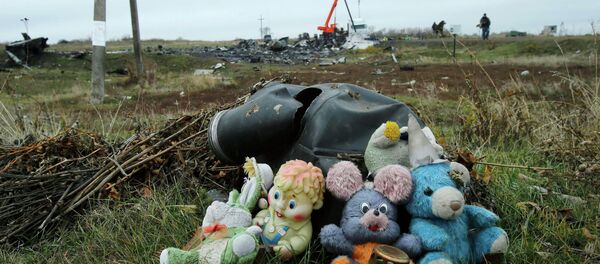 6 December 2014, 07:25 GMT
KIEV, December 20 (Sputnik) — Metal objects found in the bodies of some passengers of the Malaysian Airlines Boeing crashed in Ukraine in July can be fragments of a missile that supposedly hit the aircraft, the Security Service of Ukraine (SBU) said Saturday.
"The vast majority of those killed in the crash were identified. Metal objects that do not belong to the aircraft and can be missile fragments were found in the bodies of some victims," the statement said.
On July 17, a Malaysia Airlines flight from Amsterdam to Kuala Lumpur crashed in Ukraine's eastern region of Donetsk, killing all 298 people on board.
In September, the Dutch Safety Board (DSB), the lead organization in the investigation of the MH17 crash, reported that unidentified fragments were found in the bodies of plane pilots, and that their origin is unknown.
According to the DSB's September preliminary report on the investigation, the Boeing was hit by "a large number of high-energy objects" that penetrated the aircraft from the outside.
The details of the flight MH17 crash will remain unknown until the final report on the causes is released in 2015, the DSB told RIA Novosti in October.
Kiev and some of the Western countries have accused independence supporters in eastern Ukraine of shooting the plane down, but have failed to provide evidence for this claim. Local militia leaders say that they do not have weapons capable of striking a jet flying at 32,000 feet.
Netherlands to Release Progress Report on MH17 Crash Inquiry by End of 2014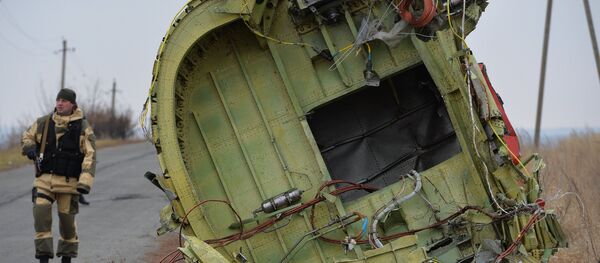 13 December 2014, 06:48 GMT
The Netherlands will release a progress report on the Malaysia Airlines flight MH17 crash investigation until the end of 2014, the Security Service of Ukraine stated.
"The head of the central investigative department of the Security Service of Ukraine, the co-chair of the international investigative group Vasyl Vovk said that by the end of the year the Dutch side will release a progress report on the investigation into the tragedy that claimed the lives of hundreds of people from ten countries," SBU said in a statement.
MH17 Crash Investigation to Continue Throughout 2015: Ukraine's Security Service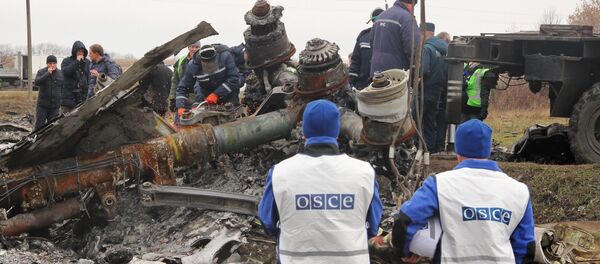 9 December 2014, 17:11 GMT
The investigation into the Malaysian flight MH17 crash in Ukraine's eastern Donetsk region will be continued throughout 2015, the SBU said.
"The investigation, which is essential for clarifying the case, is complicated and time-consuming. According to the preliminary data, the investigation into the crash will be continued throughout the next year," the Security Service said in a statement.