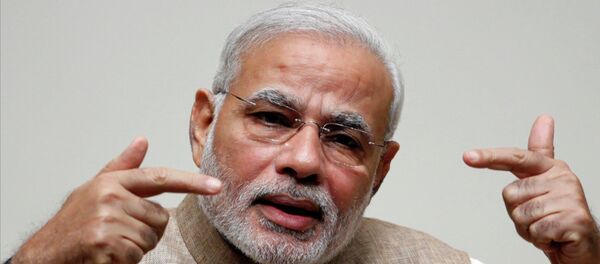 11 December 2014, 18:45 GMT
MOSCOW, December 25 (Sputnik) — The Indian government is currently undergoing transformations in order to provide better services to its citizens and become more transparent, the country's Prime Minister Narendra Modi said Thursday, as reported by Indian newspaper DNA.
"An open and accountable administration is what we had promised to deliver and we will do so I assure you, my countrymen that we will not let you down," Modi said in a statement on the newly-introduced "Good Governance Day."
Prime Minister Modi noted that creating a citizen-oriented government to serve the needs of all Indians is a primary goal for his administration.
"I have instructed all the Ministries to ensure that redress of public grievances receives the highest priority," Modi said, as quoted by the DNA.
The improvement of the government's efficiency and the simplification of work procedures is one more goal which needs to be achieved, according to Modi.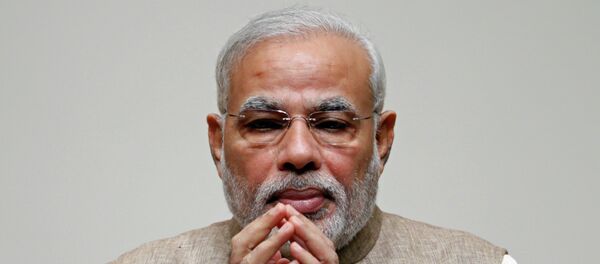 7 December 2014, 21:02 GMT
"Government process re-engineering is yet another measure that we are pushing for. Ministries and Departments of the Government of India have been instructed to look into their work spheres, their internal processes and work on what and how to simplify and rationalize them," Modi said, adding that "cumbersome outdated legislations" will be abolished.
Modi also noted the importance of technology in modern governance, expressing appreciation of the input of the mygov.in portal into the interactions between authorities and citizens.
Good Governance Day coincides with the birthday of former Prime Minister Atal Bihari Vajpayee, who celebrates his 90th anniversary of Monday. Vajpayee was a leader of the right-wing BJP party, of which Modi is one of the leaders.
There is no bigger tribute to Atal ji than celebrating his birthday as 'Good Governance Day' & pledging to devote ourselves to this cause.

— Narendra Modi (@narendramodi) 25 декабря 2014