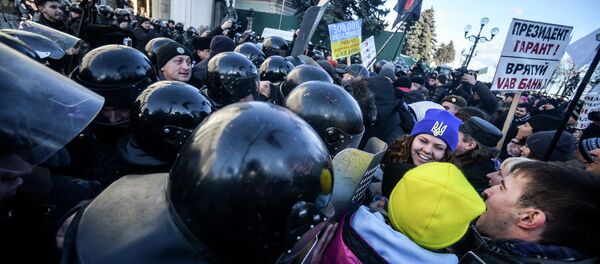 1 January 2015, 19:41 GMT
MOSCOW, January 2 (Sputnik) – The
recent attack
on Russian
journalists
in Ukraine is a severe violation of the freedom of speech and demands a response from the global community, Maria Zakharova, Deputy Director of the Department of Information and Press of the Russian Foreign Ministry has stressed.
"The new attack on Russian journalists is another glaring proof of persecution of media representatives in Ukraine, who are carrying out their professional activities, and is a manifestation of a gross violation of the fundamental principles of freedom of speech and inaction of Ukraine's official authorities, who have withdrawn themselves from ensuring the safety of journalists' work," Zakharova wrote on her Facebook page Friday.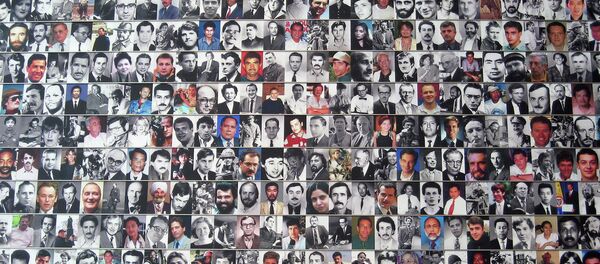 31 December 2014, 12:22 GMT
The Foreign Ministry's spokesperson expressed hope that the international journalistic community, human rights activists and representatives of international organizations, responsible for compliance with the freedom of speech, will react to the incident by giving a proper assessment of the attack.
"It's important that anti-fascist organizations have their say, because it is no longer about some dangerous neo-Nazi tendencies in the center of Europe, but about specific activities that copy the Nazi traditions in form and content. Silence in this case is an act of compliance," Zakharova stressed.
Russian LifeNews TV channel reported Thursday that two of its journalists, Zhanna Karpenko and her cameraman, were attacked while covering a nationalists torchlight march in Kiev.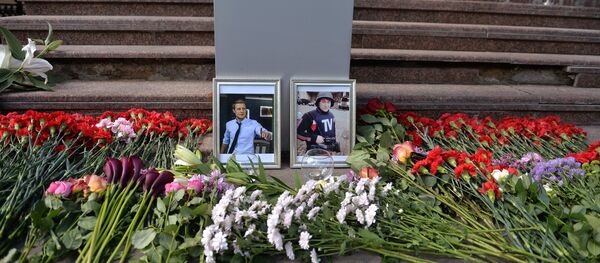 23 December 2014, 09:26 GMT
According to Ukrainian news agency UNIAN, some 2,000 people, including former and current members of the Ukrainian parliament, marched through the streets of the Ukrainian capital Thursday carrying torches to mark the birthday of Ukrainian nationalist Stepan Bandera.
The rally ended with the leaders of Ukraine's far-right Svoboda (Freedom) party and Pravy Sector (Right Sector) movement, addressing the demonstrators at Maidan Nezalezhnosti (Independence Square).
That same square was where protests erupted on November 21, 2013, later spreading across the country, resulting in violent armed clashes between radicals and the police and eventually leading to the violent internal conflict in Ukraine.