MOSCOW, January 4 (Sputnik) — A healthcare worker who was exposed to the Ebola virus while working in Sierra Leone will be hospitalized at the Nebraska Medicine hospital in the US city of Omaha, the hospital said.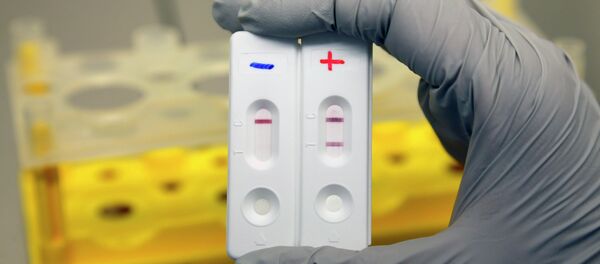 17 November 2014, 19:04 GMT
"An American health care provider working in Sierra Leone who experienced a high-risk exposure to the Ebola virus will be coming to the Biocontainment Unit at Nebraska Medicine for observation and possible treatment," the hospital said in a statement late Saturday.
The patient is set to arrive to the hospital on a private air ambulance at around 2:00 p.m. CST (8:00 p.m. GMT) and will be treated by the same expert team who treated three other Ebola patients in 2014.
Two of the Ebola patients who were treated at Nebraska Medicine, a doctor and a cameraman, made a recovery and were declared free of the virus, while another doctor who was gravely ill upon arrival died two days into the treatment.
Several foreign health workers have contracted the deadly virus while working in West Africa, where the worst Ebola outbreak in history began in late 2013. A British nurse who contracted Ebola in Sierra Leone in December is currently in critical condition at a London hospital.
The outbreak has claimed the lives of more than 7,900 people, according to the latest WHO estimates, while more than 20,200 cases of confirmed and probable infection have been registered.