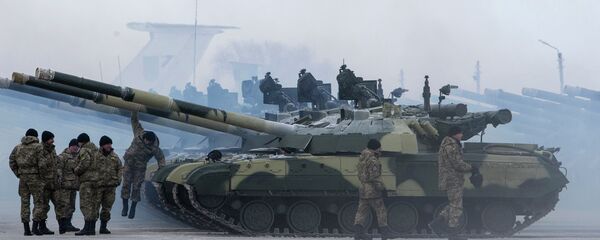 3 January 2015, 14:57 GMT
MOSCOW, January 4 (Sputnik) — There has been an increase in ceasefire violations and casualties in Ukraine's eastern Donbas region in recent weeks, the OSCE's Special Monitoring Mission (SMM) said in a statement Sunday.
"The SMM received reports about a deterioration of the relative calm since 9 December 2014, with an increase in ceasefire violations and casualties reported by the JCCC [Joint Centre for Control and Co-ordination] in the Donetsk region," the statement read.
The SMM described several reports of ceasefire violations, including shelling from what is believed to be Grad multiple-launch rocket systems.
In a recent meeting at the JCCC headquarters, Ukrainian and Russian senior officers expressed their concern about the increasing number of truce violations, the monitoring mission said.
There was "common understanding" between the officers, as well as representatives of the self-proclaimed Donetsk and Luhansk people's republics, that three civilians had been killed in the city of Horlivka near Donetsk, while three others sustained injuries. One soldier was also reportedly killed and seven were injured, though the monitoring mission could not "independently verify the information".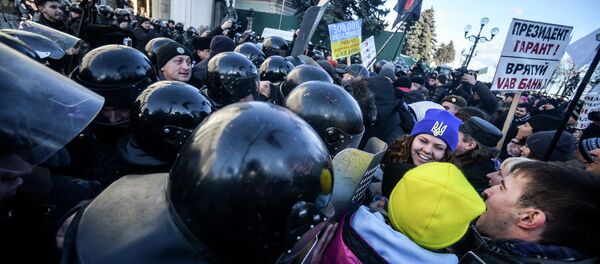 1 January 2015, 19:41 GMT
The monitoring mission also noted that several nationalist marches took place across the country on January 1, marking the 106th birthday of Ukrainian nationalist leader Stepan Bandera.
An armed conflict broke out in eastern Ukraine in April, when Kiev launched a military operation against local independence supporters. Residents of the Donetsk and Luhansk regions in Ukraine's eastern Donbas region established people's republics that later declared their independence following the February overthrow of former Ukrainian President Viktor Yanukovych.
Kiev and the breakaway regions reached a shaky ceasefire agreement in September, brokered by Russia and the OSCE, but have subsequently accused each other of violating the truce.