MOSCOW, January 5 (Sputnik) — British police have arrested four people during protests against the use of armed drones at the Royal Air Force (RAF) in Waddington, the United Kingdom, the protesters' Facebook page informed Monday.
Earlier in the day, protesters from the so-called End The Drone Wars group released a statement explaining their intention to come to the RAF Waddington airfield and protest.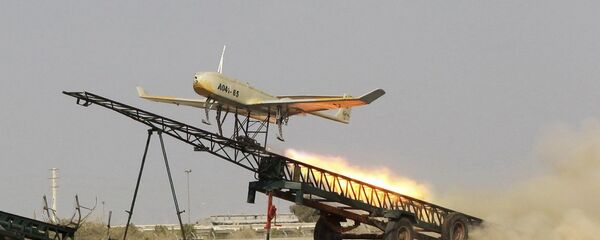 5 January 2015, 12:54 GMT
"We come to RAF Waddington to say a clear "No" to the growing normalization and acceptability of drone warfare," the statement read.
The protesters also hung banners on the perimeter fence of RAF Waddington, calling to stop launch and use of unmanned aerial vehicles (UAV) from the air base and pointing out civilian casualties caused by the use of drones during the wars in Afghanistan and Iraq.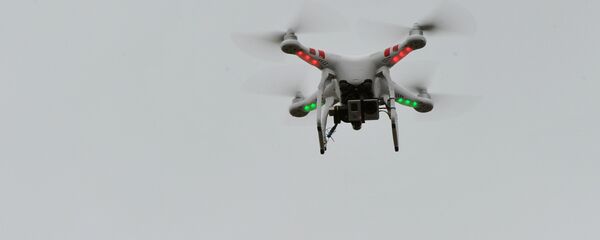 2 January 2015, 12:42 GMT
"Thanks to the marketing of drone war as "risk-free," "precise" and above all "humanitarian," war has been rehabilitated and accepted as virtually normal by those who see little or nothing of the impact on the ground thousands of miles away," the End The Drone Wars statement emphasized.
Two men and two women involved in the protests were detained by the Lincolnshire Police after they attempted to cut through the RAF Waddington fence, the Lincolnite website reported Monday.
The End The Drone Wars also confirmed both their detention and subsequent arrest on their Facebook page.
Still waiting to hear from activists in Lincoln police station, possible charges are aggravated trespass and criminal damage.

— End The Drone Wars (@EndTheDroneWars) 5 января 2015
The RAF Waddington is the main operating base for what it terms "airborne intelligence systems," according to its official website. From this base the RAF remotely controls Reaper aircraft, which have been actively used in Iraq and Afghanistan by British forces.
The Monday protest is the most recent in a series of protests directed against the RAF's involvement in UAV use during military operations abroad.