MOSCOW, January 10 (Sputnik) – The US Department of Justice is considering bringing criminal charges against former CIA director David Petraeus, the Associated Press reports, citing an official familiar with the case.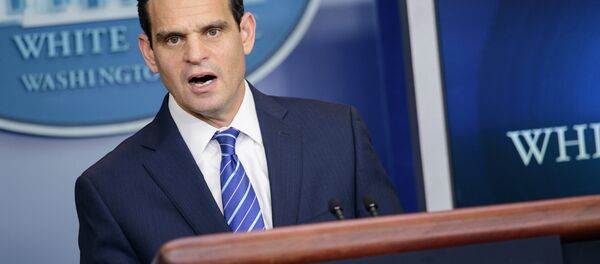 9 January 2015, 19:44 GMT
The official, who spoke on the condition of anonymity, said that Petraeus, a retired four-star general, could be charged for the sharing of classified information with his biographer, Paula Broadwell, while he headed the Central Intelligence Agency.
Petraeus served as CIA director from September 2011 until November 2012. He resigned when his extramarital affair with Broadwell became public, a move he called unacceptable, saying he had shown "extremely poor judgment" in engaging in it, according to the Guardian.
At the time of Petraeus' resignation, US President Barack Obama had praised him for being "one of the outstanding General officers of his generation, helping our military adapt to new challenges, and leading our men and women in uniform through a remarkable period of service in Iraq and Afghanistan." Obama added that Petraeus made the US safer and stronger.
The prosecutors at the FBI and the Justice Department are investigating whether Petraeus gave Broadwell access to his CIA email account and if he shared classified information with her, the New York Times reports, citing unnamed officials. Classified documents were found on Broadwell's computer following an FBI investigation.
25 September 2014, 21:25 GMT
Petraeus, who served as commander of the NATO-led ISAF mission in Afghanistan, has denied any wrongdoing, according to the newspaper. He also reportedly does not intend to enter a plea agreement with prosecutors.
The outgoing US Attorney General, Eric Holder, was reportedly expected to decide on whether to bring criminal charges against Petraeus by the end of 2014. However, his stance remains unknown.
Robert Barnett, a lawyer representing Petraeus, as well as Marc Raimondi, a spokesman for the Justice Department, declined to comment on the allegations.